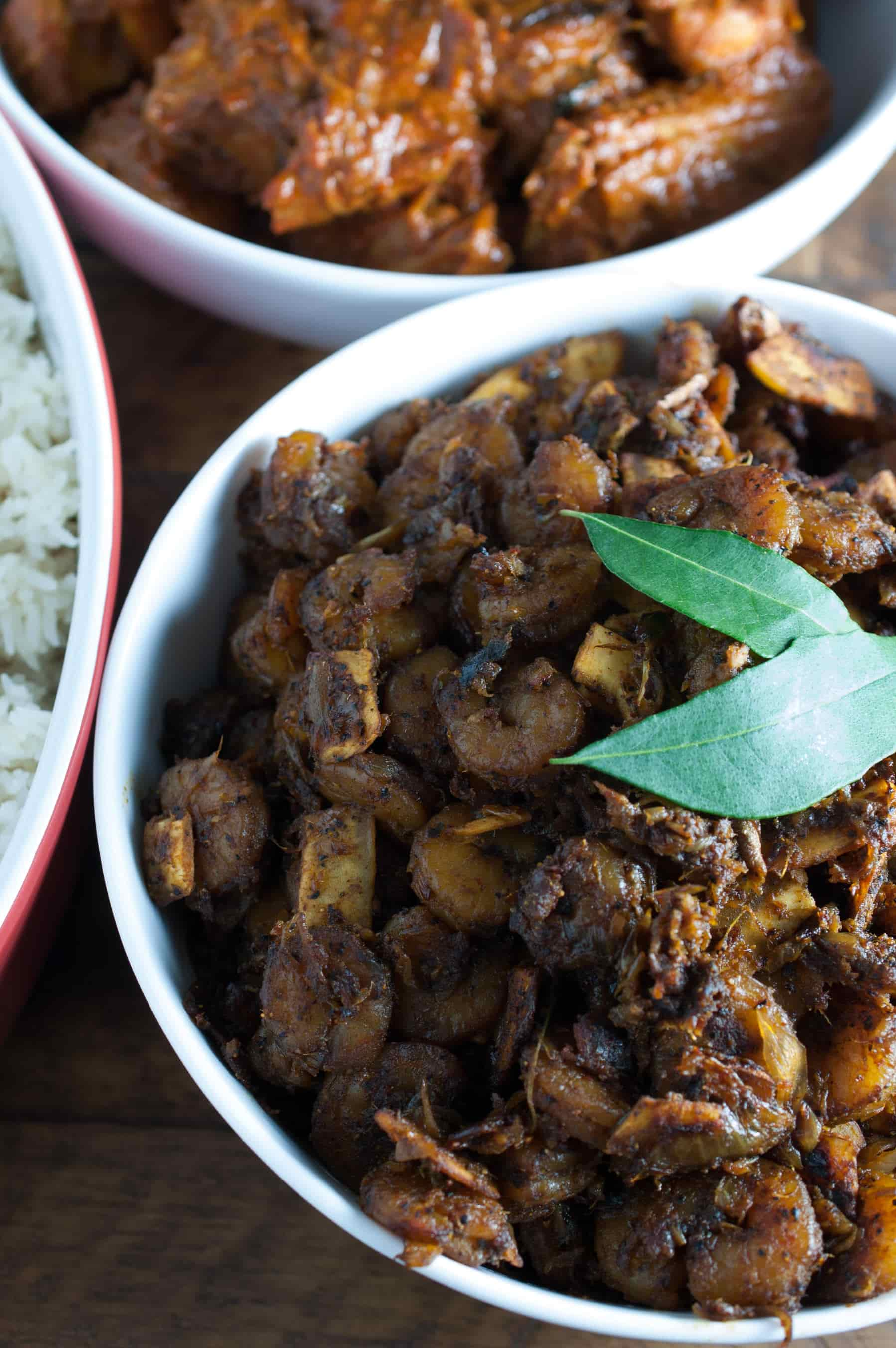 This is a spicy dish, well flavored with cocum and pepper. It is a simple and quick chemmeen roast preparation. It goes well with rice. This prawns roast recipe is adapted from my mom-in-law 🙂
Ingredients
Marination
turmeric Powder
1/2 Teaspoon
pepper Powder
1/2 Tablespoon
Cocum (Kudam puli, medium piece)
1
Masala
Chilly Powder
1/2 Tablespoon
coriander Powder (optional)
1 Teaspoon
garam masala ( optional)
1 Teaspoon
coconut oil / vegetable oil
Thengakothu (Small Square Size Coconut Pieces )
2 Tablespoons
Steps
Wash and clean the prawns. Mix together turmeric powder, pepper powder, ginger and garlic (paste form), cocum, salt curry leaves. Marinate prawns well with this mix.

Cover and cook marinated prawns in a pan. Prawns itself has water in it. So you may need to add only 1 - 2 tbsp water to it. It should not get overcooked as well.

Ideally, prawns should get cooked by the time water gets dried up.

Heat 1 -2 tbsp oil in a pan. Fry the coconut pieces in medium flame. Stir it continuously. Remove the fried pieces and keep it aside.

Heat oil in the same pan and add finely sliced small onion. Saute until it becomes golden brown color.

Add chilli powder, coriander powder, and garam masala to it. Saute it well. Add oil if required.

Now add cooked prawns and fried coconut pieces to the above mixture. Adjust salt. Mix well, add required oil and cook it covered for around 10 minutes. Stir in between. Prawns get roasted well with this.