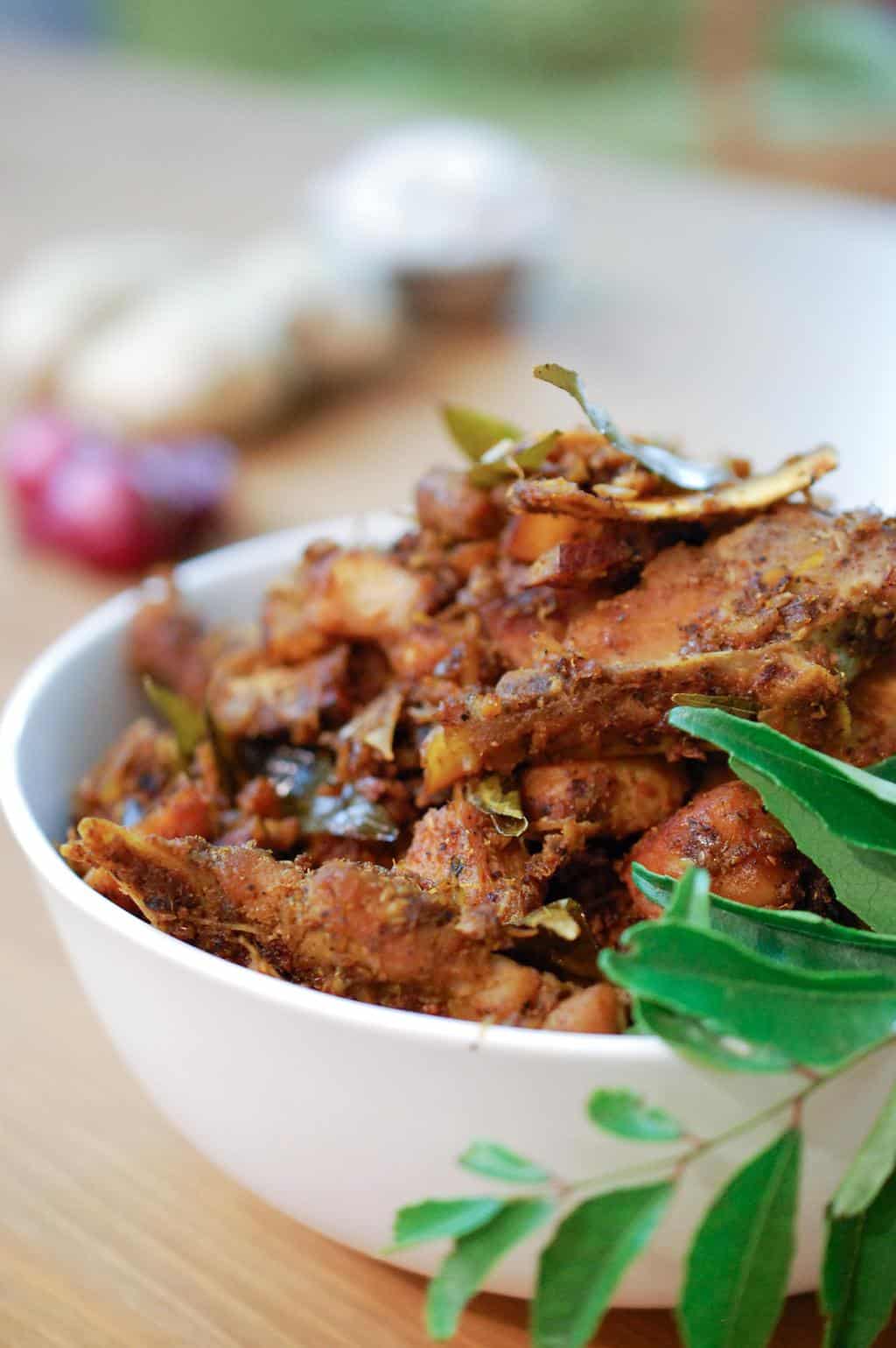 Pork varattiyathu!! Pork cooked and roasted with chilli and spices. One of my favorite dish since my childhood days. I adapted this recipe from my grand mother. This Pork masala Fry recipe is a "must" dish at a Kerala Christian home for any special occasion. This goes well with rice.

Ingredients
Marination
turmeric Powder
1 Teaspoon
Chilly Powder
1 Teaspoon
ginger (crushed/grinded)
1 Teaspoon
pepper Powder
1 Teaspoon
Masala
Shallots / Small onion
2 Cups
garlic (crushed/grinded)
3 Teaspoons
ginger (crushed/grinded)
2 Teaspoons
garam masala
2 Teaspoons
coriander Powder
2 Teaspoons
Chilly Powder
4 Teaspoons
Thengakothu (Small square size coconut pieces)
1 Cup
curry leaves
4 Sprig
Steps
Cut cleaned pork into cube size pieces. Marinate pork with ingredients listed under marination. Add 2 tbsp of water to this and cook covered till the pork is done. In a regular pan, it might take around 45 minutes. In pressure cooker, it would be done in 1-2 whistles.

** Drain the excess oil out of the pan. Don't forget to do this. Otherwise the final dish would be very oily. I prefer using this oil to saute the onion and masala.
Heat oil in a pan and fry coconut pieces until it becomes golden brown color. Keep it aside.  ** Another alternative for coconut pieces is grated coconut. If you are using grated coconut, fry 3/4 cup of grated coconut until it gets brown color. Grind it well. The authentic Thrissur style pork preparation is with grated coconut.

Heat oil in a pan. Saute sliced small onions, salt and lots of curry leaves. Saute it until onion turns golden brown. Then add crushed garlic and ginger paste. Saute it well.

Add chilly powder, coriander powder and garam masala. Saute it well and if required add more oil.

Now add cooked pork and fried coconut pieces/ grinded grated coconut prepared in step 3. Adjust salt. Cook on low flame for around 15 - 20 minutes. If required, add oil in between. Stir it until it becomes black in color.