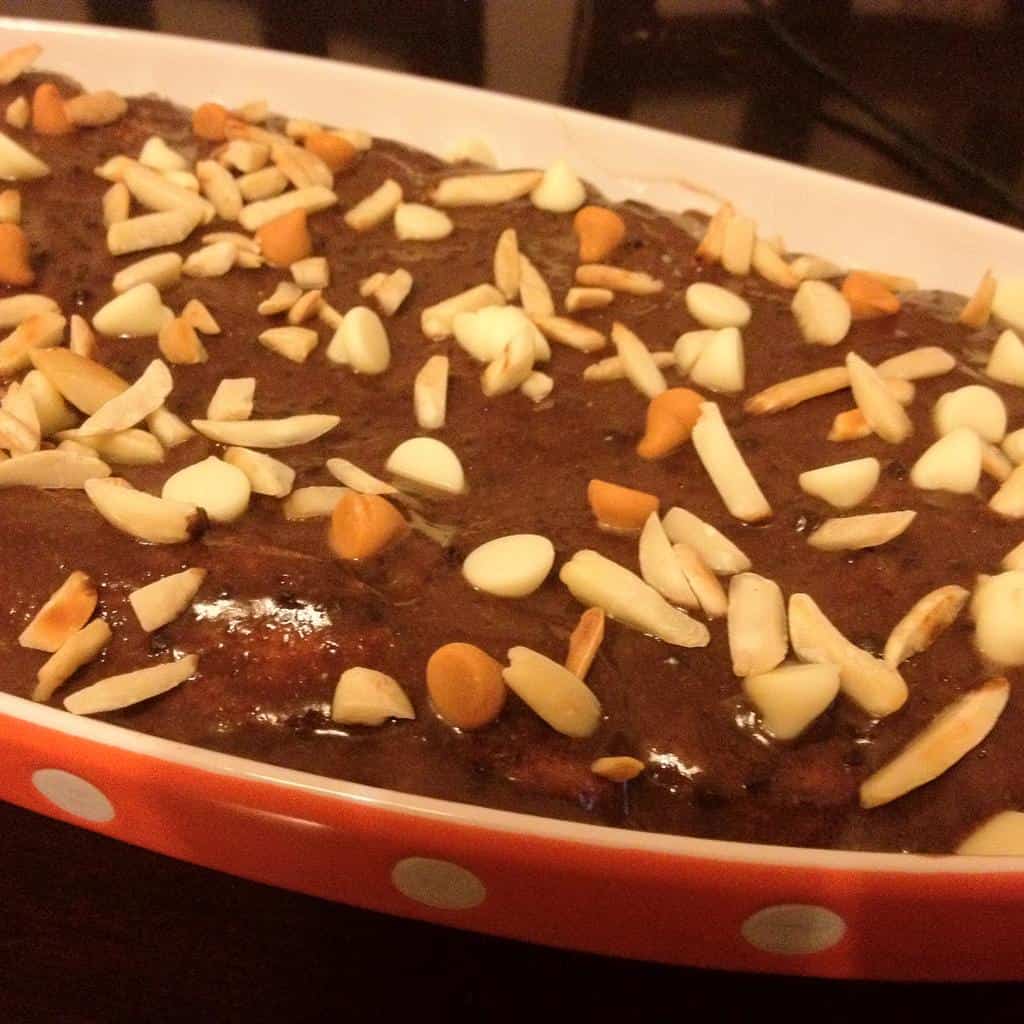 this is a layered pudding that uses boudoir biscuits or sponge finger biscuits and custard. very simple to prepare, and can be made a day ahead too!the coffee decoction can be made as strong or as light as you want it. we like to have a knock out hit of coffee, but if u like it milder, by all means adjust the amount of coffee you use accordingly.also, in hindsight, i think chopped toasted hazelnuts would be a much better topping than almonds to complement the chocolate and custard. you can also use milk chocolate or white chocolate curls.
Ingredients
for the coffee decoction:
coffee instant
4 Teaspoons
for the custard:
custard powder
2 Tablespoons
cocoa powder
1 Tablespoon
for the garnish
Steps
prepare the coffee decoction by dissolving the coffee in lukewarm water. pour this in a flat dish (so its easy to dip the biscuits in). set aside.
dissolve the custard powder in 2 tablespoons of milk. set aside.
boil the rest of the milk with the sugar. when the milk is just boiled, turn off the heat and add the custard mixture, stirring well. set aside to cool slightly.
dip the savoiardi biscuits (sugar side down) in the coffee decoction for about 2 seconds each, and layer them in a dish with dipped face up. this helps the coffee seep through the whole biscuit and soak it evenly.
pour half the custard over the biscuit layer, spreading it evenly. place the dish in the fridge to set the custard.
dissolve the cocoa powder in a 2 tablespoons lukewarm water and add it to the remaining half of the custard. mix well, and put it back on a gentle heat so that the cocoa assimilates fully into the custard. set aside to cool slightly.
as the chocolate custard is cooling, remove the dish from the fridge and prepare a second layer of coffee soaked savoiardi biscuits on top of the first layer.
pour the chocolate custard over the second layer of biscuits and make sure it is spread evenly.
while the custard is still warm on top, garnish with the white chocolate chips, butterscotch chips and slivered almonds.
cover the dish in cling and let it rest in the fridge to set the custard layers fully (can be done upto a day ahead, but at least 2 hours).
serve in individual serving bowls.