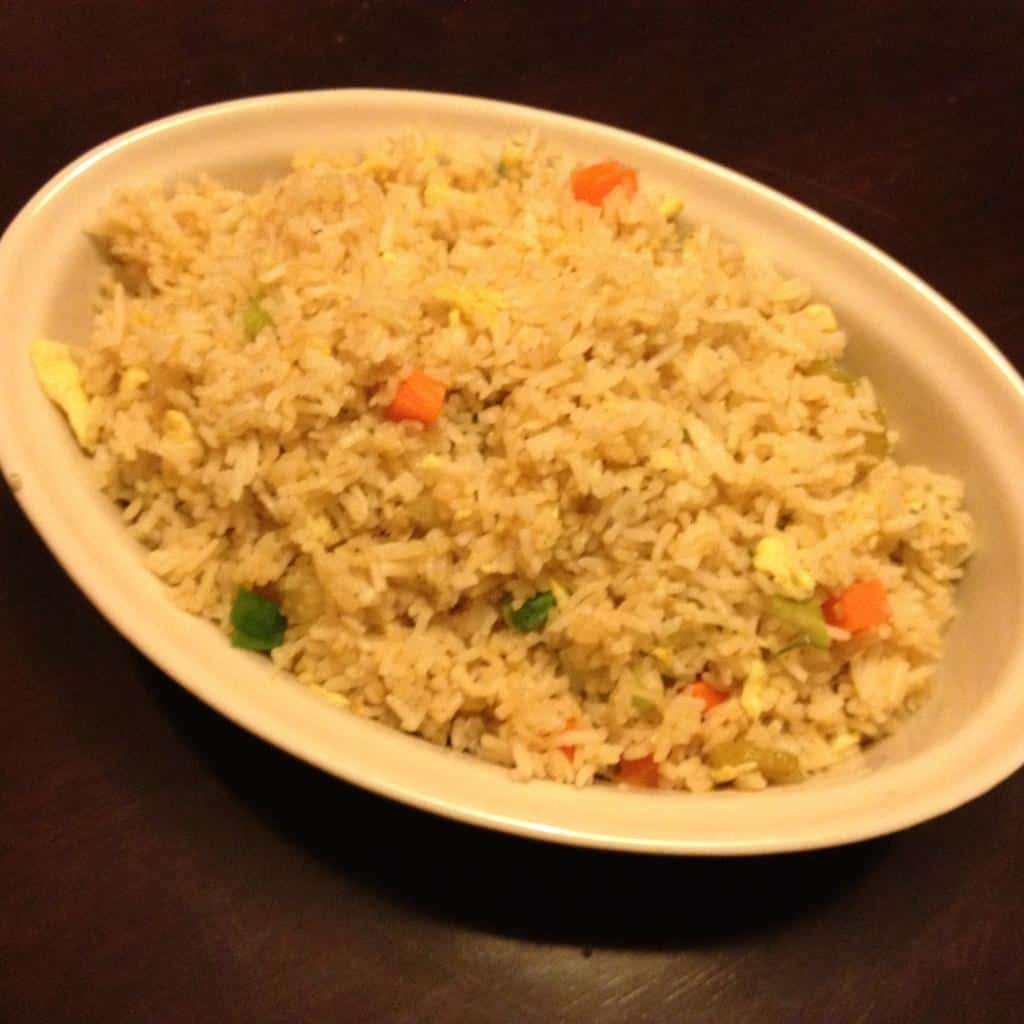 this is a very simple and basic fried rice… celery is the star ingredient in this dish, and is the main flavor you get. its a very simple recipe, and can accompany any Chinese preparation.
Ingredients
mixed frozen vegetables
1 Cup
soy sauce light
3 Tablespoons
soy sauce dark
2 Tablespoons
chopped garlic
1/2 Teaspoon
Steps
wash the rice and soak in water. set aside.
chop the celery into small pieces. slice the spring onions into thin rounds, and separate the white bulbs from the green stalks. set aside.
in a non-stick pan, heat some oil.
add the spring onion whites, garlic and celery and stir well.
when the vegetables turn soft, add the chicken bouillon cube (crumbled) and mix well.
drain the rice and add it to the pan, mixing well. the rice should be nicely fried and lose all its moisture.
add four cups water to the rice, and bring it to the boil.
you could add a bit of pepper to the pan at this stage, if you like your rice a bit spicy.
bring the water to the boil, cover and reduce the heat to a simmer.
cook the rice this way for about 15 minutes, till all the water is absorbed and the rice is cooked.
take the pan off the heat and let the rice rest.
whisk the eggs with some salt and pepper. set aside.
in a pan, heat some oil till it is just smoking.
add the eggs and stir them around to scramble.
when the eggs are soft scrambled, add the frozen veggies (i used just peas and carrots, but you could use whatever you like) and cook.
when the veggies are almost done, season with a little salt.
next, add the previously cooked rice (it should be well rested, with each grain being separated. if not, just fluff it up with a fork before adding).
mix it up to distribute the egg and veggies evenly.
add the spring onion greens, light soy, dark soy and chilli vinegar and mix well to combine.
take it off the heat. serve with any chinese dish.
optional: you could cook the rice a day in advance and keep it in the fridge. toss it together with the eggs and veggies the next day, just before serving. i find the fried rice turns out a lot better when you use day old rice.