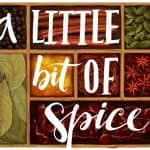 A Little Bit of Spice
American
Moist and rich white chocolate cake with white chocolate cream cheese and raspberry filling, and frosted with white chocolate ganache. The white chocolate cake is our family favorite cake recipe, and I went with the same flavor for my daughter Eva's first birthday cake. It almost melts in your mouth. Each element of this cake […]

Potatoes pressure cooked, blended with cream cheese and topped with green onions, cheese, and bacon. This Instant Pot Easy Creamy Potato Soup is a healthy One Pot Soup and one of my favorites for dinner, especially during winter time. The best potato soup recipe forever. Cream of potato and cream cheese combined beautifully in this […]

Riced Cauliflower cooked with onion, bell peppers, and eggs. Crumbled Cauliflower is an excellent alternative to rice and suitable for a low carb diet. This cauliflower rice stir fry with eggs is an easy and healthy recipe without compromising the taste. One of the best ways to make cauliflower rice. This works out well for […]

This pumpkin chocolate swirl cheesecake with oreo crust is rich, delicious and has an amazing pumpkin pie spice flavor. Melted Chocolate chips swirled into pumpkin cheesecake mixture gives it a marbled effect. The perfect Thanksgiving dessert, otherwise holiday dessert, I can say. The combination of pumpkin with chocolate makes it a heaven!