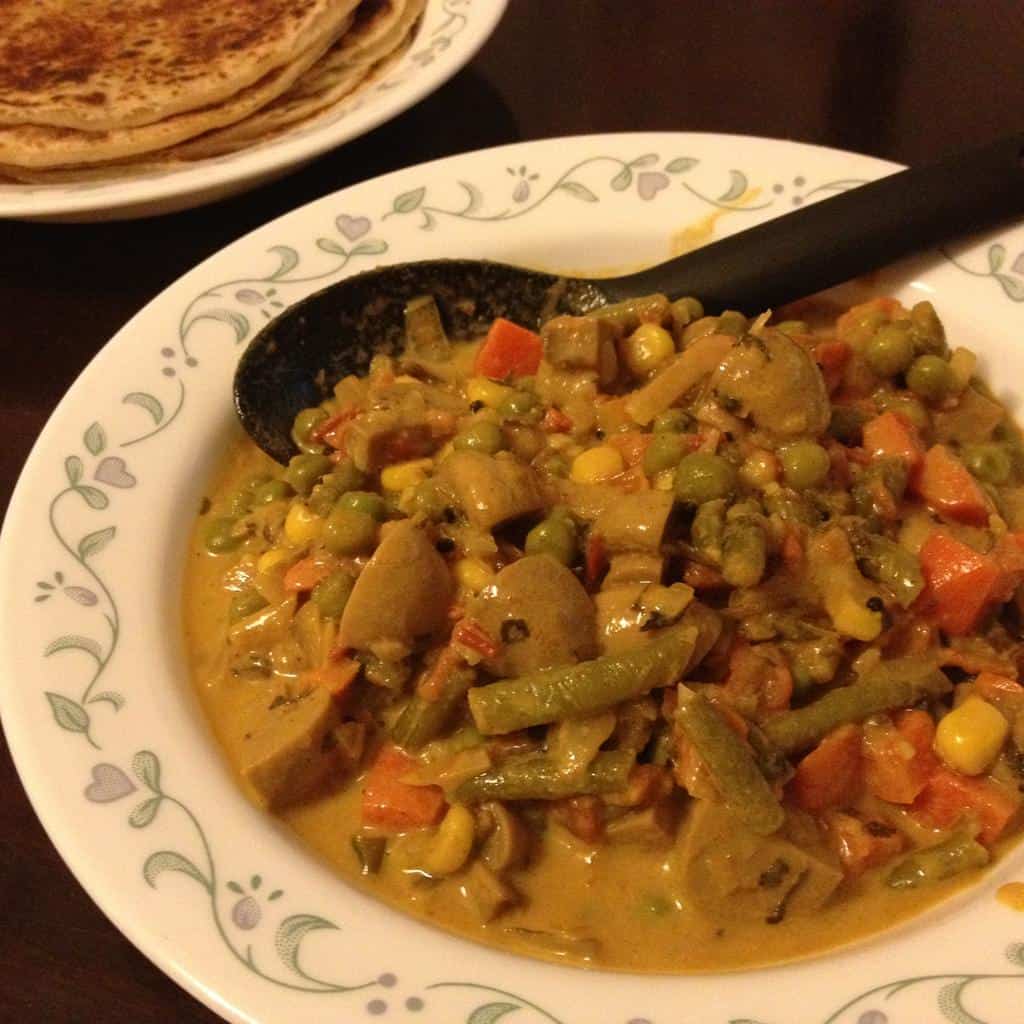 This recipe goes really well with rice or rotis… you can just as easily substitute fresh mushrooms with canned ones (as i have done here) and the veggies can be frozen too! its easy to whip up quickly, when your running low on fresh produce in ur fridge! 🙂
Ingredients
mushrooms ,
quartered 2 Cup
veggies mixed frozen
2 Cups
garlic , chopped
2 cloves
ginger piece , chopped
1 inch
fennel seeds
1/2 Teaspoon
green chillies , slit lengthwise
2
turmeric powder
1/4 Teaspoon
chilly red powder
1 Teaspoon
coriander powder
1 Teaspoon
garam masala
1/2 Teaspoon
cream thick
2 Tablespoons
Steps
heat oil in a kadhai. when the oil is hot, add the cumin seeds, fennel seeds, cinnamon, cardamom, cloves and bay leaf. stir.
when the seeds just start to splutter, add the green chillies and curry leaves. cook for 30 seconds.
next add the ginger and garlic, and ctir around till they turn translucent. be careful not to burn them.
add the finely chopped onion and cook till soft. add the turmeric powder ans stir.
next add the tomatoes, and a little salt. stir till the tomatoes are soft, and release their juices.
add the red chilly powder and coriander powder. stir well to combine, and cook on medium heat till the spice powders lose their raw smell.
to this, add the mushrooms and frozen mixed veggies. stir well to coat the masala evenly over all the vegetables.
add about a cup of water (depends on how much gravy you want) and turn the heat on high.
when it just boils, add the garam masala powder and kasuri methi. cover and cook on a simmer for about 10 minutes.
check for seasoning, and add salt. stir in the cream and immediately take it off the heat.
garnish with freshly chopped coriander and serve hot.