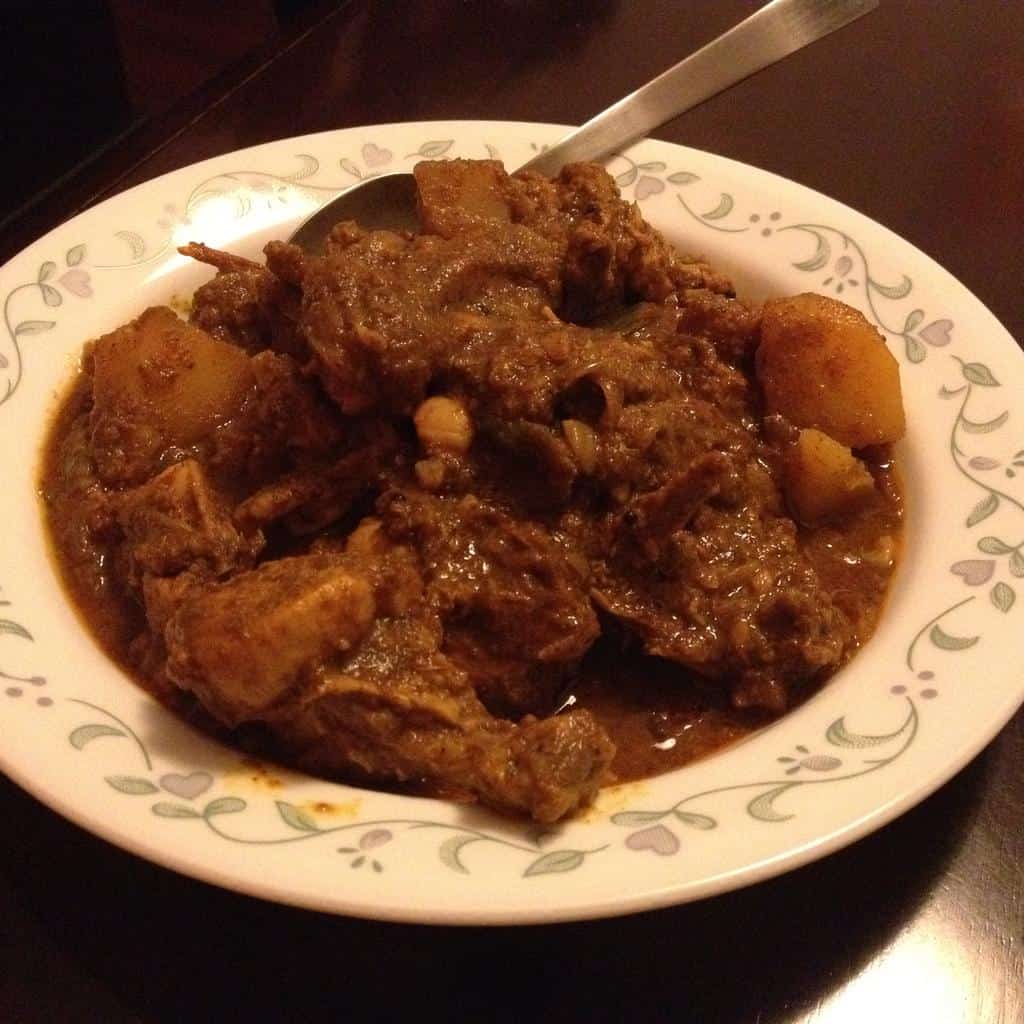 This was a special request from the hubby, who had gotten pretty much tired of my usual yogurt marinated chicken curry… this one features a spicy masala paste made with dry roasted spices… best served with white rice.

Ingredients
chicken , cleaned and cut into pieces
1
garlic , chopped
2 Tablespoons
ginger , chopped
1 Tablespoon
green chillies , slit lengthwise
2
fennel seeds (saunf)
1 Tablespoon
coriander seeds whole
2 Tablespoons
coconut grated / dessicated
4 Tablespoons
chilli powder
2 Teaspoons
turmeric powder
1 Teaspoon
coriander powder
1 Teaspoon
mustard seeds
1/4 Teaspoon
Steps
Clean the chicken and cut into medium size pieces. wash well, drain and marinate with 1 teaspoon chili powder, 1/2 teaspoon turmeric powder and a bit of salt. set aside.
Dry roast the cinnamon, cloves, cardamom pods, bay leaf, fennel seeds, coriander seeds, whole red chilies, desiccated coconut and a few curry leaves. keep mixing it well so that no part of it gets burned. the coconut should have turned an even brown, and the curry leaves should be wilted and dry.
Transfer the dry roasted spices and coconut to a mixer and grind to a paste using a little water. set aside.
Heat oil in a kadai / vessel. add the mustard seeds.
When the mustard seeds splutter, add the curry leaves and toss about for 10 seconds.
Add the slit green chilies, ginger and garlic. Stir till they turn a slight golden brown.
Add the sliced onions and the remaining turmeric powder. stir till the onions are translucent.
Add the tomato, remaining chili powder and coriander powder. stir well (about 2 minutes).
Next, reduce the heat to medium and add the masala paste prepared earlier. mix well, about 2 minutes. then add the potatoes and stir well. cook covered for about a minute.
Increase the heat to high, and add the marinated chicken pieces. stir them around till the pieces are evenly coated with the masala and turn slightly opaque.
Add enough water to form a gravy, and return to a medium - low flame. cook covered for about 10 minutes, stirring occasionally.
By this time, the fat should have separated from the curry. add salt at this stage, stir and cook uncovered for another 5 minutes.
Check seasoning and test the potatoes to see if done, and switch off the flame.
Let the curry rest for about 20 minutes, before serving. serve with rotis or rice.
Notes
This recipe uses a perfect blend of aromatic and hot spices. The whole spices play the magic ingredient in this recipe, so do not replace those with crushed or powdered versions. Spices tend to lose their aroma when ground and kept for a long time.
I strongly recommend use of chicken with bones for this recipe, cut in small pieces, so that the flavors can penetrate through. Feel free to adjust the amount of heat in the recipe as per your liking by altering the amount of whole red chilies, green chilies or chili powder.