Spicy Italian sausage, fresh leaves, and potatoes cooked in a creamy broth topped with crumbled bacon. This is an easy, healthy and yummy One Pot Olive Garden Zuppa Toscana soup recipe. It has got right flavors on one plate. Inspired by Olive Garden special Zuppa Toscana soup. You'll just love this.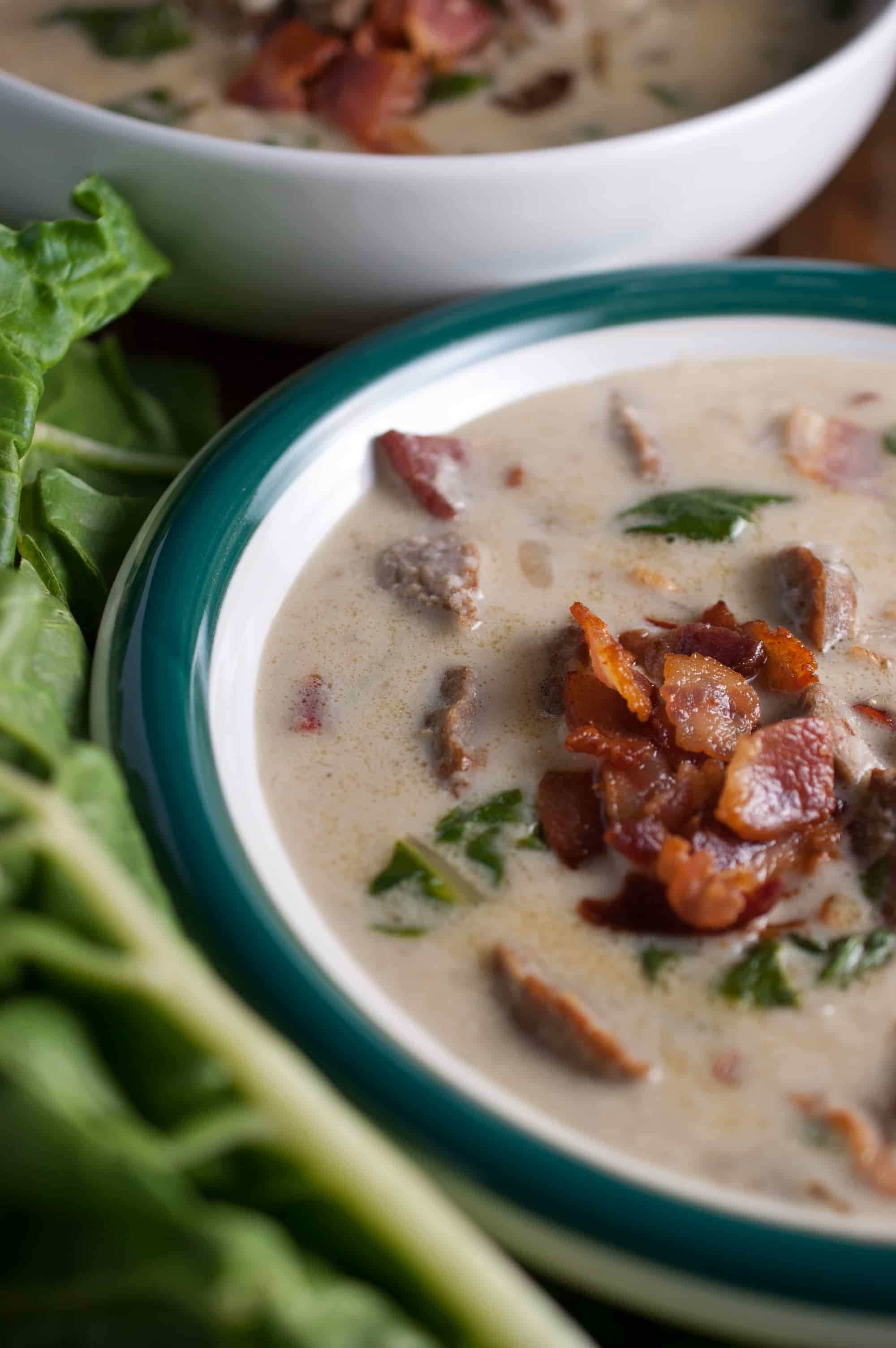 This soup is my favorite at Olive Garden. This recipe is the best Olive Garden Zuppa Toscana soup recipe forever! This was a huge hit at our home and a family favorite one. Quite comfortable food especially during winter time. More soups on the way 🙂
Ingredients
1

pound

Italian sausage

4

slice

bacon

1

number

onion

,medium size

5

teaspoon

Crushed red pepper flakes

1

tablespoon

garlic

crushed or paste

6

cup

chicken broth

3

number

potato

,large size

1

cup

heavy cream

2 ½

cup

swiss chard / spinach / kale

salt

pepper powder
Instructions
Prepare ingredients - Chop bacon slices into 1.5-inch pieces. Chop sausage into 1-inch pieces. Dice onion into small pieces. Mince garlic. Clean the potatoes and thinly slice them.

Heat a large pot or Dutch oven and cook bacon until crisp. Drain them and keep it aside. Reserve the extra oil from the bacon.

Into the same pot, add sausage and red pepper flakes. Cook it until brown and no longer pink. It should crumble as it cooks further. Drain them. Leave the extra fat in the same pot.

Add onion and garlic into the same pot. Saute them until onion is soft and translucent. Add oil reserved from the bacon as needed.

Pour the chicken broth into the pot. Bring it to a boil over high heat. Add back the fried sausage.

Then, add the sliced potato and boil until fork, tender. Add sufficient salt. Sausage will get crumbled while it gets cooked again.

Mix the leaves, spinach or kale or swisschard.

Once the leaves are cooked, add cream and stir. Add half bacon and mix it. Season with salt and pepper as needed. Garnish the soup with the rest of the bacon. Serve immediately!
Notes
Never compromise on the ingredients especially the Italian sausage, bacon and the chicken broth.
You can either use swiss chard or spinach or kale for leaves.
I have also tried replacing heavy cream with whole milk. It works 🙂
I use Organic Chicken base from Costco for the stock. It comes out well.