Chicken marinated in yogurt and spices and then baked in an oven. This Indian Tandoori Chicken In Oven recipe is straightforward to make at home with minimal ingredients. One of my favorite appetizer!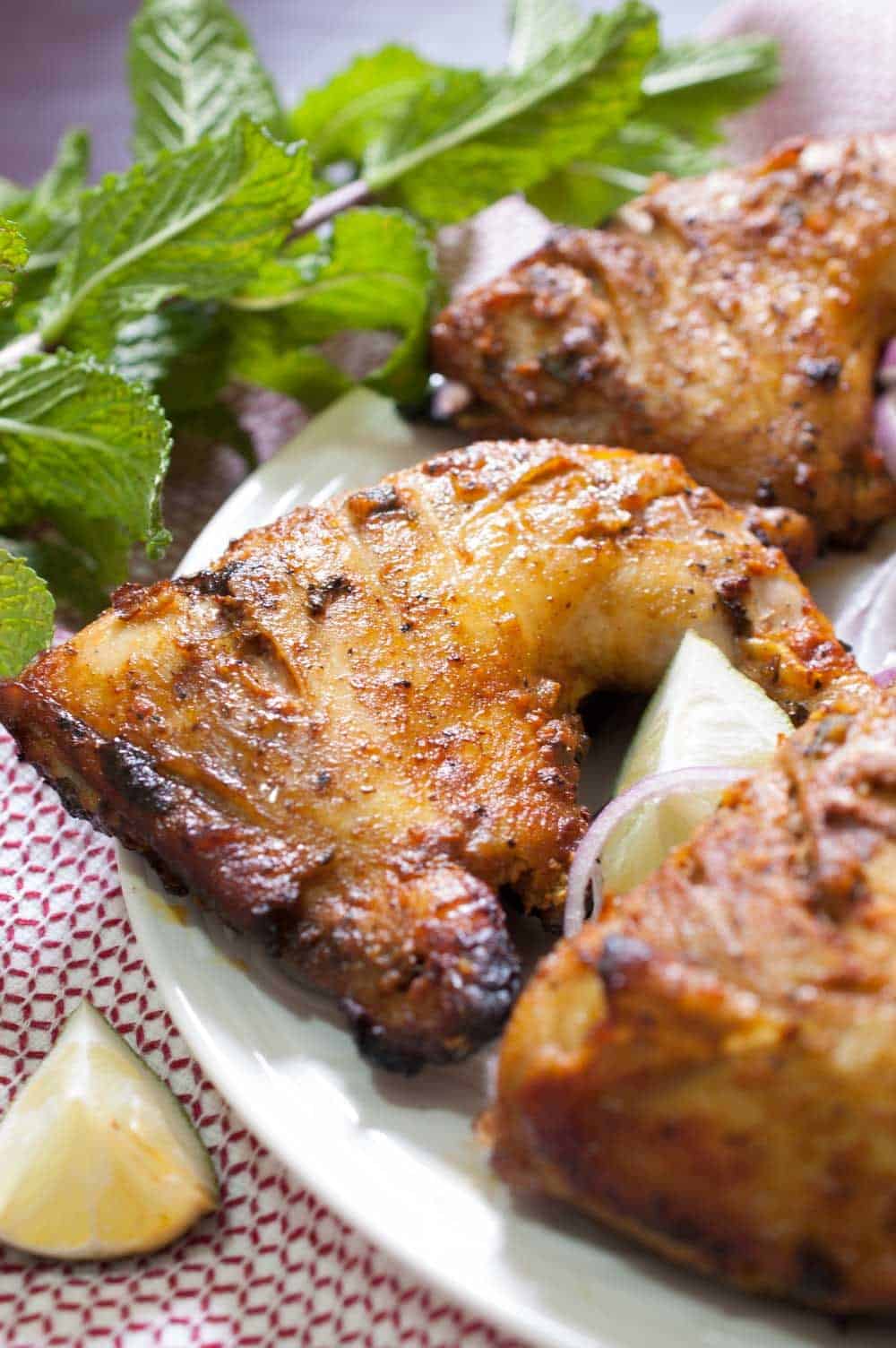 Tandoori chicken has its origin from Peshawar which was part of pre-partitioned India, and now in Pakistan. This dish is well known as tandoori murgh or murgh tandoor. It's a popular starter or appetizer across the world now. Traditionally, tandoori chicken is made in a tandoor, a cylindrical clay oven. Cayenne pepper, red chili powder or Kashmiri red chili powder is used to give it a fiery red hue to the dish.
Ingredients
2

number

Chicken Leg Quarters

(or 4 chicken drumsticks)
Marination
1

pinch

turmeric powder

1

teaspoon

kashmiri chilli powder

(or paprika or cayenne pepper)

1

tablespoon

lemon juice

1

teaspoon

salt

⅓

cup

curd

(or thick yogurt)

1 ½

tablespoon

vegetable oil

(or sunflower oil)

1

teaspoon

fenugreek leaves / methi leaves

(optional)

1

tablespoon

cilantro leaves

½

teaspoon

coriander powder

¼

teaspoon

cumin powder

¼

teaspoon

pepper powder

1

teaspoon

garlic paste

½

teaspoon

ginger paste

¾

teaspoon

garam masala powder

¼

teaspoon

dried mango powder

(optional)
Instructions
Prepare marination - Mix all the ingredients listed under marination - turmeric powder, Kashmiri chilli powder ( or chilli powder or paprika or cayenne pepper), lemon juice, salt, curd, vegetable oil, fenugreek leaves, cilantro leaves, coriander powder, cumin powder, pepper powder, garlic paste, ginger paste, garam masala powder and dried mango powder. Refer notes on the type of curd you can use. Kashmiri chilli powder may not be common in American homes. Paprika or cayenne pepper or regular chilli powder are good alternatives. I didn't use fenugreek leaves and dried mango powder.

Make sure that marinade has thick consistency. Adjust salt if needed. Score the chicken so that marinade penetrates faster. Marinate the chicken and refrigerate it overnight.

Preheat oven at 460F. Line a tray with foil and place a rack on the tray. Remove chicken from the marinade, shaking off excess, and place on the rack. Bake for 15 - 20 minutes on one side. Turn it over. Bake on the other side of the chicken for another 15 - 20 minutes. Chicken would be cooked by this time and would have started turning brownish.

To get the charred look like the real tandoori made in the tandoor, broil the oven at 525F. Place the tray with the chicken on the top rack. Keep it on broil mode until the skin gets a charred look. Once the chicken is brownish, take out the tray and turn over the chicken. Keep it back. It took 1 minute on each side for me to attain the brown-blackish texture. Enjoy 🙂
Notes
If you do not have thick curd or set curd, line a thin muslin cloth over a sieve. Pour the curd. Wring it gently and strain off the whey (water). Make a knot and hang it on a hook for 30 mins. Discard the whey. Then use the ⅓ cup in the cloth in the recipe.