I have a sweet tooth and love all types of payasam/kheer. But my most favorite one is palada payasam / palada pradhaman. Palada payasam from Vinayaka, Cochin would be the best one I ever had.
An easy and delicious palada payasam made in Instant Pot. In this recipe, Rice ada is roasted and cooked in milk, sugar and flavored with cardamom. Rice ada looks like small pasta chunks and made of rice flour. Palada payasam can be otherwise called Indian pasta pudding.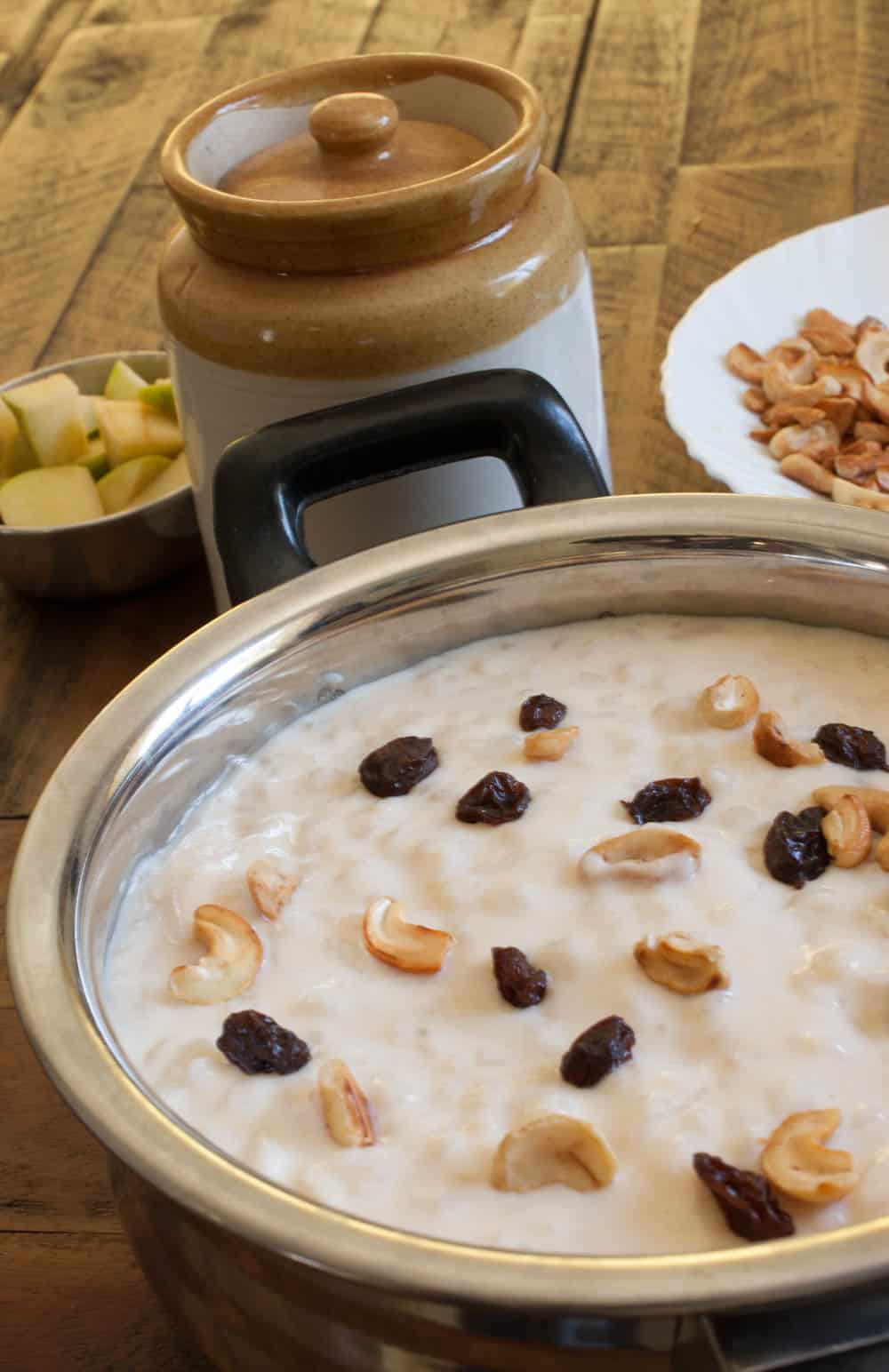 It's a traditional dessert in Kerala and it's served at the end of the sadhya / meal. Payasam/kheer is one of the must side dishes for Kerala Onam/Vishu Sadya. Check out more on Onam/God's own festival
Equipment
pressure cooker / instant pot
Ingredients
1

cup

rice ada

6

cup

milk

¾

cup

sugar

(to your taste)

¼

teaspoon

cardamom powder

1

tablespoon

ghee
Garnish
2

tablespoon

cashewnut

2

tablespoon

raisin

1

tablespoon

ghee
Instructions
Prepare Ada
Wash and drain the rice ada. Place the drained rice ada in a bowl and fill it up with enough hot boiling water. Immerse the ada properly in the water. Close the container with a lid and leave it aside for 20 minutes. Then, Drain and run some cold water over it to stop it sticking.
Roast Ada
I have tried both ways, by roasting ada and by not roasting ada. I could find the difference well. By roasting ada, it won't stick to each other. So highly recommend not to skip that step.

For roasting ada, I prefer to use a heavy-bottomed pan. Heat a heavy-bottomed pan on a medium flame and add 1 tablespoon of ghee.

Now add the drained ada and roast for around 7 minutes in medium flame. Stir it continuously. Switch it off.
Pressure Cook Ada in Instant Pot
I cooked the palada in an instant pot. (Refer notes section for regular pressure cooker preparation). Add the milk and ¾ cup sugar into Instant Pot. Switch on Instant Pot on SAUTE mode MORE setting. Boil the milk until rolling boil.

Add the roasted ada into boiling milk. Close the Instant Pot lid, move the valve to SEAL and cook on MANUAL LOW-PRESSURE setting for 2 minutes. Refer the notes on time setting.

Once the timer goes off, either do a NATURAL PRESSURE RELEASE or a QUICK PRESSURE RELEASE after 10 minutes. Refer notes for instructions on the natural and quick release.

Rice ada would have cooked by this time. Switch the Instant Pot to SAUTE mode NORMAL setting. Check out the sugar in the payasam/kheer and add more according to the sweetness you need. Boil till it thickens and has desired consistency. Add cardamom powder and mix well.
Garnish
Heat 1 tablespoon ghee in the same pan used for roasting ada. Roast cashews and then the raisins. Garnish the payasam with the roasted nuts and raisins. Enjoy 🙂
Notes
Instant Pot SAUTE mode setting: You can vary the temperature of the SAUTE mode by using the ADJUST button to cycle through the modes of LESS, NORMAL, and MORE. This is equivalent to low, medium and high heat. Note that the temperature mode must be adjusted within 10 seconds of pressing the SAUTE button. If you want to change the heat setting of SAUTE mode from HIGH temperature to LOW temperature, CANCEL the current SAUTE function. Then program again on SAUTE mode LOW setting. Be cautious, in SAUTE mode, you are not supposed to use Instant Pot lid.
Instant Pot Natural & Quick Pressure Release - For natural pressure release, allow the float valve to drop off without doing anything. It would take some time, around 20 minutes or so. For quick pressure release, once the timer goes off, leave it as it is for 10 minutes. Then turn the valve from sealing to venting and allow the steam to release the pressure until the float valve drops off.
Regular Pressure Cooker Method:
Add the milk and sugar into Pressure Cooker. Boil the milk.
Add the roasted ada into boiling milk. Close the pressure cooker lid and cook up to 1 whistle.
Once the pressure is gone, open the lid and simmer till it thickens and has desired consistency. I would wait until it turns a pale pink color. Add cardamom powder and mix well.
Nutrition
Calories:
435
kcal
Carbohydrates:
66
g
Protein:
11
g
Fat:
15
g
Saturated Fat:
8
g
Cholesterol:
37
mg
Sodium:
109
mg
Potassium:
421
mg
Fiber:
1
g
Sugar:
38
g
Vitamin A:
395
IU
Vitamin C:
1
mg
Calcium:
284
mg
Iron:
1
mg