Chicken, vegetables and egg stir-fried with ginger-garlic, spices and then mixed with cooked quinoa. It's amazingly flavorful and delicious. An easy and healthy Quinoa Stir Fry with Chicken And Vegetables. A quick one pan dish that you can prepare even on a hectic day. This works out well for Gluten-free diet.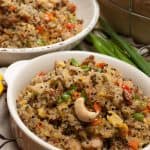 This dish can be otherwise called as, Chicken Quinoa Fried Rice. The combination of quinoa with chicken, veggies, egg and the spices makes it flavorful. We have often heard Quinoa as a healthy grain. Compared to other grains such as brown rice, Quinoa has almost same carbohydrate content. But Quinoa is rich in dietary fiber and protein than brown rice. So for sure, it can be part of a healthy diet. Hope you will enjoy 🙂
Ingredients
Quinoa
chicken broth / water
2 cup
Chicken And Vegetables
boneless chicken
250 gram
pepper powder
1/2 teaspoon
vegetable oil / butter / ghee
2 tablespoon
onion (large)
1 number
green bell pepper (diced)
1/2 cup
yellow bell pepper (diced)
1/2 cup
red bell pepper (diced)
1/2 cup
garlic (crushed or paste)
2 teaspoons
ginger (crushed or paste)
1 teaspoon
green chilli / dried red chilli
2 number
carrot (chopped)
1/2 cup
beans (chopped)
1/2 cup
soy sauce
2 teaspoon
Steps
Prepare quinoa - Wash and drain the quinoa. Heat 1 tsp of vegetable oil in a pan at around medium heat. Add quinoa. Stir for about 1 or 2 minutes to let the water evaporate and saute the quinoa.

Add 2 cup chicken broth / water. Chicken broth mostly contains salt. If you are adding water, yes, you need to add salt too. For the broth, just taste it before adding. I used chicken broth. It makes quinoa more flavorful. Mix it well and bring to a rolling boil.
Turn heat down to the lowest setting. Cover and cook for 15 minutes. Remove the pot from heat and let stand for 5 more minutes, covered. Remove the pot from the heat and let it stand for 5 more minutes, covered. Fluff the quinoa after that. Otherwise, It easily gets sticky.

Prepare ingredients - Clean and cut chicken into small 1" cubes. Dice onion and bell pepper into small pieces. Chop carrot and beans into thin and small slices. Grind/Crush ginger and garlic.
Prepare chicken - Heat 1 tsp of oil in a pan over medium heat. Add chicken along with salt and pepper. Let it cook and lightly brown the chicken. Remove chicken from the pan and keep it aside.

Heat 2 tbsp of oil. Add onion, bell peppers, ginger, garlic, chillies, and salt. You can either use green chilli or dried red chilli. Saute them. Saute it until the onion and peppers become soft.

Add carrot and beans to the pan. Add soya sauce. Mix it well and saute it.

Once veggies are cooked, move all the veggies to one side of the pan. Crack eggs into the other area of the skillet and scramble. Once cooked through, mix eggs into veggie mixture.

Add back chicken and cooked quinoa. Mix well. Cover and cook it for 5 minutes for the flavors to get blended.

Garnish quinoa with fried cashew, raisins, and chopped green onions.
Notes
Once quinoa is cooked, make sure that you fluff the quinoa. Otherwise, It easily gets sticky.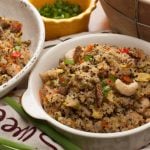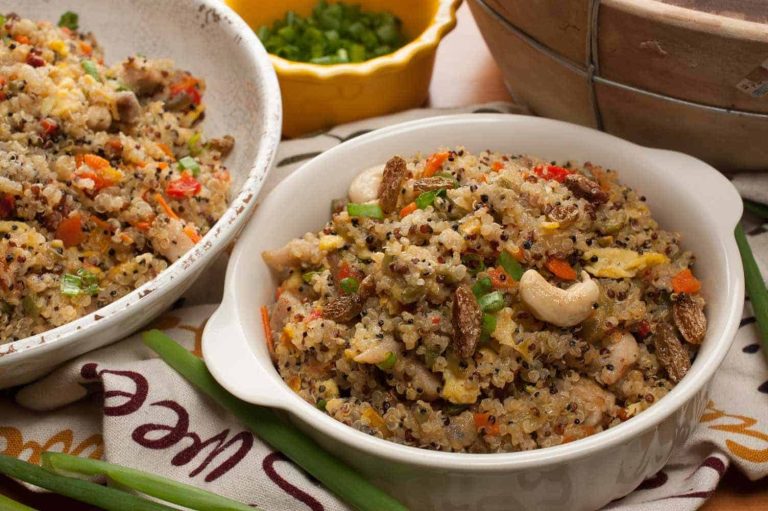 Similar Recipes