Print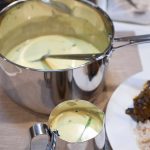 Moru Kachiyathu / Kachiya Moru / Seasoned Buttermilk without coconut
Buttermilk seasoned with shallots, ginger and spices. This is a very easy and yummy curry which can be made in no time.  It is a must side dish with rice at any house in Kerala.
2

cups

Indian Curd (Yogurt)

1/4

tsp

mustard seed

5

Dried Red Chilly

1

sprig

curry leaves

6

Shallots

(Small Onion)

1/2

tbsp

ginger

(chopped)

1/2

tsp

garlic

(chopped)

1/4

tsp

fenugreek

powder

1/2

tsp

turmeric

powder

1/2

tsp

chilli

powder

coconut oil
Prepare buttermilk - Mix curd and water in a mixi using pulse mode.  Water quantity depends on the thickness of the curd and the consistency of moru curry that you need. For the set curd or thick curd of 2 cups, you might need around 1/2 cup water. It's the best if yogurt has sour taste.

Thinly slice shallots. Chop ginger and garlic into small pieces.

Heat oil in pan. Splutter mustard seeds. Following that, add dried red chilli and then curry leaves.

Add chopped shallots, ginger and garlic.

Once it's sauteed, add fenugreek powder, turmeric powder and chilli powder. Mix well and saute for a minute. Add oil if needed.

Reduce the flame to the lowest. And then add prepared buttermilk.  Add sufficient salt. Stir it well.  ** On a high or even medium flame, buttermilk can get curdled. Also, make sure that buttermilk is at room temperature.

Buttermilk has to just get heated. Do not allow it to boil. Stir it in between. It might take around 5 minutes.

Serve it with rice :)
- Incase, if buttermilk is cold, switch off the pan after preparing the seasoning. Let it rest for couple of minutes to reduce down the heat and then add buttermilk. Switch on the flame and keep it at the lowest.
Coconut oil tastes the best for this recipe. You can replace coconut oil with sunflower oil / vegetable oil if needed.