Here is a very happy post! I wanted to make a little something special birthday cake for my daughter Eva's first birthday, and here it goes. This homemade birthday cake is from scratch. Moist and rich white chocolate cake with white chocolate cream cheese and raspberry filling, and frosted with white chocolate ganache. The white chocolate cake is our family favorite cake recipe, and I went with the same flavor for Eva's first birthday cake. It almost melts in your mouth.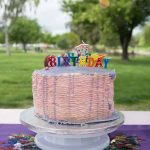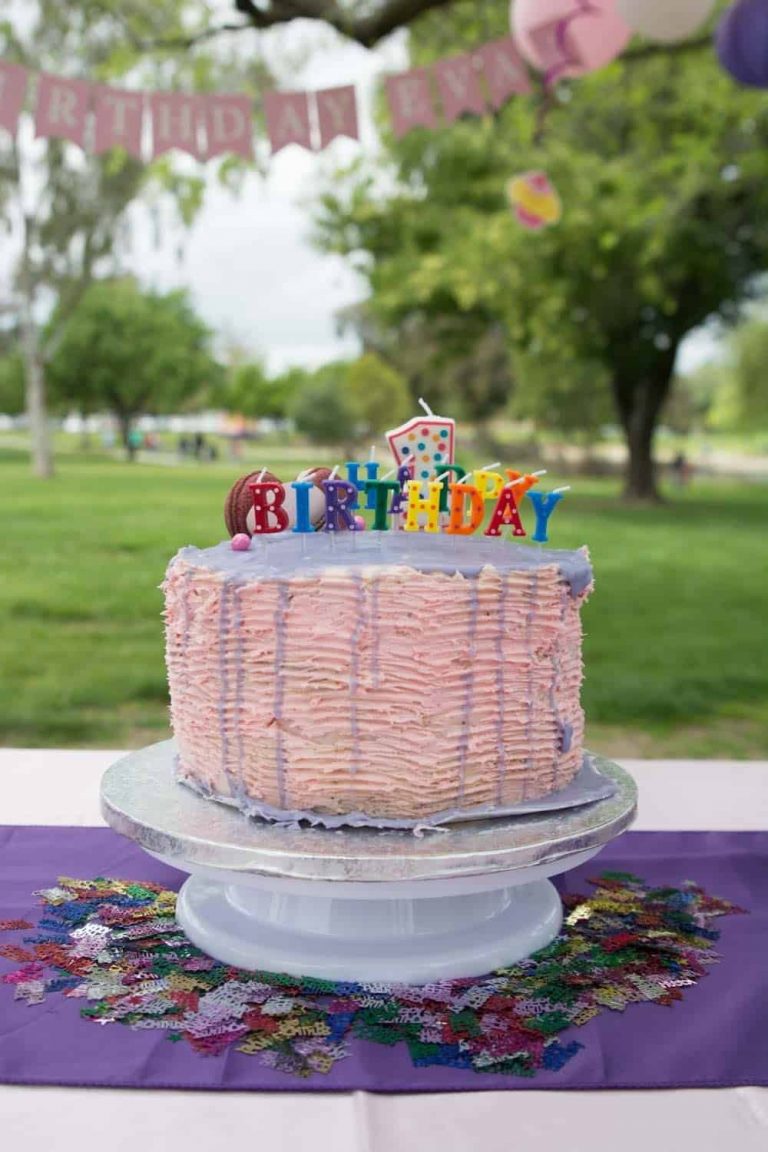 This pink and lavender themed birthday cake has four layers of white chocolate cake. Both white chocolate cream cheese filling and raspberry filling are spreaded between the cake layers. And finally, the cake is frosted with the white chocolate ganache. Lot's of work, but definitely worth the effort 🙂 Each element of this cake makes it the best, very importantly white chocolate cream cheese and raspberry filling. It brings in the tanginess to the cake.
Ingredients
White Chocolate Cake
unsalted butter , softened
500 gram
white baking chocolate
300 gram
Granulated Sugar
700 gram
all purpose flour
600 gram
baking powder
2 teaspoon
vanilla essence
2 teaspoon
White Chocolate Cream Cheese Filling
cream cheese , softened
11 ounce
unsalted butter , softened
1/3 cup
white baking chocolate
4 ounce
vanilla essence
1 teaspoon
Confectioner's Sugar
2 cup
Raspberry Filling
fresh raspberry
6 ounce
corn starch
1 tablespoon
lemon juice
1 teaspoon
White Chocolate Ganache Frosting
heavy whipping cream
1 1/2 cup
white baking chocolate
620 gram
Thin White Chocolate ganache
heavy whipping cream
3/4 cup
white baking chocolate
5 ounce
Steps
Preheat oven to 180C or 350F. Get ready four 9-in. round baking pans. Line the baking pan with parchment paper. If you don't have parchment paper, grease, and flour the pans. Weigh the bowl that will be used to prepare the cake batter. It would help to distribute the batter into the pans equally.
Make sure that butter and white baking chocolate are at room temperature. If you are using the white chocolate bar, chop them into small pieces. Powder the sugar.
Prepare white chocolate cake - Start with the four 9 inch cakes which will make the four layers of the cake. Combine butter, chocolate, sugar, and milk in medium saucepan. To be safe, you can use a double boiler. Mix it well and stir over low heat, without boiling, until smooth. Let it cool down. It might take around 15 to 20 minutes. Use Ice-water bath and frequently stirring for faster and more even cooling. Transfer mixture to a large bowl.

Mix flour and baking powder in another bowl. Whisk it in the above mixture. Add essence and eggs. Whisk it until batter is smooth. Pour the batter equally into the 4 prepared pans, bake for about 25 minutes to 30 minutes or until a toothpick inserted in the center comes out clean. Let the cakes cool down completely.

Meanwhile, prepare the fillings. For the raspberry filling, in a small saucepan, add the fresh raspberry. Add sugar, lemon juice, and cornstarch into the pan. Mix it well. Cook over medium heat and mash few raspberries. Stir it continuously until the mixture thickens. Add extra sugar if needed. I didn't make it too sweet. Remove from the heat. Allow it to cool. This raspberry filling can be refrigerated in a covered container for a week.

Prepare white chocolate and cream cheese filling - Refer notes on how to melt white baking chocolate. In a large bowl, beat cream cheese and butter until fluffy. Beat in cooled melted chocolate and vanilla essence. Gradually add confectioners' sugar until smooth. I would say, taste and add sugar up to the sweetness you need. I don't like to make this filling too sweet. I love to retain the tanginess of the cream cheese. Refer notes on further details of the filling.

Prepare white chocolate ganache frosting - Melt the white baking chocolate for 30s in microwave so that it gets mixed with the cream easily. Refer notes on how to melt chocolate. Bring cream to a boil in a small saucepan. Pour over chocolate and stir with a spoon until chocolate melts completely. Cream and chocolate should get mixed well. Let it cool down. Using a stand mixer with whisk attachment or using a hand mixer, beat melted chocolate ganache on high until light and fluffy. If you want to add color, add it at this moment. I added light pink color to this frosting.

Prepare thin white chocolate ganache - Thin white chocolate ganache is optional. As in the picture, the lavender top is the thin, pourable ganache. Follow the same steps as white chocolate ganache frosting to prepare pourable ganache but follow the measurements as listed in the ingredients section. I added lavender color to this.
Assemble the cake - Remove the cakes from the pan. Place one cake layer on the cake board. Spread with one-third white chocolate cream cheese filling. Add one-third raspberry filling on top of it. Spread it. Repeat layers. Top with remaining cake layer.

Spread white chocolate ganache over top and sides of cake. In my case, it's the pink frosting. Pour the thin white chocolate lavender ganache on the top.
Notes
Melt white baking chocolate -  If you are using the white baking chocolate bar, chop them into small pieces. Melt white baking chocolate in a microwave or use a double boiler. If you are using microwave, don't do it for more than 30s at a time. Chocolate can get burnt. Let the melted chocolate cool down.
Refer White Chocolate and Cream Cheese Frosting recipe for detailed step by step pictures for the white chocolate cream cheese filling
Equal cake batter distribution - It's important that all the four layers should be of the same size. So batter should be equally distributed into the baking pans. Use a weighing scale to measure the weight of the batter.
Instead of white chocolate ganache, white chocolate buttercream frosting is another option. I'm not a buttercream frosting fan and chose ganache instead.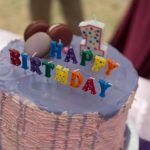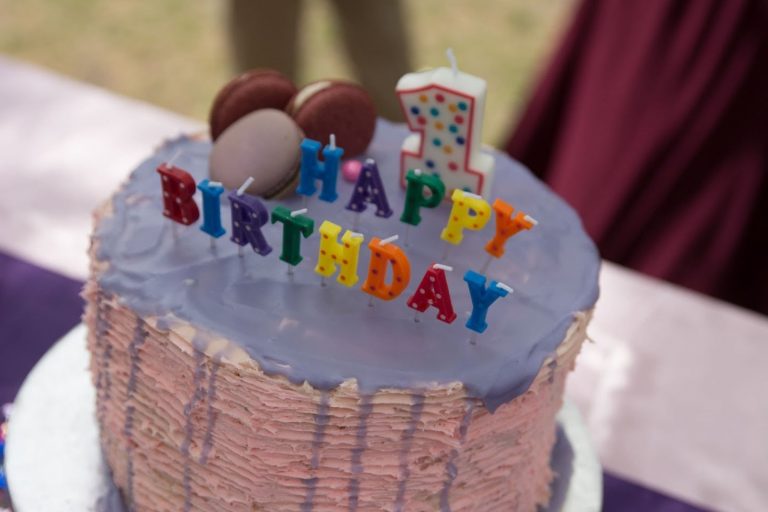 Similar Recipes