This pumpkin chocolate swirl cheesecake with oreo crust is rich, delicious and has an amazing pumpkin pie spice flavor. Melted Chocolate chips swirled into pumpkin cheesecake mixture gives it a marbled effect. I used homemade pumpkin puree in the pumpkin cheesecake mixture. Otherwise, you can use the canned pumpkin puree. Easy and yummy dessert which you can prepare for Halloween or Thanksgiving or Christmas party. A perfect holiday dessert preparation from scratch. The combination of pumpkin with chocolate makes it a heaven!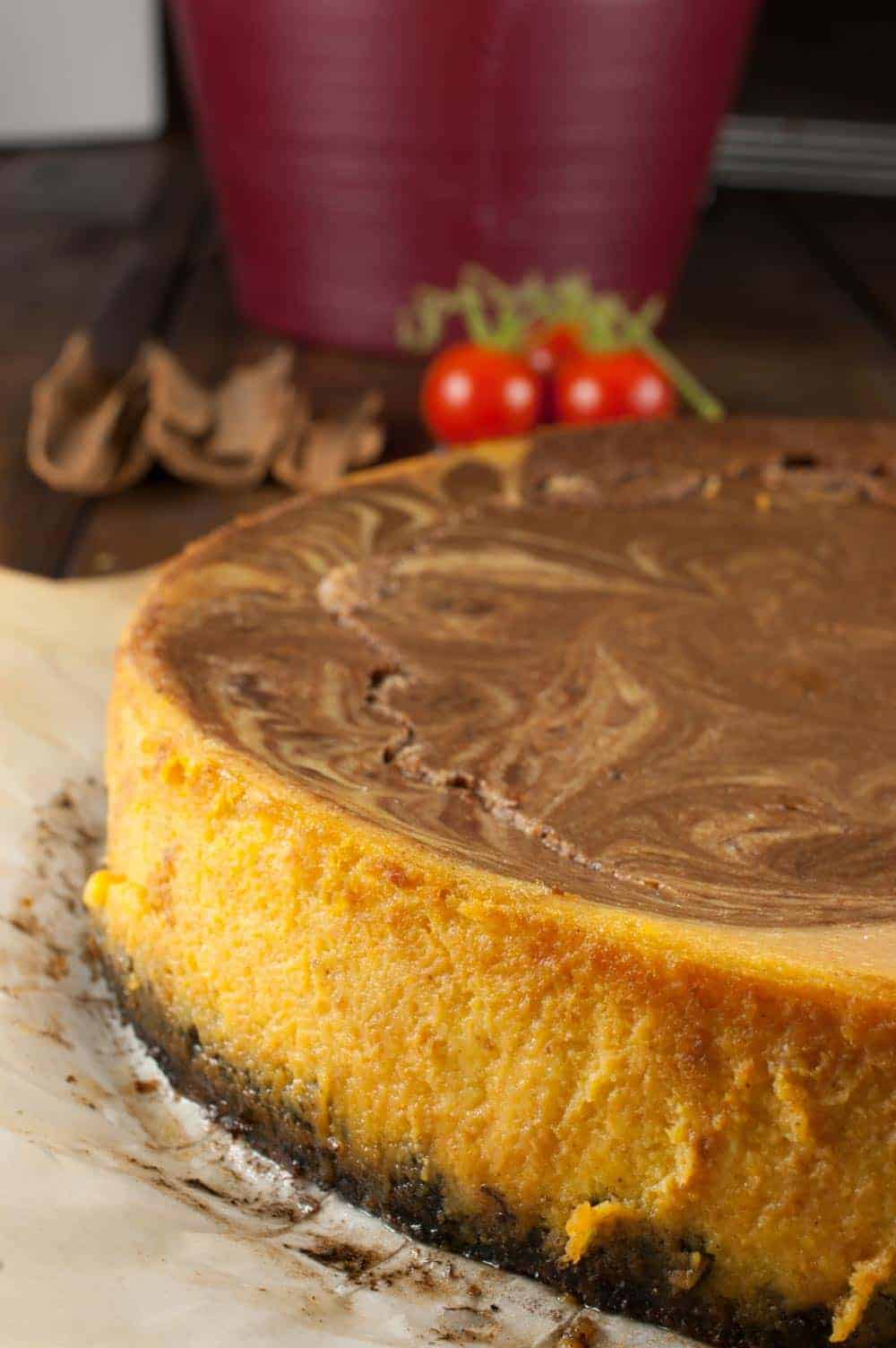 In the United States, usually, cheesecake is made from cream cheese, eggs, and egg yolks to add a richness and a smooth consistency. This cheesecake has 2 layers - crumbled oreo crust, cheesecake mixture with homemade pumpkin puree and swirled melted chocolate chips on the top.
Ingredients
Crust
1 ½

cup

chocolate oreo crumbs

(17 whole oreos)

6

tablespoon

unsalted butter

(¾ stick, melted)
Filling
3

number

8 oz packages cream cheese

(room temperature)

15

ounce

pumpkin puree

3

number

egg

1

number

egg yolk

¼

cup

sour cream

1 ½

cup

sugar

¾

teaspoon

pumpkin pie spice

2

tablespoon

all purpose flour

1

teaspoon

vanilla extract

½

cup

semi sweet chocolate chips
Instructions
Prepare the crust
Preheat oven to 350 degrees F. Have a 9-inch springform pan ready. To make the oreo crumbs, crush the whole chocolate oreos in a food processor or a blender. I used 17 whole oreos. Otherwise, crush them in a Ziploc bag with a rolling pin. It has a slightly coarse texture.

Combine the oreo crumbs, and melted butter until moistened. Since the oreo has cream in it, pour butter carefully.

Press down flat into a 9-inch springform pan. With your hands or a flat surfaced spoon, press the crumbs into the bottom of the pan and about 1-inch up the sides. Bake for 8 minutes. Remove from the oven and set on a wire rack to cool while making the filling.
Prepare the filling
Make sure that cream cheese is at room temperature. Beat cream cheese until smooth.

I used homemade pumpkin puree. Otherwise, you can use the canned one. Add pumpkin puree, eggs, egg yolk, sour cream, sugar and the spices.

Add flour and vanilla. Beat together until well combined. 

Microwave semi-sweet chocolate chips in medium uncovered microwave-safe bowl on HIGH (100%) power for 30 seconds. Stir well. The chips may retain some of their original shapes. If necessary, microwave at additional 10- to 15-second intervals, stirring just until chocolate chips are melted. Cool to room temperature. 

Making marble - Remove ¾ cup pumpkin mixture. Stir into melted chocolate. .

Pour remaining pumpkin mixture into the prepared oreo crust. Spread out evenly.

Spoon chocolate-pumpkin mixture over the top. Swirl using a toothpick.

Bake the cheesecake not using the water bath- Raise the oven temperature to 450 degrees F. Place springform pan on a baking sheet (this will help catch any leaks) and bake for 15 minutes.

Turn the oven temperature down to 225 degrees F. Bake until edge is set and cheesecake is slightly jiggly in the center, 1 hour to 1 hour 15 minutes. Turn the oven off and open the door wide. The cake will not be completely set in the center. Allow the cake to sit in the oven with the door open for 30 minutes. Take the cake out of the oven and allow it to sit at room temperature for another 2 to 3 hours until completely cooled. Wrap and refrigerate overnight.

Remove the cake from the springform pan by carefully running a hot knife around the outside of the cake. Leave the cake on the bottom of the springform pan for serving.