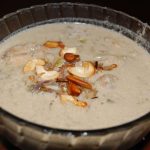 Chicken simmered in coconut milk with onion, ginger- garlic and pepper. This recipe is adapted from my mom. Appam with Chicken Stew is one of my favorite breakfast. Great combination with Idiyappam and bread also.
Ingredients
chicken
1/2 Kilogram
garlic
1/2 Tablespoon
ginger
1/2 Tablespoon
black peppercorns
1 Teaspoon
pepper powder
1/2 Teaspoon
Ani seeds powder
1/2 Teaspoon
coconut milk Medium Thick
2 Cups
coconut milk thick
1 cup
Garnish
onion (small)
6 numbers
Steps
Heat oil in a pan and add sliced onions, salt and split green chillies. Saute it until onion becomes soft. Don't let it brown.
Next add crushed garlic and ginger. Saute it for a while.
Then add cinnamon, cloves, crushed cardamom, black peppercorns, aniseeds powder, pepper powder, curry leaves. Fry it well for a minute.
Add potato cubes and chicken(cut into small pieces) and enough salt. Mix well.

Add medium thick coconut milk. Cover and cook.
Once chicken is half done, add carrot cubes. Cover and cook again.
Soak 1 tbsp cashew in 2 tbsp hot water for 15 minutes. Grind it to a smooth paste.
Once chicken and the vegetables are cooked well, add thick coconut milk and cashew paste to the gravy. Cashew paste is optional and required if you need the gravy more creamier.
Bring it to boil and switch off once the gravy is thick enough.
Garnish with fried small onions and 1/2 tbsp cashew.

*** Preparation of coconut milk - Grind 3 cup grated coconut with 1 cup luke warm water. 1 cup thick coconut milk can be extracted from this. Luke warm water helps you to extract coconut milk well.
Grind the same coconut with 2 cups luke warm water. 2 cups medium thick coconut milk can be prepared from this.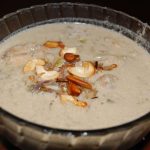 Similar Recipes