Moist and rich white chocolate cake with white chocolate frosting. It almost melts in your mouth. It's excellent as happy birthday cupcakes and an alternative to the regular vanilla cupcakes. It's suitable for any other parties, baby shower, wedding or even to snack at home 🙂 I baked these cute pink and lavender themed cupcakes for my daughter Eva's first birthday.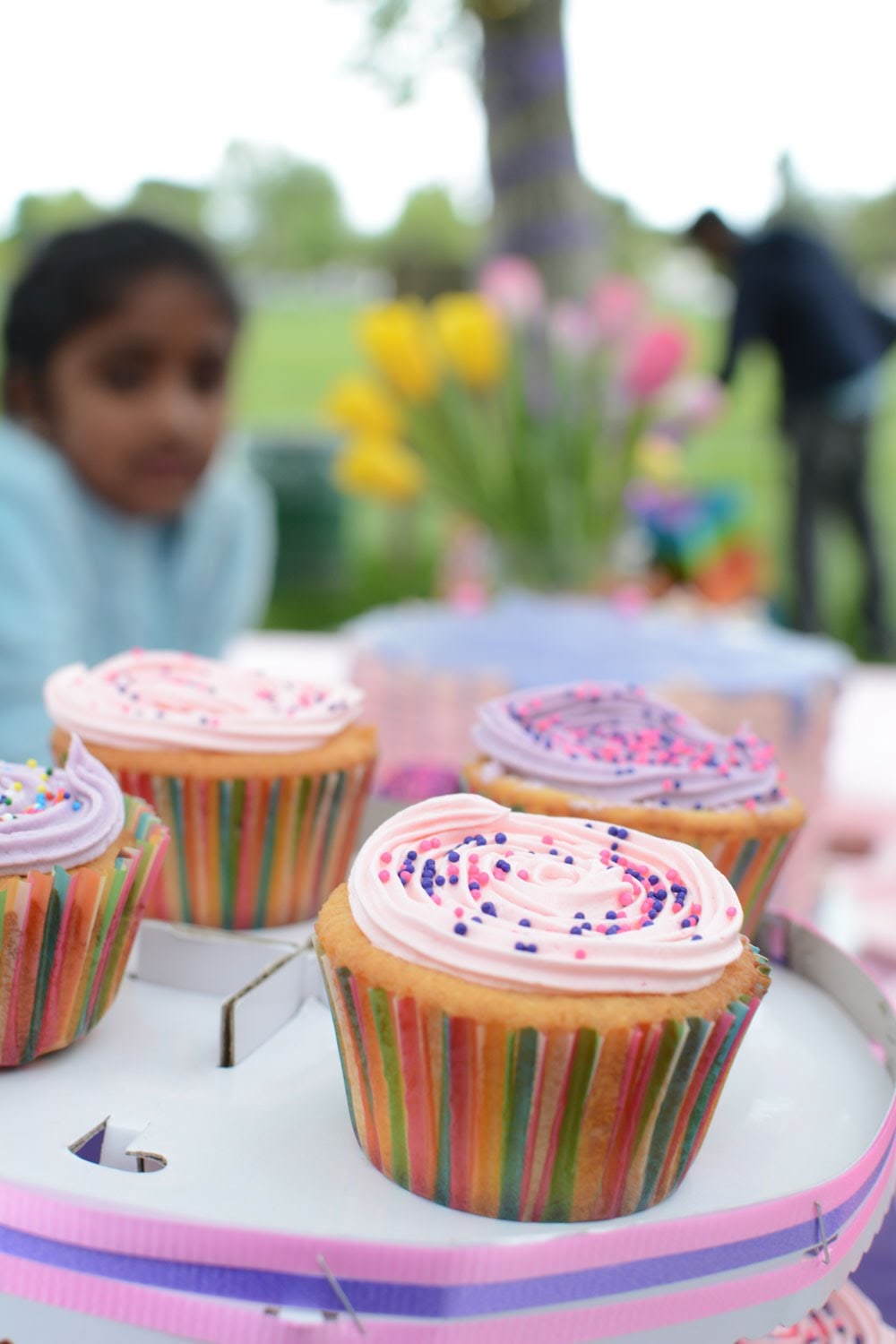 The whipped cream frosting is an alternative to whipped ganache frosting in this recipe. If you are interested in birthday cake recipe, check out the birthday cake.
Ingredients
White Chocolate Cake
250

grams

unsalted butter

, softened

150

grams

white baking chocolate

350

grams

Granulated Sugar

1

cup

milk

300

grams

all purpose flour

1

teaspoon

baking powder

1

teaspoon

vanilla essence

2

number

egg
White Chocolate Ganache Frosting
¾

cup

heavy cream

310

grams

white baking chocolate
Instructions
Preheat oven to 180C or 350F. Line muffin pan with cupcake liners. Make sure that butter and white baking chocolate are at room temperature. If you are using the white chocolate bar, chop them into small pieces. Powder the sugar.

Prepare white chocolate cake - Combine butter, chocolate, sugar, and milk in medium saucepan. To be safe, you can use a double boiler. Mix it well and stir over low heat, without boiling, until smooth. Let it cool down. It might take around 15 to 20 minutes. Use Ice-water bath and frequently stirring for faster and more even cooling. Transfer mixture to a large bowl.

Mix flour and baking powder in another bowl. Whisk it in the above mixture. Add essence and eggs. Whisk it until batter is smooth. Scoop the batter equally into the cupcake liners, bake on the centre rack for about 12 minutes to 18 minutes or until a toothpick inserted in the center comes out clean. Let the cupcakes cool down completely.

Prepare white chocolate ganache frosting - Melt the white baking chocolate for 30s in microwave so that it gets mixed with the cream easily. Bring cream to a boil in a small saucepan. Pour over chocolate and stir with a spoon until chocolate melts completely. Cream and chocolate should get mixed well. Let it cool down.

Using a stand mixer with whisk attachment or using a hand mixer, beat melted chocolate ganache on high until light and fluffy. If you want to add color, add it at this moment. I divided the frosting and added light pink and lavender color.

Place whipped frosting in a piping bag with a tip and decorate as desired. You can mound it up high more than the picture, as needed. I added very minimal frosting. Sprinkle with additional jimmies or sprinkles. I could make 18 medium size cupcakes with this recipe. Place cupcakes in a covered container until you are ready to eat. It can stay out fresh for a day. Enjoy!!
Notes
Melt white baking chocolate -  If you are using the white baking chocolate bar, chop them into small pieces. Melt white baking chocolate in a microwave or use a double boiler. If you are using microwave, don't do it for more than 30s at a time. Chocolate can get burnt. Let the melted chocolate cool down.