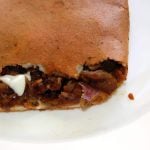 South Indian Dosa stuffed with chinese filling and cheese! A must try Indo – Chinese fusion.
Ingredients
Filling
Schezwan Sauce
1 Tablespoon
Soya Sauce
1/2 Tablespoon
Topping
Cheese Grated
2 Tablespoons
Schezwan Sauce
1 Teaspoon
Steps
Thinly slice onion, garlic, capsicum, carrot and cauliflower. Instead of carrot and cauliflower, you can add cabbage, beans or any other vegetables of your choice also.
Heat oil in a kadai. Saute the sliced onions with some salt.
When onion turn translucent, add garlic and capsicum. Saute it for 2-3 minutes.
Add carrot, cauliflower and other veggies. Saute it until veggies are cooked. Make sure you don't overcook the veggies.
Add schezwan sauce and soya sauce. Mix it well. Adjust the salt.
For the dosa topping, dilute the schezwan sauce with 1/4 tsp water.
Heat a pan to prepare dosa. Pour a ladle of dosa batter and spread it. Cook covered.
Once dosa is cooked, spread the diluted schezwan sauce on top of it. Add the prepared stuffing and grated cheese. Cook until cheese is melted and then roll the dosa.
Cut the rolled dosa and serve it immediately.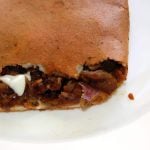 Similar Recipes