Crispy Fried Soya chunks cooked with spring onion and bell peppers in a spicy and tangy sauce. When you want to cook a quick and delicious appetizer/snack, try out this Soya Chunks Manchurian recipe. Impress your family and guests 🙂 The spicy and tangy flavor combination makes it delicious.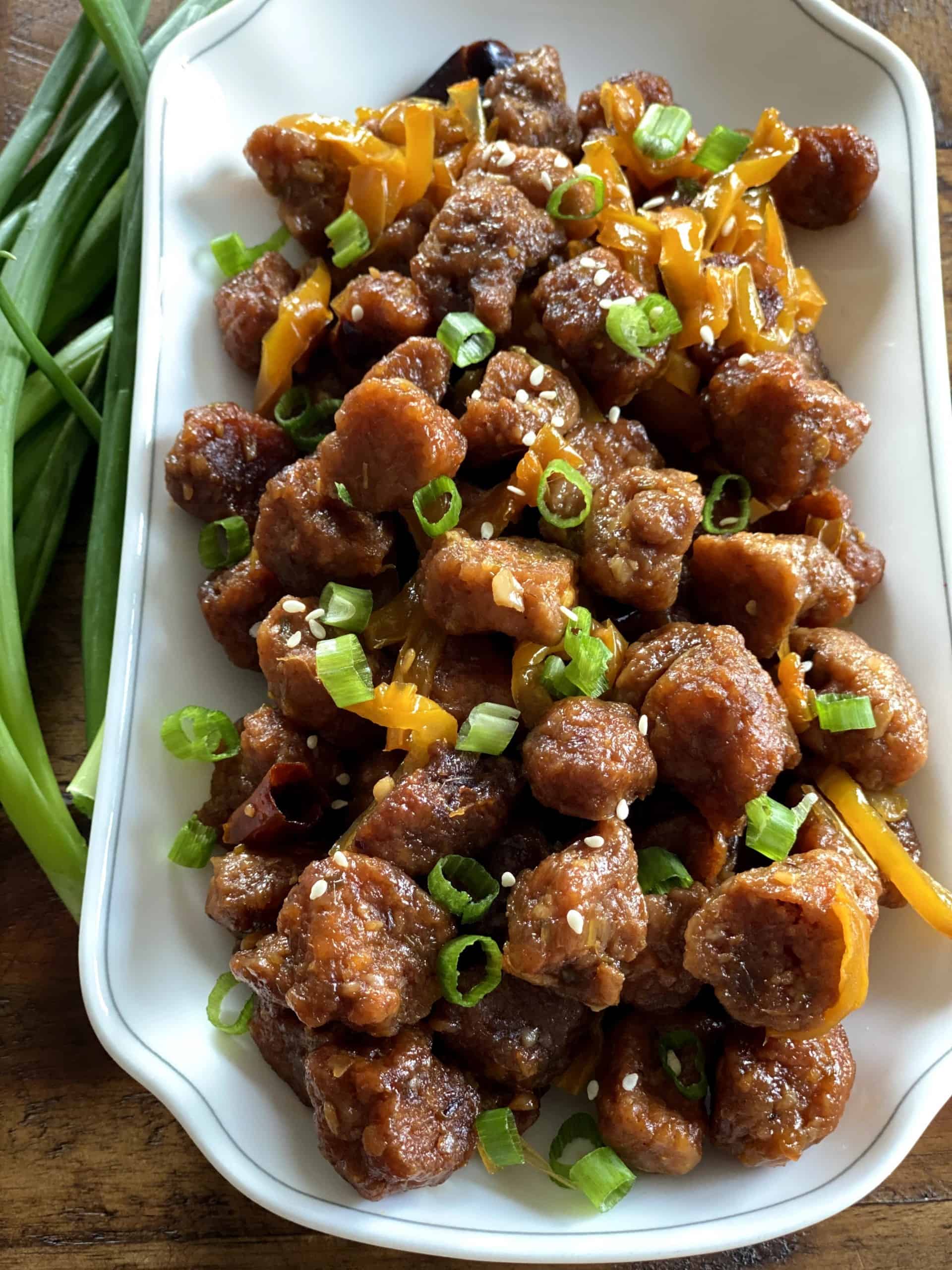 Soya chunks makes a great addition to the protein component of a balanced vegetarian meal plan. Soya recipes are my favorite during X'mas or Easter lent season. Makes a good replacement for meat. I used Nutrela's soya chunks and would highly recommend it. Soy meat or soya chunks or nuggets is a defatted soy flour product, a by-product of extracting soybean oil.
Here's a yummy Indo-Chinese Soya Chunks Manchurian appetizer.
Check out other soya chunks recipes:
Soya chunks masala fry
Soya chunks curry
Soya Chunks Dry
Method
1.Place the soya chunks in a bowl and fill it up with enough hot boiling water so that the soya chunks are completely immersed. Close the bowl with a lid. Leave it aside for 20 minutes.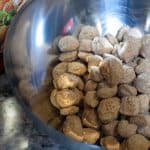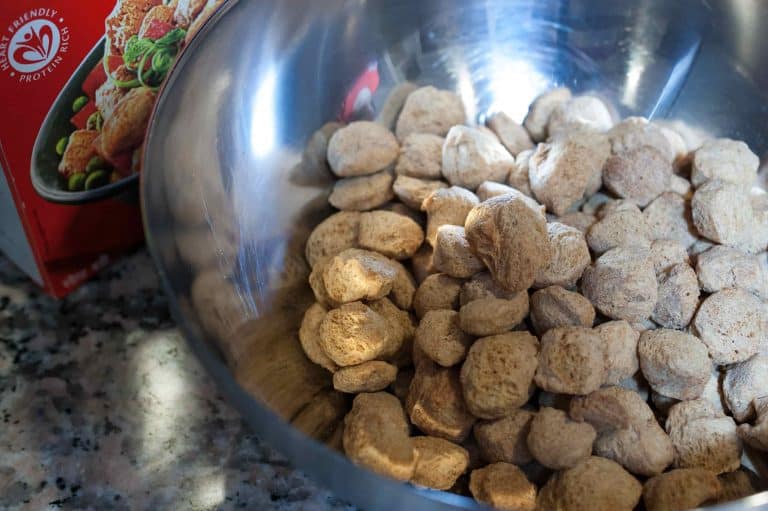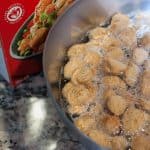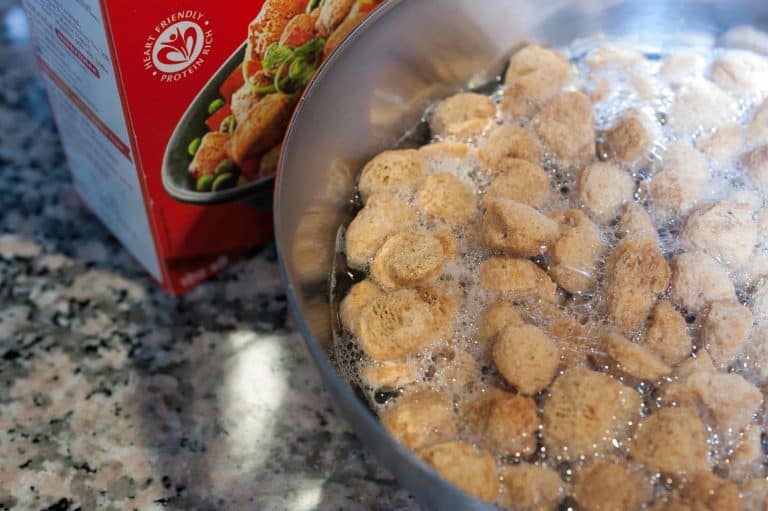 2. After soaking in water, the soya chunks would appear double in volume. Squeeze all the water from the soya chunks. Cut soya chunks into two pieces.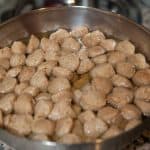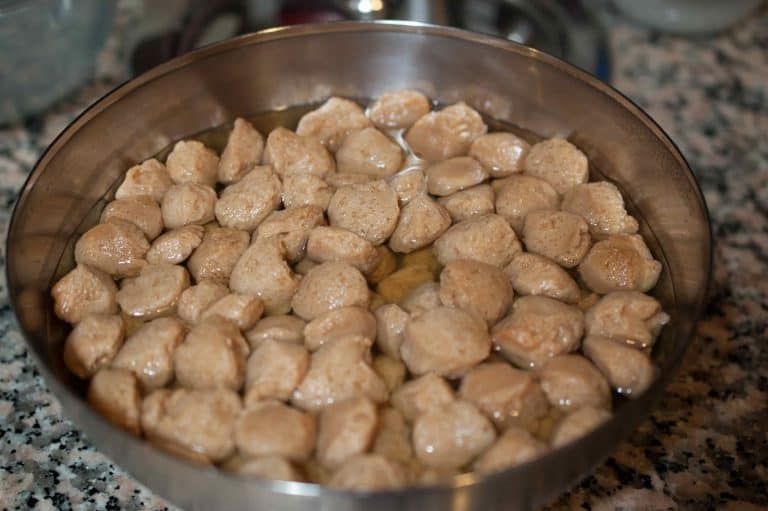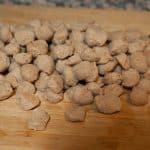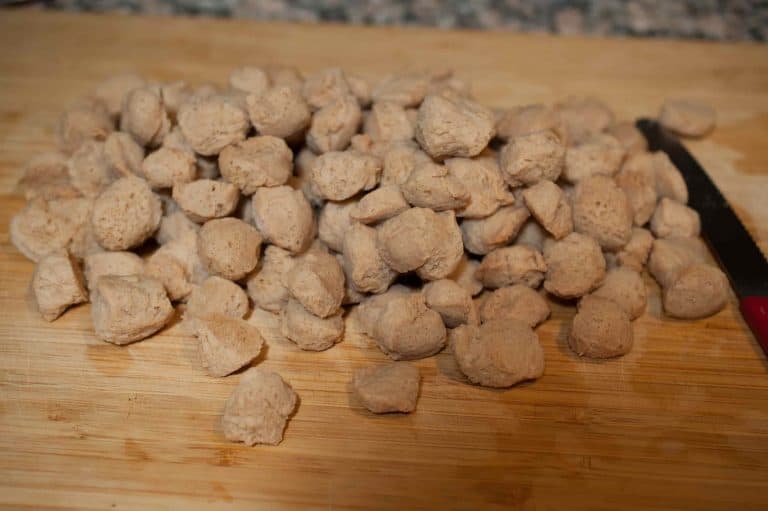 3. Mix ingredients listed under marination – corn flour, all purpose flour, chilli powder, and salt. Marinate soya chunks pieces with the mix. Keep it aside for 30 minutes.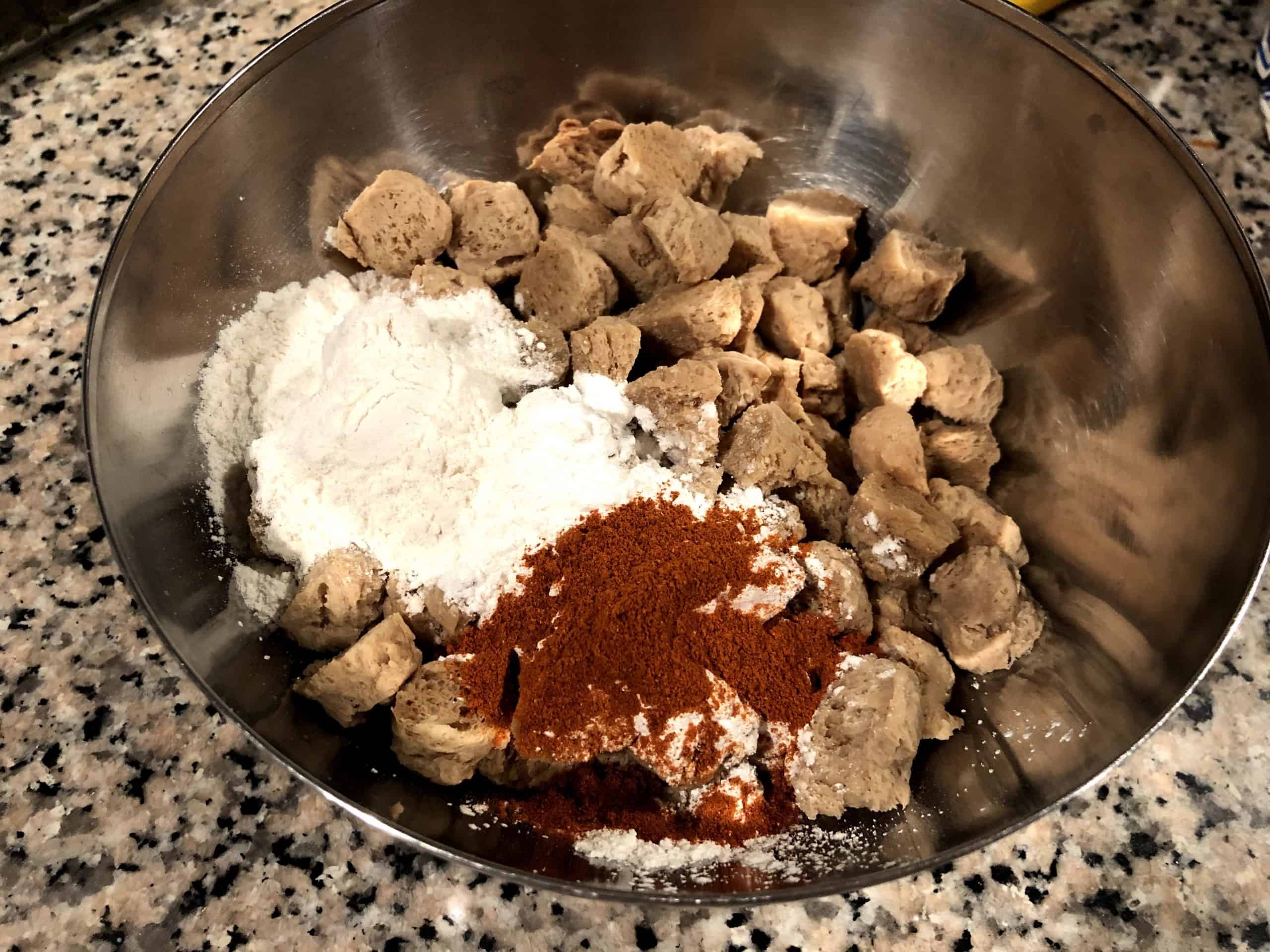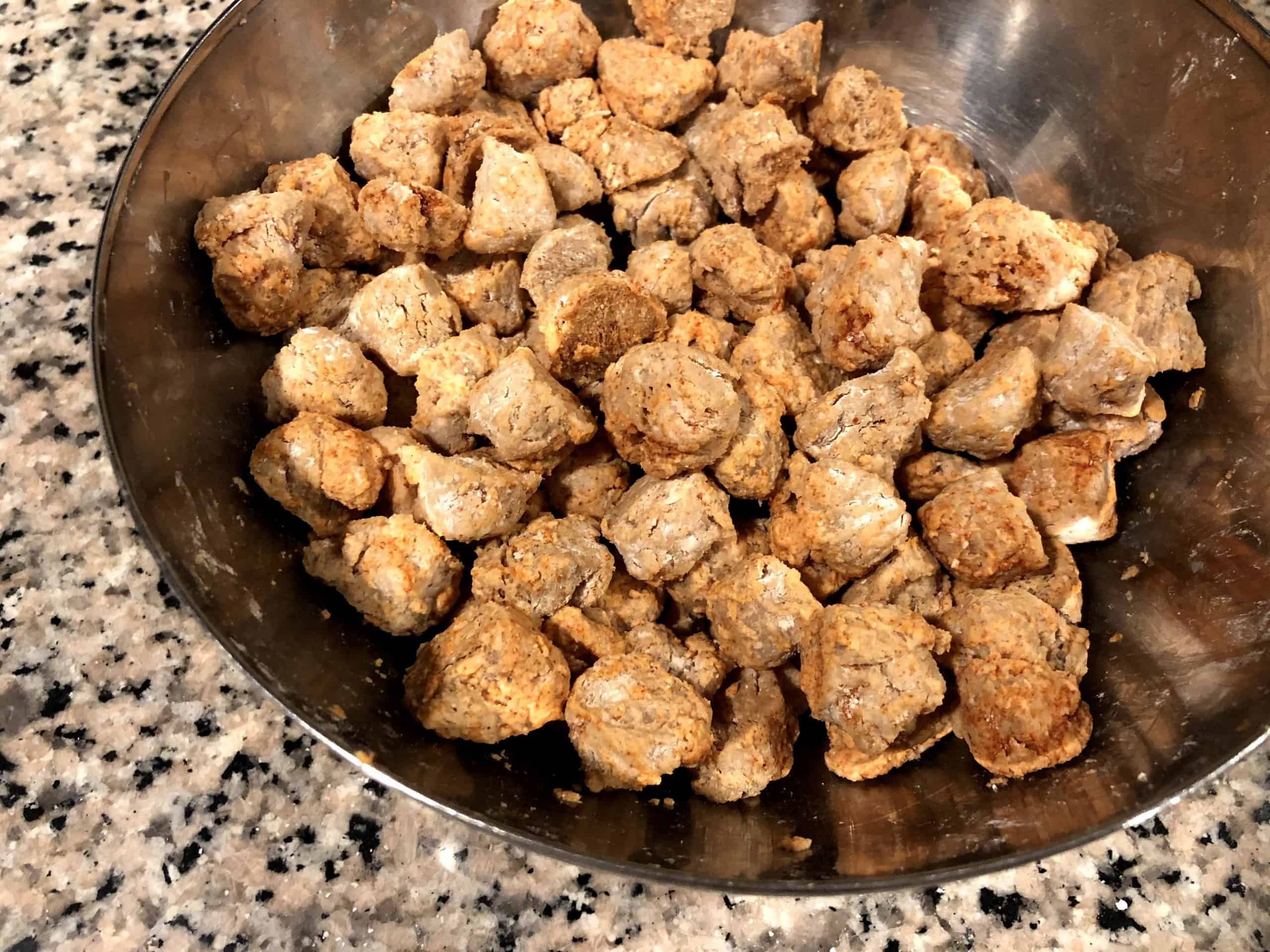 4. Meanwhile, prepare other ingredients – Separate the spring onion white bulb from the green stalk. Chop the white bulb into small pieces. Cut the green part of the spring onion and keep it aside for garnish. Cut bell pepper into thin strips. Split dried red chilli and have it ready. I did it in the chopper.
5. Fry and Sautee in Sauce – Heat oil in a kadai. Deep fry the marinated soya chunks/meal maker pieces until golden brown. Fry it in small batches evenly. Don't over fry the soya. It can turn hard. Drain them in kitchen tissues.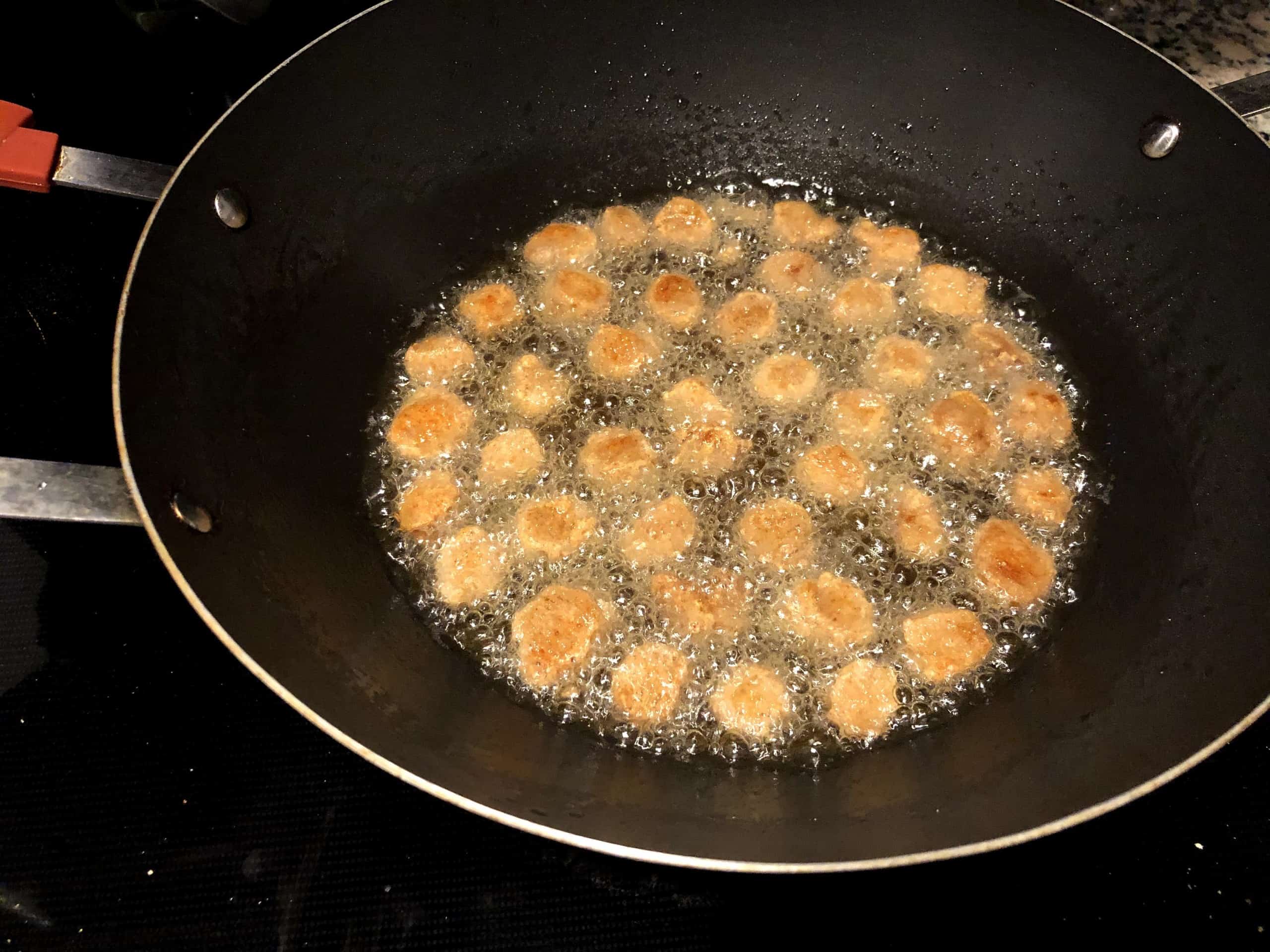 6. In the same kadai, remove excess oil. Use rest of the oil for the sauce preparation. In medium flame, Saute ginger and garlic. Once it's sauteed well, add chopped spring onion white bulbs and dried red chilli. Give a stir.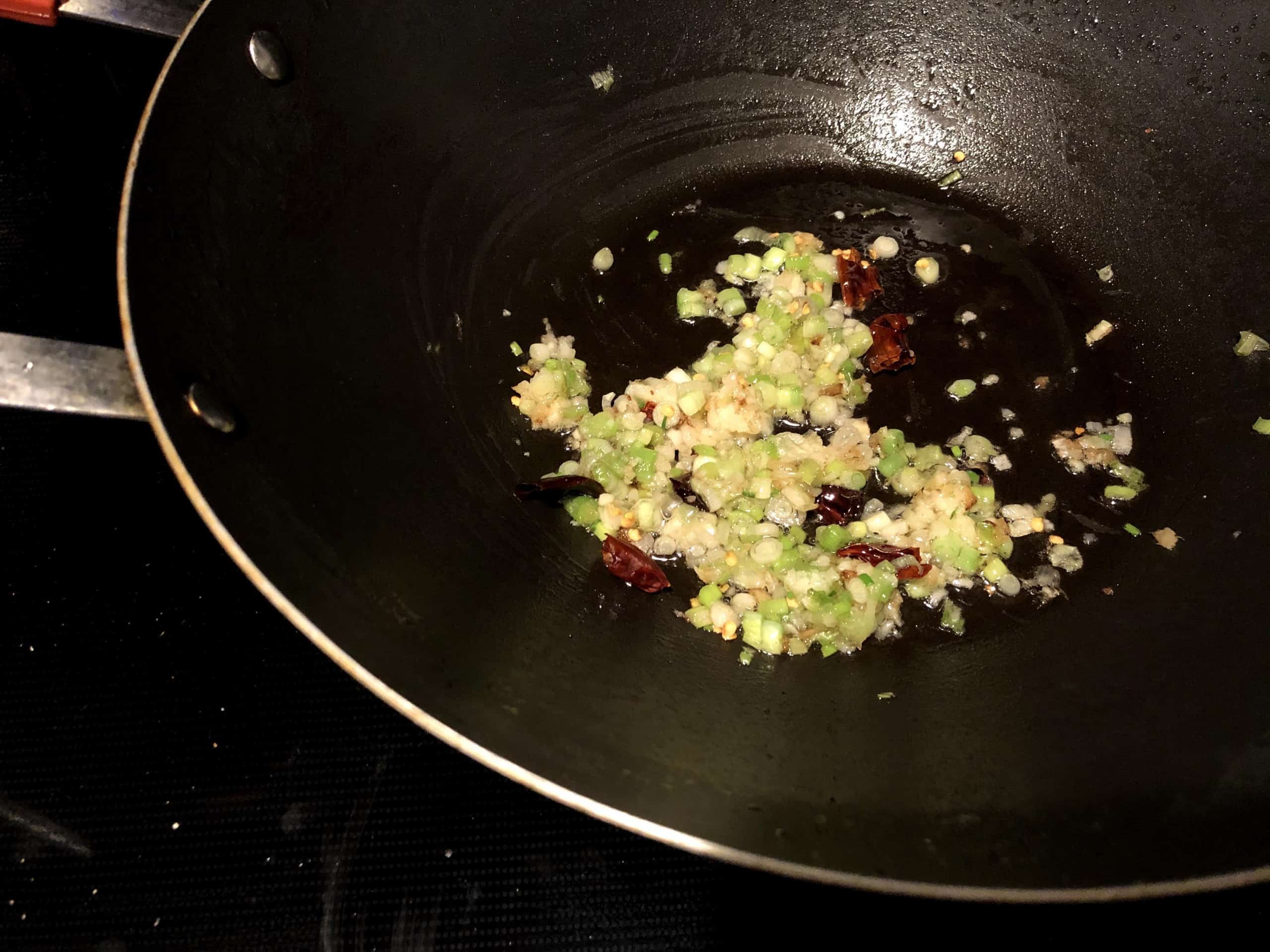 7. Add sliced bell pepper. I like to saute them well until soft. I don't prefer raw/hard bell pepper in the Manchurian. If you like raw/hard bell pepper in the Manchurian, saute it for 2-3 minutes and proceed to the next step.Add oil as needed.
Mix chilli sauce, soya sauce and tomato ketchup. Add the sauces into the pan. Mix it well. Taste the gravy and add the sauce, if needed according to your taste. Adjust salt. If you find, sauces are getting dry, sprinkle some water.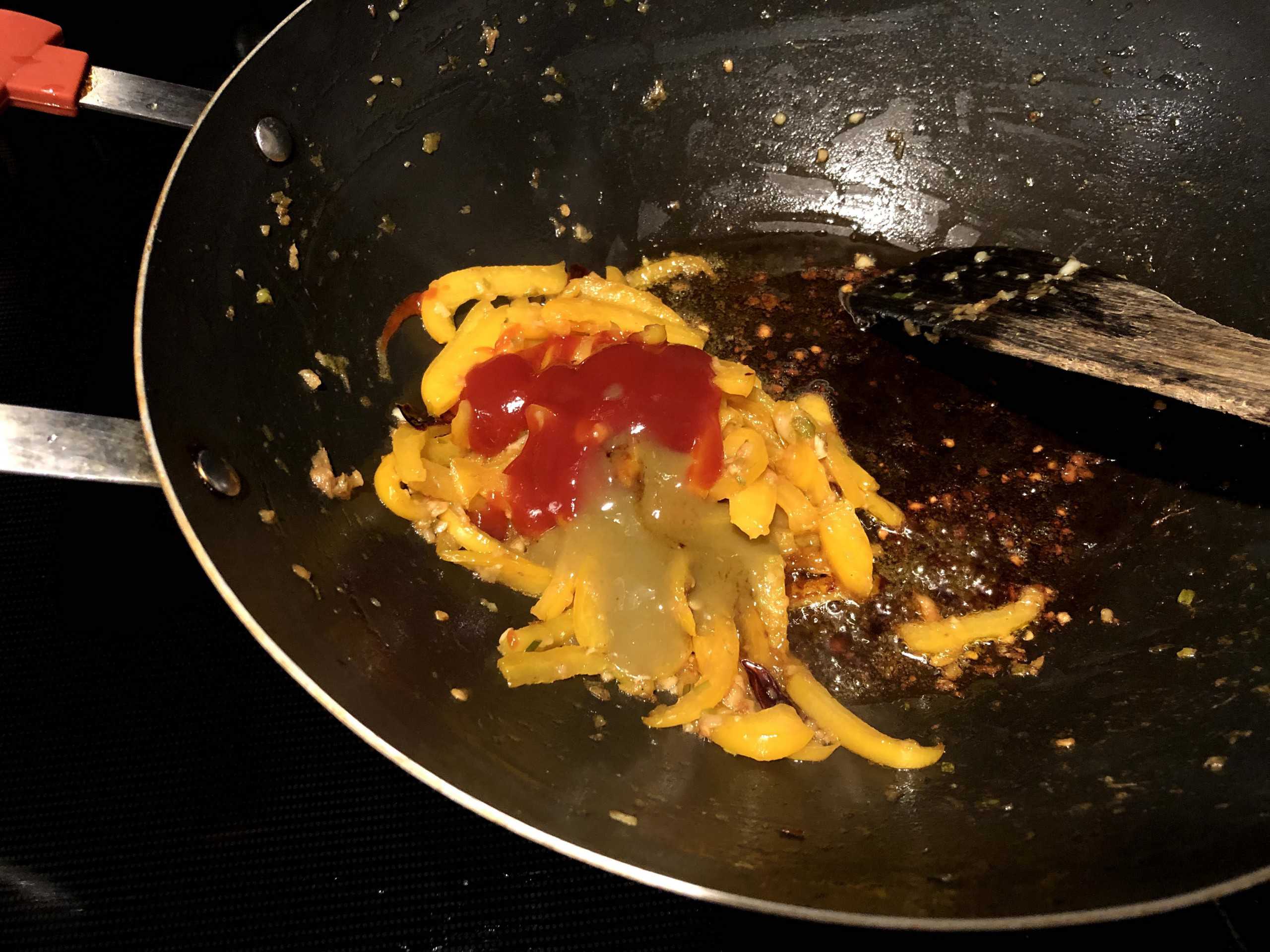 8. In medium high flame, add fried soya chunks pieces. Mix everything well. Stir it well for a couple of minutes, until soya chunks get coated well with the sauces.
Adjust the sauces and salt as per your taste. Be careful with soya sauce.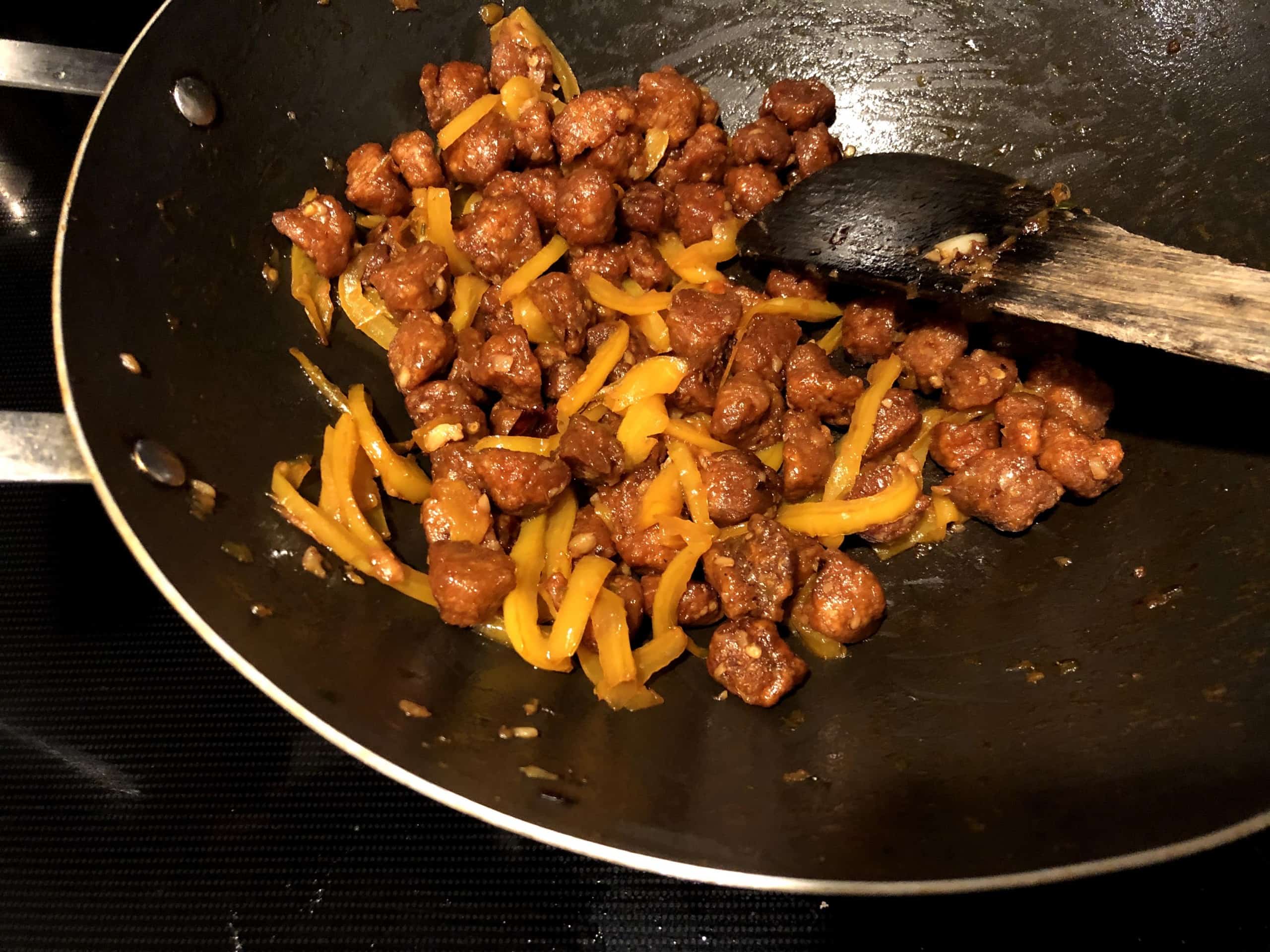 9. At the end, toss in half of the spring onion greens. Garnish with the rest of spring onion greens and sesame seeds. Serve Soya Chunks Manchurian immediately, or else it will turn soggy. Enjoy 🙂
Ingredients
soya chunks (100g)
2 cup
Marination
corn flour
2 tablespoon
All purpose flour (Maida)
2 tablespoon
chilli powder
1 teaspoon
Sauce
Spring onion (White bulb)
2 stalk
Bell pepper
1 number
garlic (crushed)
1 tablespoon
ginger (crushed)
1 teaspoon
dried red chilli
4 number
chilli sauce
2 tablespoon
soya sauce
1 tablespoon
tomato ketchup
2 tablespoon
Garnish
Steps
Preparation

Place the soya chunks in a bowl and fill it up with enough hot boiling water so that the soya chunks are completely immersed. Close the bowl with a lid. Leave it aside for 20 minutes.

After soaking in water, the soya chunks would appear double in volume. Squeeze all the water from the soya chunks. Cut soya chunks into two pieces.

Separate the spring onion white bulb from the green stalk. Chop the white bulb into small pieces. Cut the green part of the spring onion and keep it aside for garnish. Cut bell pepper into thin strips. Split dried red chilli and have it ready. I did it in the chopper.

Marination

Mix ingredients listed under marination - corn flour, all purpose flour, chilli powder, and salt. Marinate soya chunks pieces with the mix. Keep it aside for 30 minutes.

Fry and Sautee in Sauce

Heat oil in a kadai. Deep fry the marinated soya chunks/meal maker pieces until golden brown. Fry it in small batches evenly. Don't over fry the soya. It can turn hard. Drain them in kitchen tissues.

In the same kadai, remove excess oil. Use rest of the oil for the sauce preparation. In medium flame, saute ginger and garlic in the same pan.

Once it's sauteed well, add dried red chilli and chopped spring onion white bulbs. Give a stir.

Add chopped bell pepper. Saute them well until soft. Add oil as needed.

Mix chilli sauce, soya sauce and tomato ketchup. Add the sauces into the pan. Mix it well. Taste the gravy and add the sauce, if needed according to your taste. Adjust salt. If you find, sauces are getting dry, sprinkle some water.

In medium high flame, add fried soya chunks pieces. Mix everything well. Stir it well for a couple of minutes, until soya chunks get coated well with the sauces. Adjust the sauces and salt as per your taste. Be careful with soya sauce.

At the end, toss in half of the spring onion greens.

Garnish with the rest of spring onion greens and sesame seeds. Serve it immediately, or else it will turn soggy. Enjoy 🙂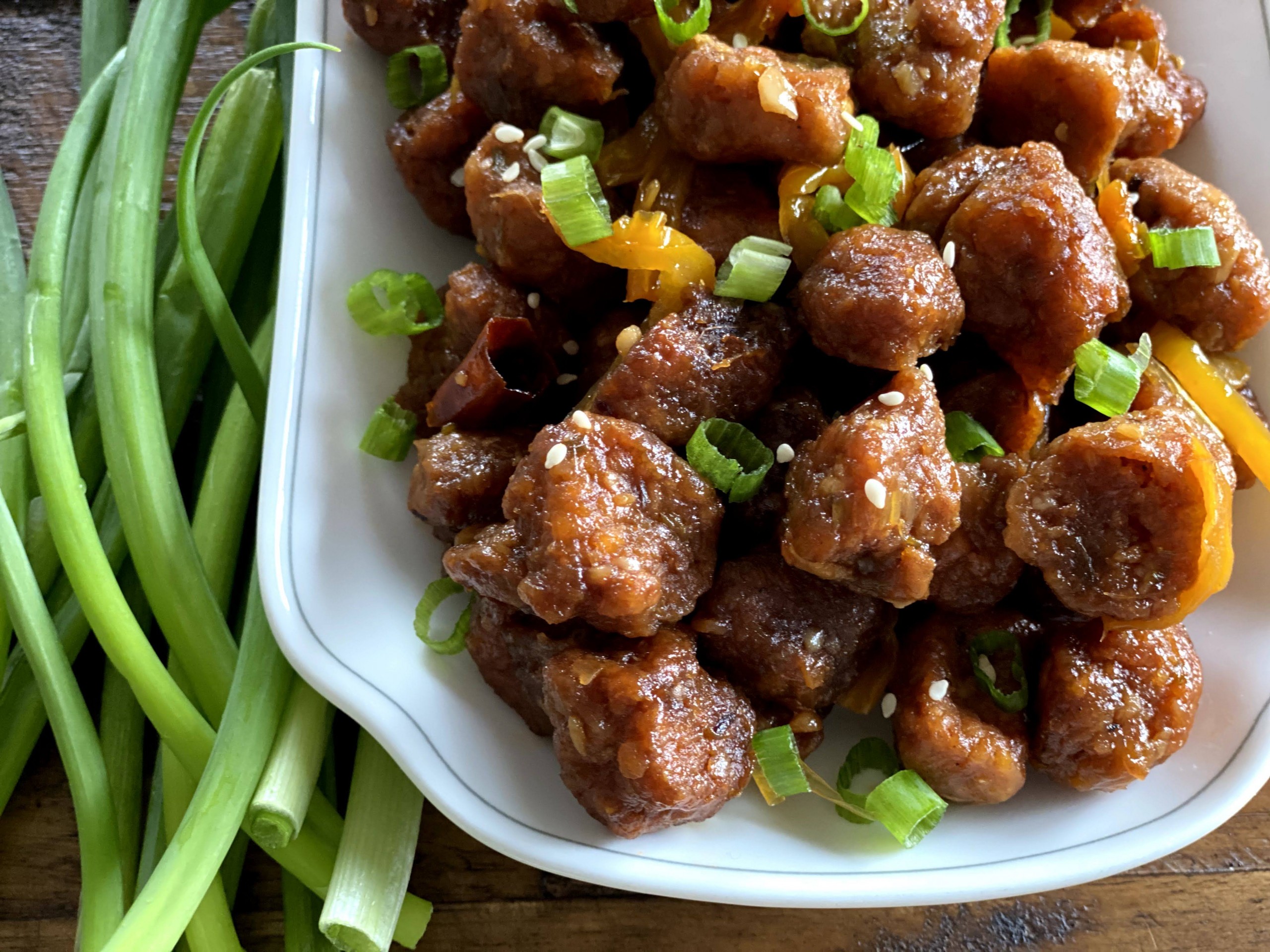 Similar Recipes