Jump to Recipe Print Recipe Jump to Video
Soya chunks or meal maker cooked with chilly and spices. This soya chunks masala dry / stir-fry recipe is an easy, healthy and tasty side-dish. It goes well with rice, chapathi, and any Indian bread. Soya chunks is also called as soy meat or soya nuggets. Soya / Meal maker is a good replacement for meat for the vegetarians.
For more soya chunks recipes, check out:
Soya Chunks Manchurian
Soya Chunks Curry/Kurma
Soya Chunks Deep Fry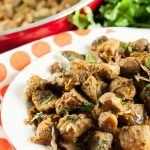 Soya chunks or meal maker dishes are not so common in Kerala. The first time, I had soya chunks fry at my friend Molsi's home and couldn't believe that it's a vegetarian dish 🙂 Later on, It became my favorite veg recipe during X'mas or Easter lent season. If you cannot bear the smell of soya chunks, make sure you add more masala, especially whole fennel or fennel powder.
Soya makes a great addition to the protein component of a balanced vegetarian meal plan. Makes a good replacement for meat. I used Nutrela's soya chunks and would highly recommend it. It's the largest selling soya foods brand in India. Soy meat or soya chunks or nuggets is a defatted soy flour product, a by-product of extracting soybean oil.
Check out other vegetarian stir-fry recipes:
Mushroom masala stir fry
Cauliflower masala
Ingredients
soya chunks (2 cups)
100 Grams
Marinate
pepper Powder
1 Teaspoon
chilli Powder
1.5 Teaspoons
Masala Gravy
turmeric Powder
1/2 Teaspoon
coriander Powder
2 Teaspoons
garam masala
1.5 Teaspoons
fennel powder (optional)
1 teaspoon
vegetable oil/ coconut oil / sunflower oil
1 tablespoon
curry leaves numbers
2 sprig
coriander leaves
4 tablespoon
Steps
Place the soya chunks in a bowl and fill it up with enough hot water so that the soya chunks are completely immersed. Leave it aside for 20 minutes.

After soaking in water, the soya chunks would appear double in volume. Squeeze all the water from the soya chunks. I prefer to cut soya chunk pieces into smaller ones.

Marinate it with pepper powder, chilli powder, ginger(crushed), garlic(crushed) and salt for 10 minutes.

Heat oil in pan/kadai. Add onions, curry leaves and some salt. Salt absorbs moisture from onion and helps onion to get cooked fast. Saute it well until onions turn light brown.

Add turmeric powder, coriander powder and garam masala. Fry it well.

Add tomato and mix it well. Cover and cook for 5 minutes.

Add marinated soya and 1 cup water. Adjust salt. Cover and cook it for 15 minutes.

Now open the lid and cook until the water evaporates.

Add coriander leaves and mix it. To have a perfect dry, add 2 - 3 tsps oil. Saute it well until it turns dark in color. ** This is probably the key step in this recipe.

Serve it with rice or Indian breads. Enjoy 🙂
Notes
It is an awesome soya stir fry preparation. It is rich in protein, vitamins and helps reducing cholesterol. In short a perfect ingredient to work and experiment with.
The spices and flavors in this recipe can be adjusted as per your taste buds. You can play with your favorite set of spices, but do stick to preparation method. Soya chunks can taste awful if not treated as desired.
Tip: Cut soya chunks into smaller pieces, if desired.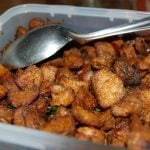 Nutrition Facts
Soya Chunks Masala Dry
Amount Per Serving
Calories 145
Calories from Fat 27
% Daily Value*
Fat 3g5%
Sodium 588mg26%
Potassium 153mg4%
Carbohydrates 14g5%
Protein 12g24%
Vitamin A 340IU7%
Vitamin C 31.5mg38%
Calcium 103mg10%
Iron 3.1mg17%
* Percent Daily Values are based on a 2000 calorie diet.
Similar Recipes