Soya chunks deep fried with the ginger-garlic, spices and curry leaves. This soya chunks masala fry is a quick, tasty and healthy appetizer that can be made easily at home.
Here are other soya chunks recipes:
Soya Chunks Dry/Stir Fry
Soya Chunks Curry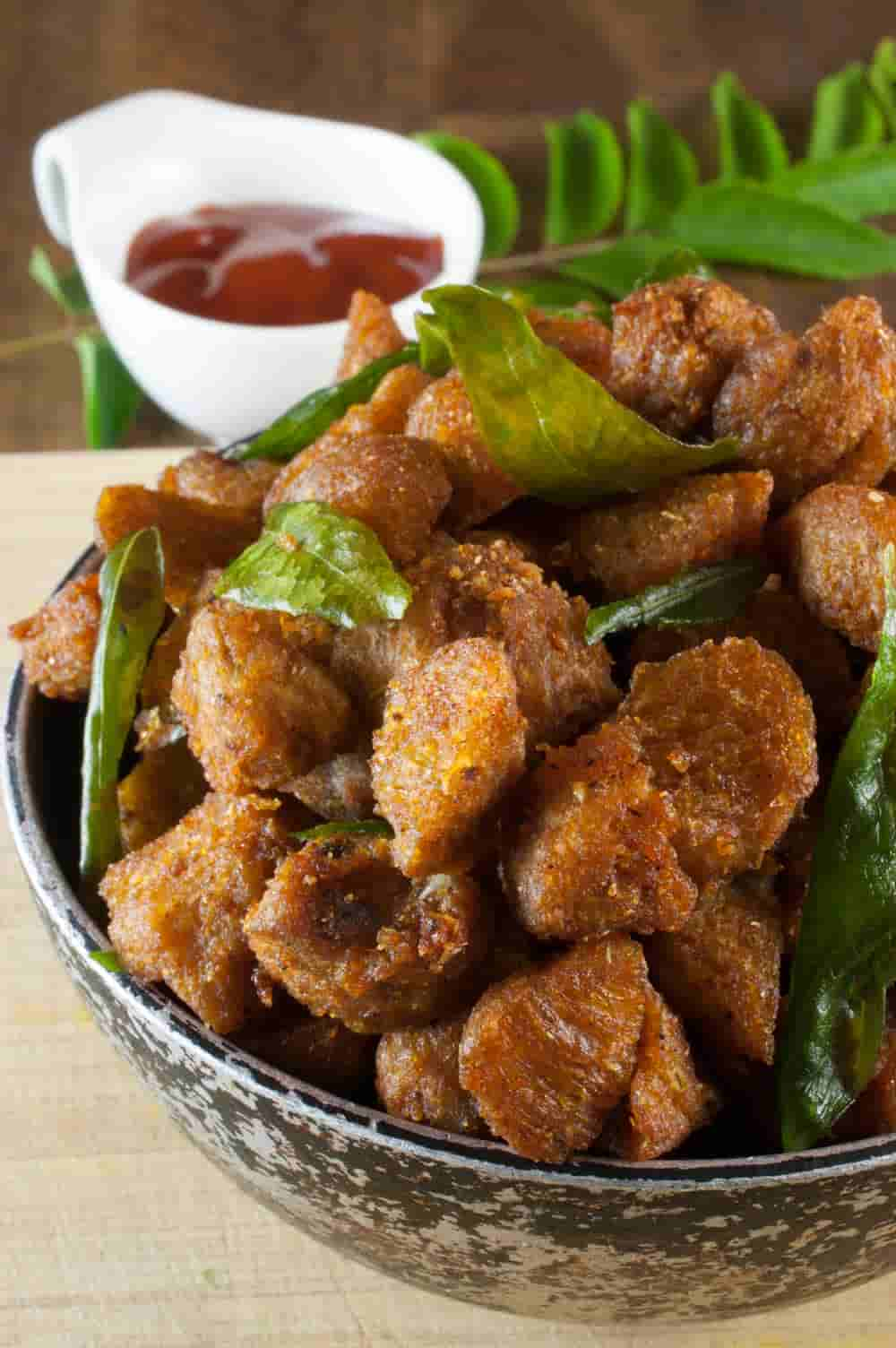 Soya makes a great addition to the protein component of a balanced vegetarian meal plan. It's my favorite veg recipe during X'mas or Easter lent season. Makes a good replacement for meat. I used Nutrela's soya chunks and would highly recommend it. It's the largest selling soya foods brand in India. Soy meat or soya chunks or nuggets is a defatted soy flour product, a by-product of extracting soybean oil.
A soya dish cannot be easier than this. Here's a yummy appetizer with soya.
Ingredients
100

gram

soya chunks

(2 cups)

3

sprig

curry leaves

vegetable oil
Marination
1

teaspoon

ginger paste

1

teaspoon

garlic paste

¼

teaspoon

turmeric powder

1

tablespoon

coriander powder

2 ½

teaspoon

chilli powder

½

teaspoon

garam masala

2

tablespoon

corn flour

2

tablespoon

lemon juice

5

number

green chilli

salt
Instructions
Place the soya chunks in a bowl and fill it up with enough hot boiling water so that the soya chunks are completely immersed. Close the bowl with a lid. Leave it aside for 20 minutes.

After soaking in water, the soya chunks would appear double in volume. Squeeze all the water from the soya chunks. Cut soya chunks into smaller pieces.

Slit the green chilly length wise. Marinate it with the ingredients listed under marination for 1 hour.

Heat oil in a pan and add soya chunks pieces in batches. In every batch add curry leaves along with soya chunks. Deep fry the soya until it's done. Don't overfry. It would turn hard, and would be difficult to chew.

Serve it hot. Enjoy 🙂
Notes
I always start with frying single soya piece to adjust the salt and then start frying in batches.
Make sure soya pieces are not overcooked. It makes it hard.