Mixed vegetables cooked in spiced coconut and yogurt based gravy. Avial is easy to prepare and a yummy side dish that goes well with rice. This mixed vegetables curry with coconut is one of the must side dishes for Kerala Sadhya, which is popular during festivals Onam and Vishu. Check out more on Onam/God's own festival.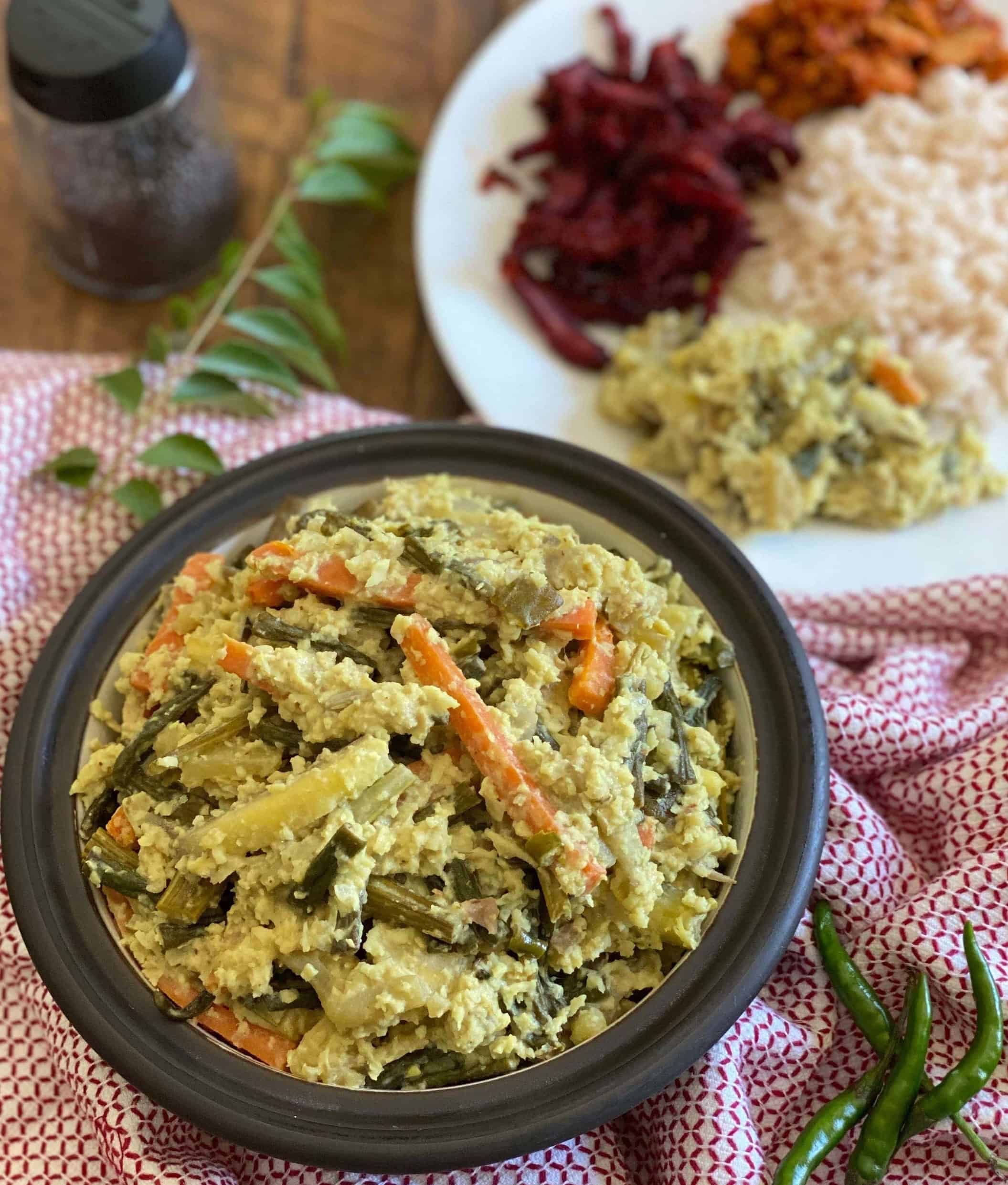 Avial's one of my favorite dishes in the Kerala Sadya. These are the common vegetables used in Avial: Potato, raw banana, yam, carrot, drum stick, beans, long beans, raw mango, cucumber, zucchini. Never miss raw mango in avial 🙂 It enhances the dish's flavor to a different level altogether.
Here are other Onam/Vishu recipes:
Lentil and vegetable Stew (Sambhar)
Pineapple Curry (Pineapple Pachadi)
Ladys finger Curry (Ladys finger Kichadi)
Red Cowpea and Pumpkin Curry with coconut (Mathanga Erisseri)
Ingredients
1

number

potato

(medium size)

1

numer

raw banana

(small size)

100

gram

yam

1

number

carrot

(medium size)

1

number

drumstick

12

number

beans

½

number

zucchini

½

number

raw mango

½

cup

curd

1

sprig

curry leaves

coconut oil

salt
Coconut Mix
2

cup

grated coconut

4

number

green chilli

3

number

shallot

3

number

garlic

½

teaspoon

jeera
Instructions
Preparation
Peel/Remove the skin of the vegetables: potato, carrot, yam and raw mango. Scrape the raw banana skin a bit. Same with drum sticks. You don't have to remove the whole skin of banana and drumsticks. Wash and clean the vegetables and slice them thin and 2-inch long pieces.
Cook vegetables
In a pan, add the vegetables along with salt and turmeric powder. Sprinkle 3-4 tablespoon water. Cover the pan and cook it over medium flame until vegetables are just cooked.

Have ingredients listed under the coconut mix - grated coconut, shallots, green chilli, garlic, jeera and salt in a chopper/mixer. Just pulse it so that it gets crushed. Don't grind it into a smooth paste. It's supposed to have a coarse texture.

Add the coconut mix to the cooked vegetables and mix well. Cook it for around 5- 10 minutes until it boils and have a thick consistency.

Add yogurt and mix well. Adjust salt. Switch off the flame and remove the pan. Add 1 tablespoon coconut oil and mix well. It gives a special taste! Enjoy with rice 🙂
Notes
Never miss raw mango in avial 🙂 It enhances the dish's flavor to a different level altogether.