Updated on: Author: Jane Jojo
Yogurt combined with onion, tomato and chilli. An easy, simple and yummy side dish to go with any Indian rice preparations – chicken biriyani, beef biriyani, fish biriyani, vegetable pulao and ghee rice.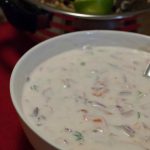 It cannot be easier than this. Raita's often called as an Indian condiment made with dahi or yogurt or curd together with raw or cooked vegetables. It's less spicy and a refreshing side dish during summer to beat the heat. There are lots of varieties of raita based on the vegetable that goes with the curd. I prefer to spice it up just with the green chillies. But other ways are to season it with cumin powder or chaat masala or chilli powder.
Ingredients
yogurt /curd /dahi
1 cup
green chilli
2 number
Steps
Clean the vegetables. Slice the onion and tomato.

In a bowl, using hands knead onion and tomato so that both should get mixed really well. Or chop the veggies in a chopper so that it gets mixed well. Tomatoes bring in a tanginess to the whole dish.

Finely slice the green chilli and add it to the mixing bowl. Using scissors, chop coriander leaves and mint leaves and add to the bowl.

Add yogurt and salt. Mix it well. If you are using thick yogurt, you can add some water to make it slightly thin as per the consistency you need.

Serve it with biriyani or pulao or your favorite rice preparation. Enjoy 🙂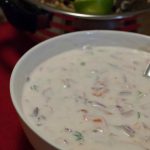 Similar Recipes