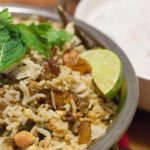 An Indian one pot meal. Fish marinated, fried, cooked in spicy masala gravy and then layered with rice. A really delicious one 🙂 I used pomfret which turned out awesome. You can also try seer fish or king fish.
Ingredients
Marination
chilli powder
1 tsps
pepper powder
1 1/2 tsps
turmeric powder
1/2 tsp
ginger (crushed)
1/2 tbsp
garlic (crushed)
1/2 tbsp
Masala
onion (medium)
2 numbers
ginger (crushed)
1 tbsp
garlic (crushed)
1 tbsp
coriander powder
1 tsp
coconut grated
2 tbsps
coriander leaves
1/2 bunch
mint leaves
1/2 bunch
Rice
basmati rice Jeerakasamba/Biriyani/
2 cups
curry leaves
1 sprig
Garnish
onion (medium)
1 number
Layering
Steps
Grind ginger and garlic. Marinate cleaned fish with the ingredients listed under marination - chilli powder, pepper powder, turmeric powder, ginger, garlic, lemon juice and salt. Keep it aside for 30 minutes. I used pomfret which turned out awesome. You can also try seer fish or king fish.

Heat oil in a flat pan. Shallow fry the fish pieces for 2 minutes each on both sides at medium flame.

Fry fish in batches.

Prepare masala - Thinly slice onions. Soak cashew in hot water for 10 minutes. Heat ghee in a pan. Use a flat surfaced pan so that it would be easy to add and mix fish pieces towards the end.

Saute these onions well until golden brown. Adding salt, helps the onion to get cooked fast.

Grind ginger, garlic and green chilli. Add it to the above pan and saute well. Add ghee as needed.

Add garam masala and saute for a minute. Add sliced tomatoes and saute until tomatoes are done.

Mix the curd and cook for 2 -3 minutes.

Saute the grated coconut until golden brown. Let it cool for 5 minutes.

Grind the coconut and cashews (previously soaked), with some water and make it a good paste.

Add coconut cashew mix and mix it with the masala.
Chop mint and coriander leaves. Mix it with the masala. Add 1/2 cup water, mix well and add salt as required.
Then add fried fish. Make sure that fish is covered in the gravy.

Cook it for around 10 minutes or until fish is done.

For rice preparation - Clean rice. Heat ghee in the pan / cooker. Fry aniseeds.

Fry cinnamon, bay leaf, cardamom seeds, curry leaves, cloves, star anise.

Once it is sauted well, add rice. Saute it till rice is crispy. Add ghee if needed.

Add 4 cups water and lemon juice to it with enough salt. Cover and cook until rice is done. Don't pressure cook. It would approximately take 15 - 20 minutes.

For garnish - Thinly slice onions and deep fry it in ghee. Sprinkle salt and bit sugar. Roast cashews and raisins in ghee.

** Never miss this step. Layer and cook - You can either layer the biriyani and bake in the oven or you can cook on stovetop. I have tried both. Preheat the oven at 350F. Layer a pan with alternating layers of rice and the fish masala. Add coriander leaves, mint leaves, 1 tsp ghee, fried onions, cashews and raisins at every layer. Cover the pan with aluminium foil. Bake for 20 minutes. Without aluminium foil, rice gets dried up easily.

If you wanna cook on stovetop, layer the biriyani in a cooker or in a pan. Cover with a lid and cook for 20 minutes.  Rice and biriyani masala gets blended well with this. You need not add water since biriyani masala has good gravy content.
Serve it with raitha, pickle and papad.
Notes
Masala preparation - Instead of ghee, I have also used the leftover oil from frying fish for the masala preparation. It worked out for me 🙂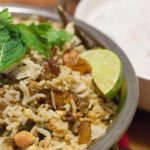 Similar Recipes