An easy South African dessert with a cake base and a cream sauce poured over it. Cake base of Malva Pudding cake contains apricot jam and has a spongy caramelized texture. It is delicious and served with custard, ice cream, whipping cream, or caramel sauce. Decadence at it's best!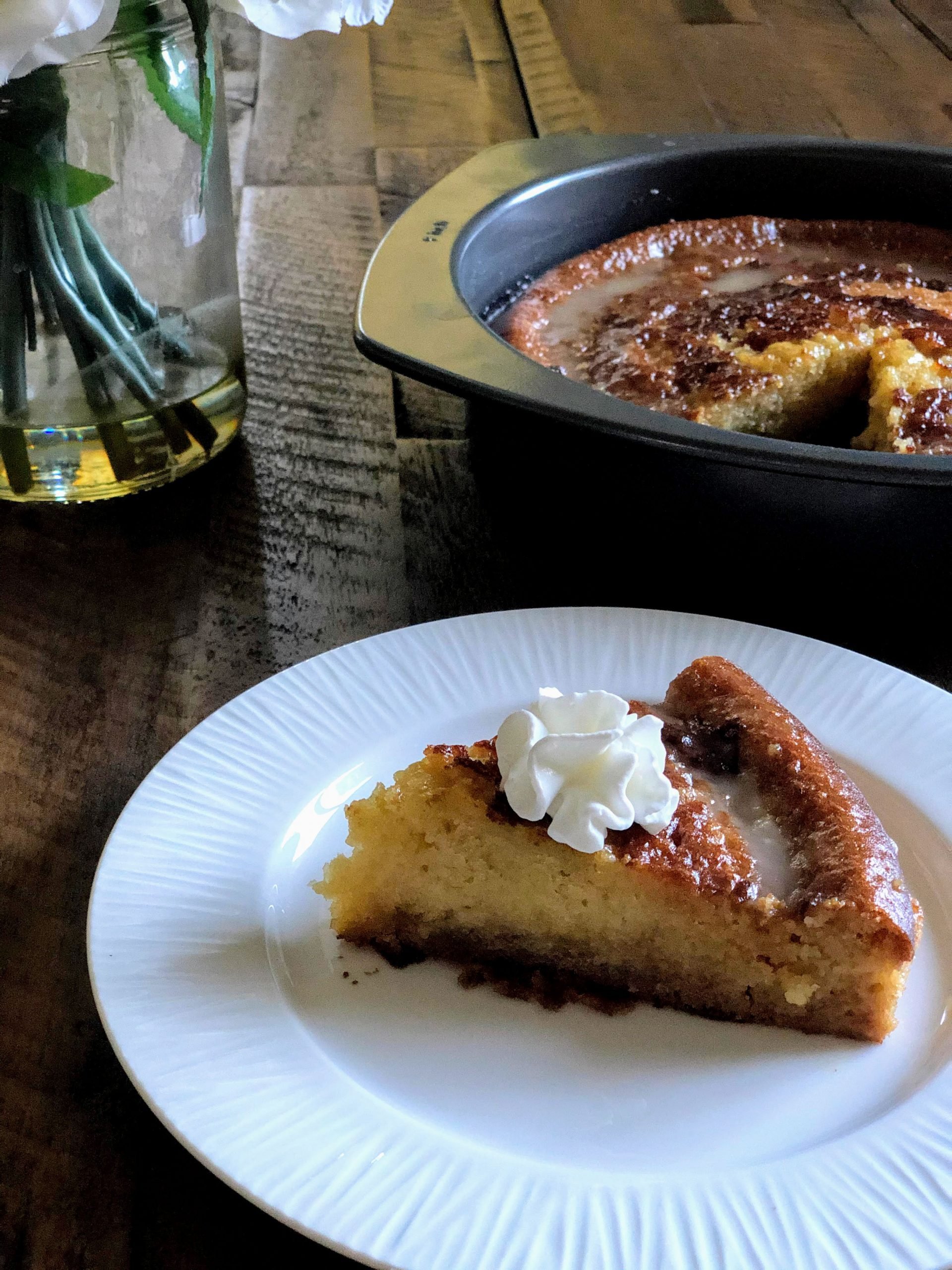 I had never tried this one before I baked one myself. A long time back, I heard about this recipe from our friend Nimmy. I have a sweet tooth and always wanna try out new desserts. The recipe was tempting, and it was worth a try. It was a great hit with the guests!! A must-try for dessert lovers 🙂 Recipe adapted from David Lebovitz.
Other cake recipes :
Tres Leches Cake - Vanilla Cake base soaked in milk sauce
Lemon Yogurt Cake Without Butter
Carrot Dates Cake Without Butter
Equipment
Oven

Baking Pan or Ramekins
Ingredients
Cake Base
1

cup

All Purpose Flour

(140 g)

1 ½

teaspoon

Baking Powder

¾

teaspoon

Baking Soda

1

cup

Sugar

(200g)

2

number

Large Egg

½

teaspoon

Fine Salt

¼

cup

Strained Apricot Jam

(75 g)

1 ½

tablespoon

Melted Unsalted Butter

½

teaspoon

Apple Cider or White Vinegar

1

cup

Whole milk

(250 ml)
Malva Pudding Sauce
¾

cup

Heavy Cream

(180 ml)

¾

cup

Sugar

(150 g)

½

cup

Unsalted Butter

(115g or 4 oz)

¼

cup

water
Instructions
Preheat the oven to 375ºF (190ºC). Have 8 ramekins or 8 small panettone molds on a rimmed baking sheet ready. Another alternative is a 9 * 9 inch baking pan. I used a 9*9 inch baking pan for this recipe. Since this is a wet pudding cake, I didn't choose springform pan to make the cake.

Prepare the ingredients- Make sure that butter is at room temperature. Cut it into square pieces, so that it get mixed soon.
Prepare Cake Base
Prepare dry ingredients - To start with, whisk together the dry ingredients - All-purpose flour, baking powder, and baking soda in one bowl. Keep it aside.

Powder the granulated sugar and use it here, so that it helps you to mix it well. In a large bowl, beat the sugar, eggs, and salt on medium speed using an electric mixer or stand mixer until batter is thick, about 2 minutes.

Add apricot jam and beat at low speed until mixed well.

Add melted butter and vinegar. Beat the batter until mixed.

Add milk and flour mixture(prepared dry ingredients) alternately. Beat it until batter is smooth.

Transfer the batter to the prepared ramekins/molds/pan and spread evenly. The batter should be a little bit more than halfway up.

Bake on the middle rack of the oven for 35 to 40 minutes or until a cake tester placed in the center of the cake comes out almost clean. The cake would have caramelized texture across the top. This cake needs to be well baked 🙂

Remove the cake pan to a cooling rack and allow the cake to cool completely.
Prepare Malva Pudding Sauce
While the cake is baking, in a thick bottomed pan, heat the cream, sugar, butter, and water. Mix it until the mixture is smooth. I added around ½ cup sugar. Add it according to the desired sweetness.

Poke holes in the cake with a fork or skewer. Pour the lukewarm Pudding sauce over the cake. It slowly gets absorbed into the cake, and the cake would be wet.

Serve warm Malva Pudding with custard, ice cream, whipping cream, or caramel sauce. Enjoy 🙂