Jump to Recipe Print Recipe Jump to Video
Tres Leches cake, otherwise called as Three Milk Cake. Sweet and moist two layer cake with wet vanilla sponge cake base, topped with whipped cream. This authentic tres leches cake has a vanilla cake base, soaked in rich milk sauce made out of three kinds of milk- evaporated milk, sweetened condensed milk, and the half-and-half.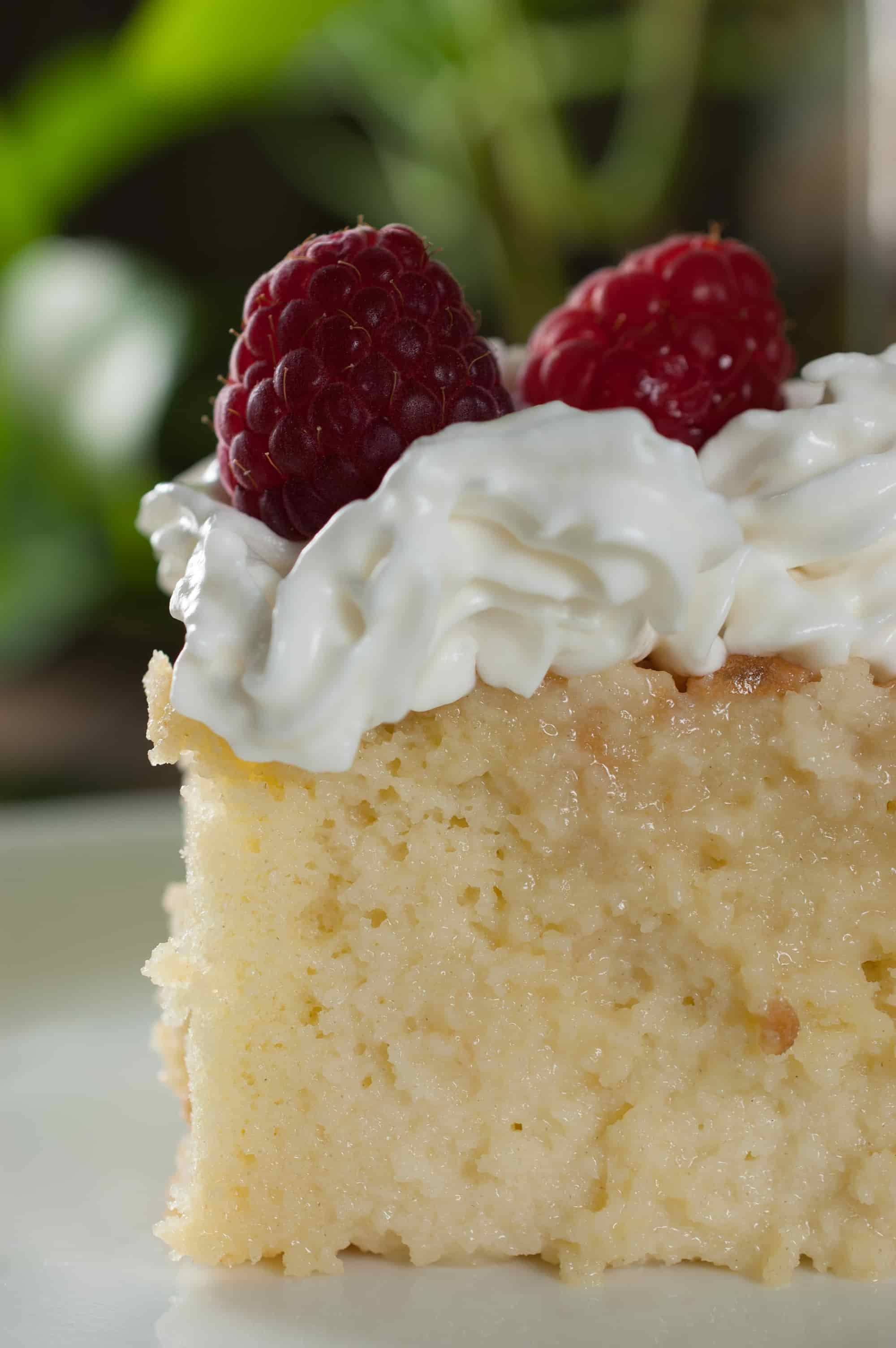 I'm a dessert lover and fall completely in love with this cake at the very first time. I've tried it in BayArea from Ikea, Safeway, and other restaurants. Tres Leches has its origin from Mexico and popular in North and South America. However, the idea of creating a cake soaked in a liquid is likely of Medieval European origin, similar to British Trifle, rum cake, and tiramisu from Italy. This traditional Tres Leches cake recipe adapted from Alton Brown, Food Network is an easy and simple recipe from scratch. It's a quick recipe for Tres Leches cake and a perfect dessert to serve to your guests.
Here are other cake recipes,
Ingredients
Cake
cake flour (191.36g or 6.75 ounce )
1.91 cup
baking powder
1 teaspoon
unsalted butter ,room temperature
1/2 cup
Granulated Sugar (226.8g or 8 ounce )
1.13 cup
vanilla extract
1 1/2 teaspoon
Glaze
evaporated milk
12 ounce
sweetened condensed milk
14 ounce
half-and-half or whole milk
1 cup
Topping
Confectioner's Sugar (110g )
1 cup
vanilla extract
1 teaspoon
Steps
Preheat the oven to 350F or 180C. Grease and flour a 13 * 9 inch pan and set aside. Since this is a wet cake, I didn't choose springform pan to make the cake.
Prepare the ingredients- Make sure that butter is at room temperature. Cut it into square pieces, so that it get mixed soon.
Prepare cake batter - To start with, whisk together the dry ingredients - cake flour, baking powder and salt in one bowl. Keep it aside. See the notes section on how to make cake flour.

In a large bowl, place the butter and beat on medium speed using an electric mixer or stand mixer until it is fluffy. Gradually add the granulated sugar into the same bowl. Blend it well until it is light and fluffy. ** Powder the granulated sugar and use it here, so that it helps you to mix it well.

Beat in the eggs one at a time. Add the vanilla extract and mix to combine. Add the prepared flour mixture to the batter in batches and mix just until combined.

Transfer the batter to the prepared pan and spread evenly.

Bake on the middle rack of the oven for 20 to 25 minutes or until a cake tester placed in the center of the cake comes out almost clean. The cake would be lightly golden at this moment. Remove the cake pan to a cooling rack and allow the cake to cool completely.

Prepare the glaze - Whisk together the evaporated milk, sweetened condensed milk, and the half-and-half until it's mixed well. You can also replace half-and-half with whole milk. Both worked out well for me.

Poke holes in the cake with a fork or skewer. Pour the glaze over the cake. Milk sauce slowly gets absorbed into the cake, and the cake would be completely wet. Refrigerate the cake overnight.

Prepare the topping - Whisk together heavy cream, confectioner's sugar and vanilla extract on low until stiff peaks are formed. Change to medium speed and whisk until thick. Spread the whipped cream over the cake and allow to chill in the refrigerator until ready to serve.

Serve it with raspberry or chopped cherry on the top. Enjoy 🙂
Notes
I prepare cake flour myself from all-purpose flour and cornstarch. Measure out 1 cup of all-purpose flour. Remove two tablespoons of all-purpose flour and place it back in your flour canister. Replace the removed all-purpose flour with two tablespoons of cornstarch.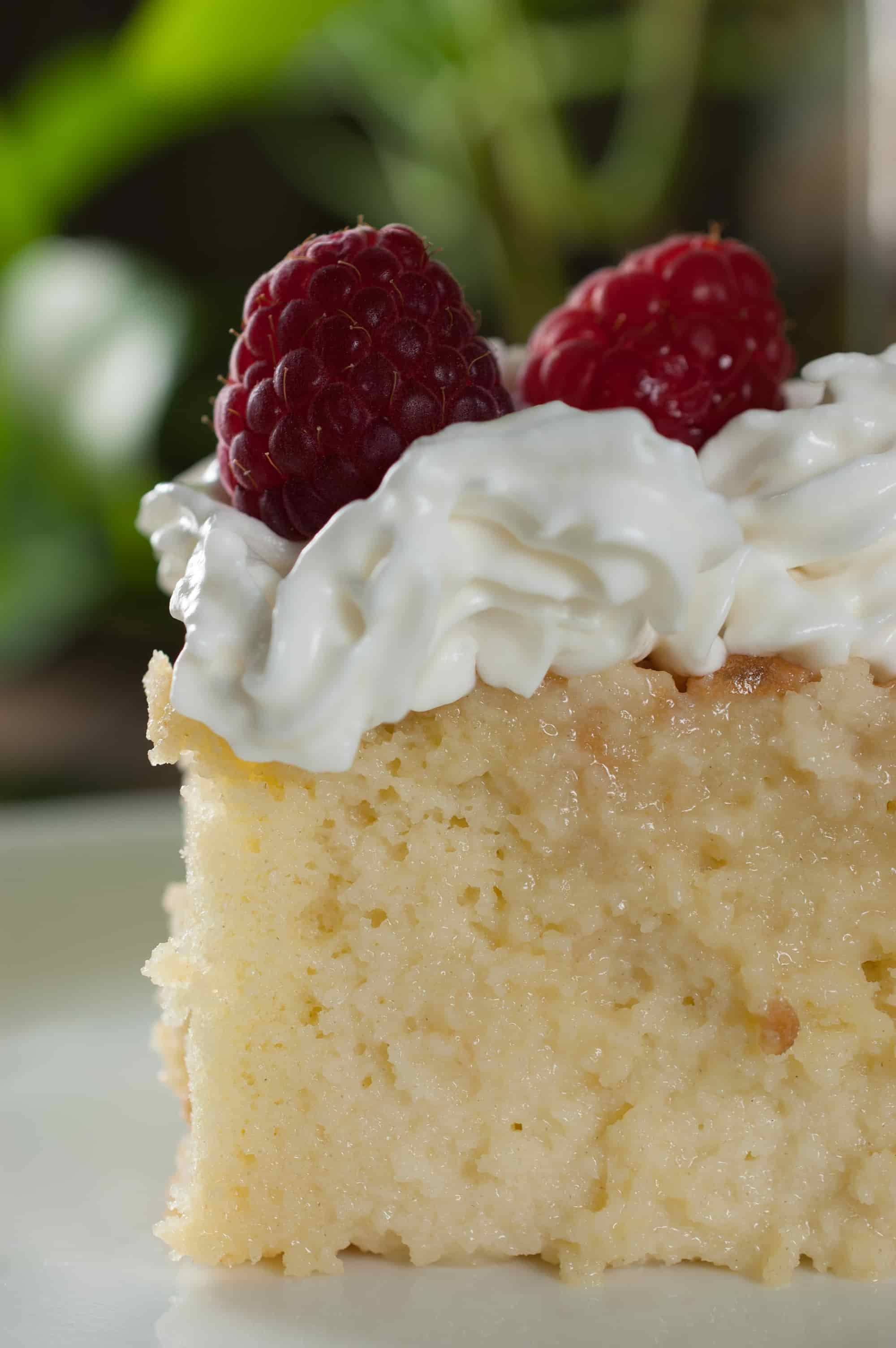 Last updated on:
Similar Recipes