I'm not a big fan of carrot cake. But this super moist cake changed my mind. The combo of carrot, dates, and nuts make it a heaven! It's a quite healthy cake, and easy to bake too. Inspired by Dates cake at Navya bakers in my hometown, Aluva. Adapted the recipe from http://atastychallenge.blogspot.com/. Hope you will like it 🙂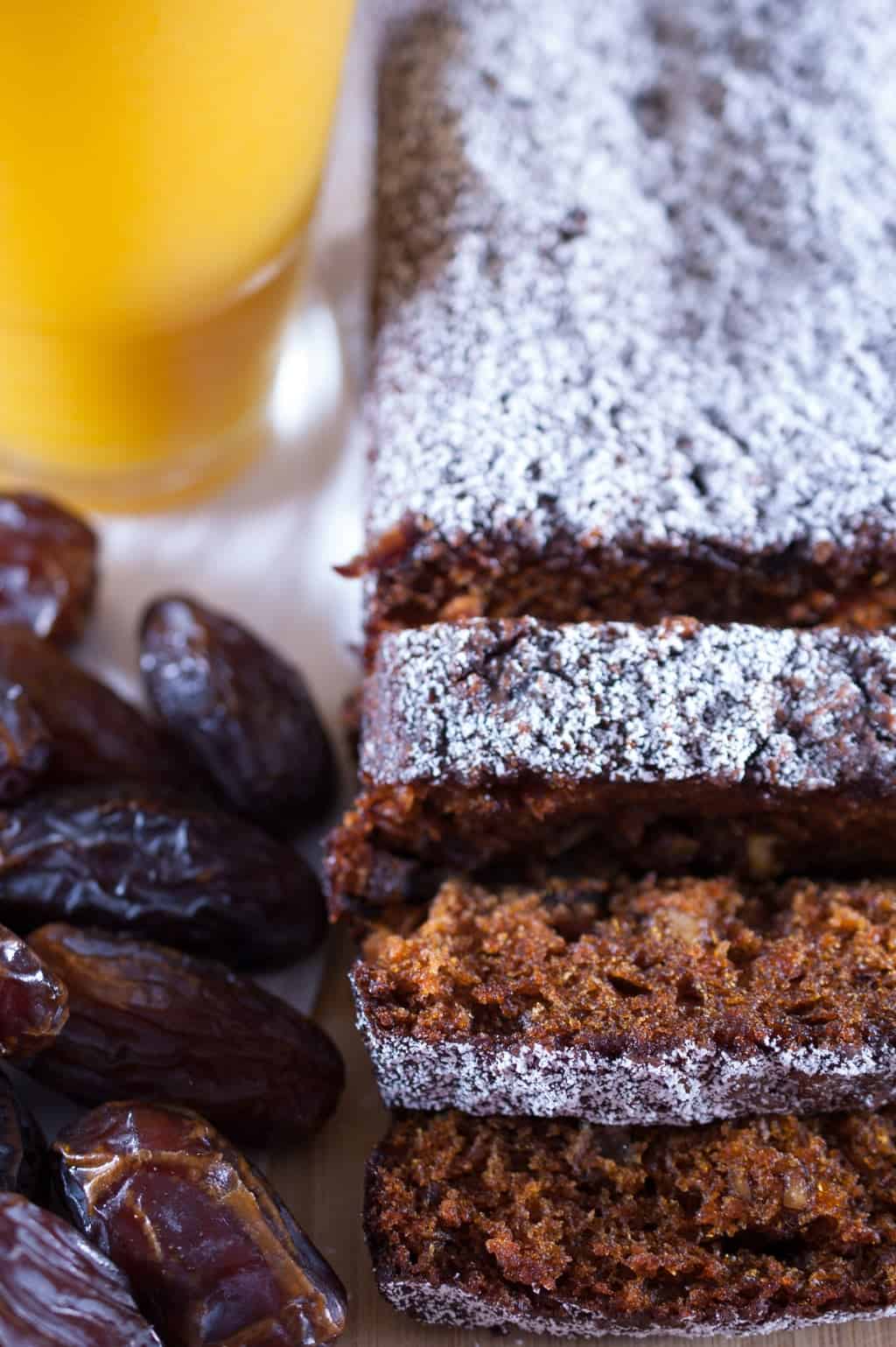 Ingredients
1

cup

all purpose flour

¾

teaspoon

baking soda

1

pinch

salt

¾

cup

vegetable oil / canola oil

¾

cup

Granulated Sugar

2

numbers

egg

½

teaspoon

Pure Vanilla extract

1

cup

grated carrot

1

cup

chopped dates

½

cup

chopped cashew nut / walnut
Caramel
½

cup

Granulated Sugar

¼

cup

hot water
Instructions
Prepare caramel - Heat sugar in a dry pan over medium heat until sugar dissolves. Swirl the pan often to avoid sugar clumps and get the sugar caramelized equally on all portions. Make the Caramel dark and on the bitter side. The bitterness of the Caramel complements this cake really well.

Add hot water to the caramel. It will bubble up and be careful. Switch off the heat as soon as the caramel dissolves. Keep aside till it is cooled thoroughly.

Preheat the oven to 350F or 180C. Grease a 8 ½ x 4 ¼ x 2 ½-inch loaf pan. Line the bottom with parchment paper. You can also use a 8 inch round pan.

Toast nuts - Spread cashew nut/walnut on a cookie tray/sheet pan in a single layer and toast them in a 350F oven for about 10 minutes. Shake the pan occasionally during this time to make sure the nuts toast evenly. Don't miss this step. Otherwise, you feel a bit raw taste of nuts in the cake.

Prepare Cake batter - Sift together the dry ingredients - flour, baking soda and salt into one bowl.

In another bowl, whisk together the eggs and sugar.

Add the oil and beat well, making sure it's all incorporated.

Make sure the prepared caramel is cooled. Then, add the caramel and Vanilla Essence. Mix well.

Add the dry ingredients (flour mixture) and mix slowly and gently until just combined. Do not overbeat.

Grate carrots. Pit and chop dates into tiny pieces. Split up the toasted cashew nut/walnut kernels if they are too big. Add a tablespoon of Flour into the Carrots, Dates, and Nuts and mix slightly. It will prevent them from sinking to the bottom of the pan (especially dates and nuts) and will aid to separate the Date pieces.

Fold this into the batter. Mix well using a spatula.

Pour the batter into the prepared pan. Bake for around 40 - 45 minutes, or until a cake tester placed in the center of the loaf comes out clean.

Allow the cake to cool down completely. Dust the cake with confectioners sugar. Enjoy:)
Questions & Answers
Is it alright to find the cake batter overflowing on the sides of the pan?
Whenever it is about baking, every step is very crucial to the final look of the cake. A missed calculation on the ingredients can significantly affect the baking process, and the same goes for the baking equipment used. Use the pan as per what the recipe says. If you don't have the exact pan, choose a pan of another shape with the same volume. The reason why the cake batter overflowed on the sides of the pan is that the tin is small. Keep in mind that you need to choose your baking equipment wisely.
For you, what would be the great cake pans? What would be the best for beginners? Can you give me some suggestions, please?
The cake pan or cake tin that are best to use for any cakes would be the sturdy one which is also single-wall aluminum pans, with or without nonstick coating. And of course, check the sizes as well as the shapes. The standard size and shape would be around 8x1½-inch or 9x1½-inch round pans. Recommended pan in this recipe is 8 ½ x 4 ¼ x 2 ½-inch loaf pan. You can refer https://www.joyofbaking.com/PanSizes.html for different substitutions.
I forgot to prepare the pan properly. Can I still fix the cake?
Greasing, lining or flouring the pan is essential so that the cake won't stick to the pan. Lining with parchment paper is the best option. But in your case, it would be bit difficult to remove the cake so it can potentially ruin the shape or the overall structure of your cake. You will need a little magic with frosting the cake to add a lovely look 🙂
When prepping the pan or cake tin, can I use pastry brush? Or is there any alternative tool I can use?
Yes, a pastry brush is the best tool you can use when you're going to grease or flour the cake tin. But you can also try using the paper towel to evenly spread the shortening or butter all over the inside of the cake tin.
How can I avoid a dry cake?
Use ingredients as instructed. Make sure that you check the cake's doneness and avoid overbaking it.
What can I use to check if my cake is done or properly baked?
Simply by using a wooden toothpick. Insert it at the center of the cake, and when it comes out clean, then the cake is done.
Is there a trick to easily remove the cake from the pan?
Once the cake is completely cooled, use a knife or spatula to run around the edges. It will loosen the cake so you can easily remove it from the pan. Place a wire rack on top of the cake pan and invert the pan and the rack together to release the cake over to the rack.