Incredibly moist and delicious chocolate cake without butter! This one is perfect for chocolate lovers. Another Ina Garten classic cake! The most intense chocolate cake I ever baked.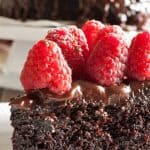 Ingredients
Chocolate Cake
all purpose flour (193 g)
1 3/4 cup
granulated sugar (450 g)
2 cup
cocoa powder (75 g)
3/4 cup
baking soda
2 teaspoon
baking powder
1 teaspoon
buttermilk (shaken)
1 cup
vegetable oil
1/2 cup
extra large eggs
2 number
pure vanilla extract
1 teaspoon
freshly brewed coffee
1 cup
Chocolate Filling
unsalted butter
6 tablespoon
bitter sweet chocolate
4 ounce
confectioners sugar
2 1/2 cup
heavy whipping cream
1/2 cup
Chocolate Coffee Ganache
semi sweet chocolate
1 cup
heavy whipping cream
3/4 cup
coffee powder
1/4 teaspoon
Steps
Preheat the oven to 350F or 180C. Have two 8-inch x 2-inch round cake pans ready. Line the bottom of the pans with parchment paper, then butter and flour the pans.

Prepare Cake

Combine the dry ingredients - Powder the granulated sugar so that it's easy to mix. Sift together flour, sugar, cocoa, baking soda, baking powder, and salt into the bowl of a stand mixer. Alternately, you can use an electric mixer.

In another bowl, combine the buttermilk, oil, eggs, and vanilla. Refer the notes for the measurement of eggs.

With the mixer on low speed, slowly add the wet ingredients to the dry. With the mixer still on low, add the coffee and stir just to combine, scraping the bottom of the bowl with a rubber spatula.

Pour the batter into the prepared pans and bake for 35 to 40 minutes, until a cake tester comes out clean. Cool in the pans for 30 minutes, then turn them out onto a cooling rack and cool completely.

Prepare filling

In a small saucepan, melt butter and chocolate. Stir in confectioners' sugar and fresh cream until smooth. Cool it down completely.

Prepare chocolate coffee ganache

Melt chocolate in a small bowl in microwave or on the stovetop. In another saucepan, bring cream just to a boil. Pour over chocolate. Add coffee powder and whisk until smooth. Cool, occasionally stirring, until ganache reaches spreading consistency.

Assemble the cake

Place one layer of cake, flat side up, on a flat plate or cake stand. With a knife or offset spatula, spread the top with filling. Place the second layer on the top, rounded side up, and spread the ganache evenly on the top and sides of the cake. You can also serve it with a scoop of ice cream! Enjoy 🙂
Notes
A large egg equals 3-1/2 tablespoons of beaten egg. An extra large egg equals 4 tablespoons. In this recipe, it calls for 3 extra large eggs. I used 3 large eggs plus 1-1/2 tablespoon beaten egg.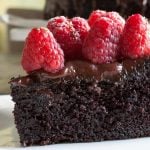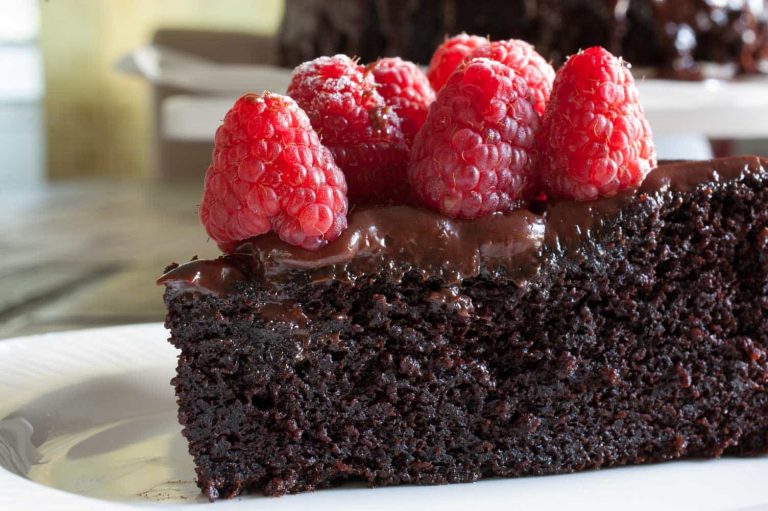 Nutrition Facts
Ina Garten's Chocolate Cake without Butter
Amount Per Serving
Calories 504
Calories from Fat 234
% Daily Value*
Fat 26g40%
Cholesterol 40mg13%
Sodium 237mg10%
Potassium 245mg7%
Carbohydrates 67g22%
Protein 4g8%
Vitamin A 440IU9%
Vitamin C 0.1mg0%
Calcium 60mg6%
Iron 2.4mg13%
* Percent Daily Values are based on a 2000 calorie diet.
Similar Recipes