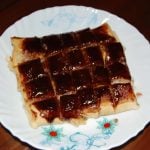 This is a dead simple and yummy snack. A twist on ordinary pancakes 🙂 Banana pancake we had from Phuket always tops my favorite list. And it inspired me to try this twisted one. Hope you will enjoy 🙂
Ingredients
All-Purpose Flour
1 Cup
Baking Powder
1 Teaspoon
Condensed milk
4 1/2 Tablespoons
Nutella
2 Tablespoons
Coconut , grated
3/4 Cup
Steps
Combine the flour, 1 tbsp sugar and baking powder.
Combine the egg & milk in a separate bowl.
Stir the dry ingredients and slowly add it to the above. Stir well and keep it aside for 15 minutes.
Chop bananas into small pieces. Keep it aside.
Mix together grated coconut and sugar in a bowl.
Mix nutella with 2 tbsp milk and make it in a semi liquid form.
Heat the pan lesser than medium flame.
Pour batter by 1/2 cupful onto the pan and spread it steadily so that it gets round shape.
Place 3 tbsp banana and 4 tbsp coconut sugar mix in the centre of pancake. Spread it in the centre.
Driizzle 1 1/2 tbsp milkmaid in the centre and criss cross all over the pancake.
Once pancake is cooked, fold the pancake from all the 4 sides.
Turn the pancake on the other side and spread 2 tbsp nutella mix on the top.
Take it out of the pan into the serving plate and cut it into small pieces.
*** Top it with powdered sugar (optional)
I could prepare 3 large banana pancakes with this.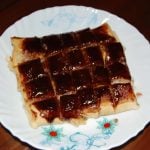 Similar Recipes