Chicken curry well flavored with spices and coconut milk. An easy and delicious Instant Pot Indian chicken curry recipe that you can quickly make even on a weekday. An authentic Kerala style chicken curry pressure cooked in an Instant Pot. It goes well with chapati, parotta/paratha, pathiri (rice bread), any rice variants ( pulao, ghee rice, regular rice), appam (rice pancake) or any other Indian breads. Our house favorite recipe 🙂
If you are looking for chicken curry recipes without pressure cooking, check out
Chicken curry without coconut
Chicken curry with coconut milk
No spice chicken curry
Coriander chicken curry
Chicken curry with yogurt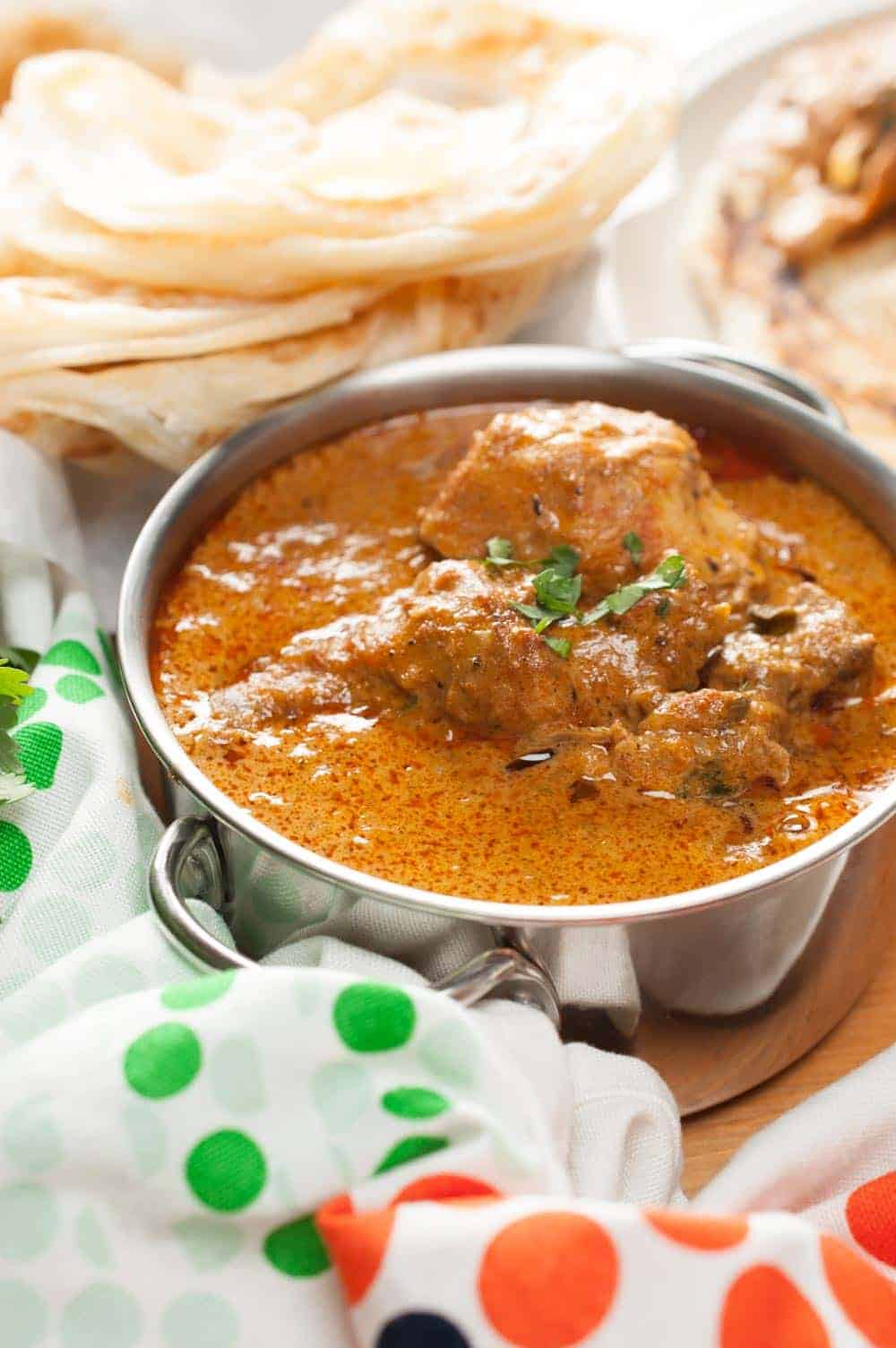 This curry works out well for Paleo/Gluten-free/Keto lifestyle. In this recipe, I used chicken with bones. You can also use chicken breast. Cut it into 2-inch pieces, that case.
If you are new to Instant Pot, it's a multi-purpose cooker. It can operate as a pressure cooker, slow cooker, rice cooker, yogurt maker, saute pan, steamer, and food warmer. In this recipe, I used it as a Saute Pan and a pressure cooker. I don't use a regular pressure cooker anymore. Instant Pot is incredible and makes your life easy. I use Instant Pot DUO80.
Ingredients
2

lb

chicken

(curry cut or chicken breast)
Marination
2

teaspoon

chilli powder

1

teaspoon

turmeric powder

1 ½

teaspoon

salt
Masala Gravy
2

number

onion

(medium size)

5

number

green chilli

2

sprig

curry leaves

1

tablespoon

ginger

(crushed/paste)

1 ½

tablespoon

garlic paste

(crushed/paste)

1 ½

tablespoon

chilli powder

3

tablespoon

coriander powder

1 ½

teaspoon

garam masala

2

teaspoon

fennel powder

3

number

tomato

(medium size)

¼

cup

water

1 ½

cup

Thick coconut milk

3

tablespoon

coriander leaves

salt

vegetable oil / sunflower oil / coconut oil
Instructions
Marinate Chicken
Marinate Chicken - Clean the chicken pieces. If you are using chicken breast, cut it into 2-inch pieces. Marinate it with the ingredients listed under marination. Keep it aside for minimum 30 minutes.
Prepare Ingredients
Prepare Ingredients - Chop onion into small pieces. Slice green chilly. Grind/Crush ginger and garlic into a fine paste. Grind the tomatoes.
Prepare Gravy
Heat 1 tablespoon oil in the Instant Pot on SAUTE mode MORE setting. When oil is hot, add the sliced onions, green chillies, curry leaves, and salt. Adding salt helps the onion to get cooked fast. Saute it until onions are lightly brown. When the onion starts sticking to the pot, change the Instant Pot setting to SAUTE mode LOW setting. Refer notes on how to change the setting.

Add the ginger, garlic paste. Saute well till the aromatics release their flavor. Continue in the SAUTE mode LOW setting.

Once sauteed well, add chilly powder, coriander powder, garam masala, fennel powder and saute. Add oil as needed to fry the masalas. I used home made garam masala. When you use store bought one, based on the brand you use you may have to increase garam masala measurement to 2 teaspoon or 3 tsp.

Add tomatoes and mix it well in the gravy. Change the Instant Pot setting to SAUTE mode NORMAL setting. Refer notes on how to change the setting. Stir the tomatoes until it's cooked well. It might take around 5 to 8 minutes. Adjust salt in the gravy.

Add marinated chicken and ¼ cup water. Mix it well with the gravy. Close the Instant Pot lid, move the valve to SEAL and cook on MANUAL HIGH-PRESSURE setting for 3 minutes. Refer the notes on time setting.

Once the timer goes off, either do a NATURAL PRESSURE RELEASE or a QUICK PRESSURE RELEASE after 10 minutes. Refer notes for instructions on natural and quick release.

Switch the Instant Pot to SAUTE mode NORMAL setting. Then add chopped coriander leaves and thick coconut milk. Refer notes on how to prepare coconut milk. Adjust the salt and allow it to boil. Boil it until it reaches the consistency you like.

Serve hot with chapati, parotta/paratha, pathiri (rice bread), any rice variants ( pulao, ghee rice, regular rice), appam (rice pancake) or any other Indian breads.
Notes
Instant Pot SAUTE mode setting: You can vary the temperature of the SAUTE mode by using the ADJUST button to cycle through the modes of LESS, NORMAL, and MORE. This is equivalent to low, medium and high heat. Note that the temperature mode must be adjusted within 10 seconds of pressing the SAUTE button. If you want to change the heat setting of SAUTE mode from HIGH temperature to LOW temperature, CANCEL the current SAUTE function. Then program again on SAUTE mode LOW setting. In SAUTE mode, you are not supposed to use Instant Pot lid.
Instant Pot Pressure Cook Time Setting -  I used chicken with bone, and it was cut into small pieces. I bought it from a Halal store. 3 minutes of pressure cooking time was more than enough for me. If you are using chicken with bigger pieces, you should increase the pressure cooking time to 5 minutes or even more.
Instant Pot Natural & Quick Pressure Release - For natural pressure release, allow the float valve to drop off without doing anything. It would take some time, around 30 minutes or so. For quick pressure release, once the timer goes off, leave it as it is for 10 minutes. Then turn the valve from sealing to venting and allow the steam to release the pressure until the float valve drops off.
Preparation of coconut milk from grated coconut - Grind 3 cup grated coconut with 1 ½ cup lukewarm water. 1 ½ cup thick coconut milk can be extracted from this. Luke warm water helps you to extract coconut milk well.
Non-Electric Pressure Cooker -  If you want to use a non-electric pressure cooker, pressure cook up to 1 whistle. Instant Pot just makes your life easier.