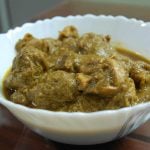 This is a simple, mouth-watering South Indian style green chicken curry made with a blend of spices and fresh coriander leaves. It goes well with rice and chapathi. Inspired from mariasmenu.com.
Ingredients
Grind1
black pepper
1.5 Teaspoons
turmeric Powder
1 Teaspoon
coriander Powder
2 tbsps
garam masala
1 1/2 Teaspoons
fennel Powder
1 Teaspoon
Grind2
coriander leaves
1/2 Cups
Steps
Heat oil. Add finely sliced onions and salt. Cook till it becomes golden brown color.
Meanwhile, grind together items listed in Grind1 section into a fine paste. Add it to the above mixture.Cook for 3 minutes. Add oil if needed.
Grind together items in Grind2 section to a smooth paste.Cook for around 5 minutes.
Add 3/4 cup water. Mix it well. Adjust the salt. Then add cleaned chicken pieces.
Cover and cook it until chicken is done. Check the consistency of the gravy as per required. Chicken curry is ready to be served.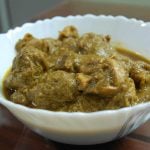 Similar Recipes