Chicken cooked in spicy masala gravy, and wrapped in flaky puff pastry. Meat puffs are one of my favorite bakery item in Kerala. It's easy to make if you have store-bought Puff Pastry Sheets in hand. It's always a big hit in the parties! You will definitely love this one.
You can check out Paneer Puff Pastry recipe here.
Here are other chicken appetizers:
Chicken Cutlet
Tandoori Chicken
Chicken 65
Baked Chicken Wings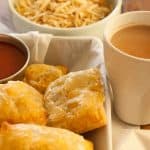 Ingredients
Puff Pastry Sheet
1 pack
boneless chicken
300 gram
Masala for filling
onion (medium)
2 number
garlic (crushed / paste)
1 1/2 teaspoon
ginger (crushed / paste)
1/2 teaspoon
turmeric powder
1/2 teaspoon
chilli powder
1 teaspoon
pepper powder
1/4 teaspoon
garam masala
1/2 teaspoon
fennel powder
1/2 teaspoon
curry leaves
1 sprig
tomato ketchup
2 tablespoon
soya sauce
1 teaspoon
Egg Wash
Steps
Masala for filling

Slice onion into small pieces. Chop curry leaves into tiny pieces. I prefer chicken thighs than chicken breast piece. Chop chicken into small 1/2 inch cubes.

Heat 2 tsp oil in a heavy bottomed pan. Add onion, curry leaves and salt. Adding salt helps the onion to get cooked fast. Cover the pan with a lid and cook until onion is soft. Remove the lid and saute the onions until lightly brown.

Add ginger and garlic, saute well. Add turmeric powder, chilli powder, pepper powder, garam masala and fennel powder.


Add chopped chicken and salt and mix it well. Cover the pan with a lid and cook until chicken is no longer pink. Remove the lid and let the extra water evaporate.


Add tomato ketchup and soya sauce and mix it well. Adjust the salt and ketchup according to your taste.


Bake the puffs

Preheat the oven to 400F or 200C.


Cut one puff pastry layer into six equal sized rectangles. Spoon the masala filling into the center of each rectangle piece. Fold the puff pastry sheet. Seal the edges using a fork.


Whisk the egg in a small bowl. Brush the top of the puffs using the brush.


Arrange the puffs on top of it. Bake for around 12 minutes or until the top is golden brown. Depending on every number of the puffs, time will vary. Be cautious not to brown it too much.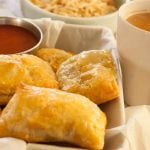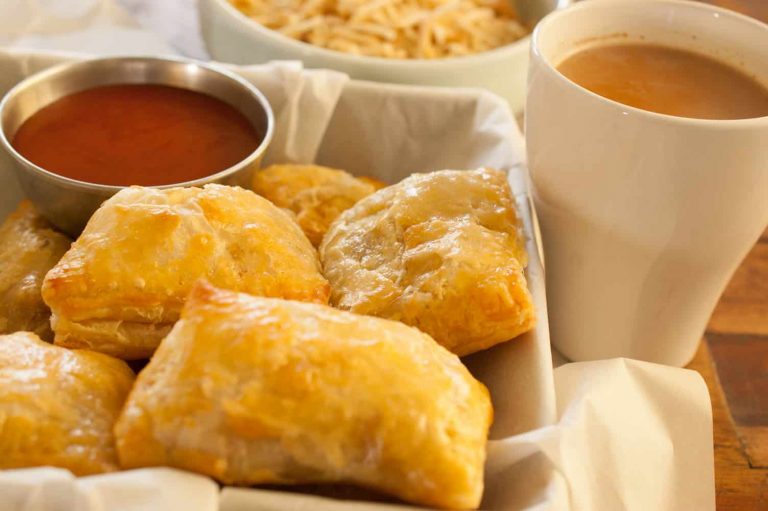 Nutrition Facts
Indian Style Chicken Puff Pastry
Amount Per Serving
Calories 1036
Calories from Fat 585
% Daily Value*
Fat 65g100%
Cholesterol 65mg22%
Sodium 737mg32%
Potassium 514mg15%
Carbohydrates 78g26%
Protein 33g66%
Vitamin A 375IU8%
Vitamin C 15.4mg19%
Calcium 25mg3%
Iron 4.9mg27%
* Percent Daily Values are based on a 2000 calorie diet.
Similar Recipes