Chicken pieces deep fried with the ginger-garlic, chilly and curry leaves. A quick and tasty appetizer that can be done in no time! Inspired from Reeba's recipe with some tweaks.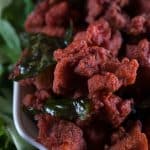 Ingredients
boneless chicken
1/2 kg
Marinate
turmeric powder
1/4 tsp
coriander powder
3 tsps
chilli powder
2 1/2 tsps
garam masala
1/2 tsp
red color( optional)
2 drops
Steps
Clean and dice the chicken into small 1 inch bite-size pieces.

Slit the green chilly length wise. Beat the egg well. Marinate chicken with the ingredients listed under marination and leave it aside for minimum 1 - 2 hours. Maximum results if it is left overnight in refrigerator.

Heat oil in a pan and add chicken pieces in batches. In every batch add curry leaves along with chicken pieces. Deep fry the chicken until it's done. It should take around 8 minutes per batch.

Drain them in a kitchen towel.
Serve it with freshly sliced onions and lemon wedges.
Notes
I always start with frying single chicken piece to adjust the salt if required and then start the batches.
Make sure chicken pieces are not overcooked. It makes it hard.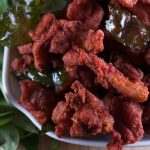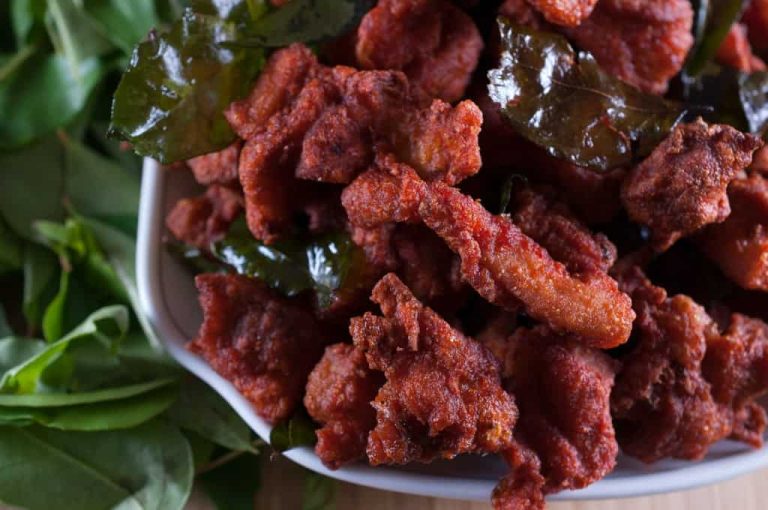 Similar Recipes