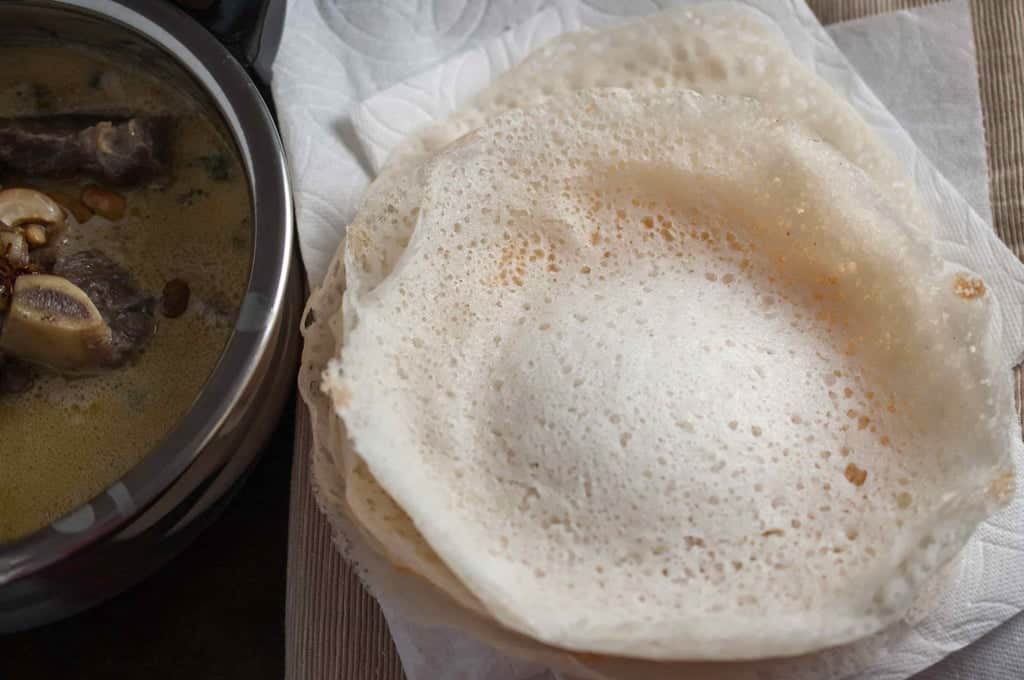 Easy, soft and fluffy Appam made with fermented rice and coconut batter. An all time favorite breakfast 🙂 It's best served with chicken/mutton/vegetable stew or fish molly and a staple diet in a Kerala home.
Ingredients
Pachari Rice / Idly
1 1/4 cups
Steps
Wash the rice well for 2-3 times in running water. Soak rice in water for about 6-8 hours.

Grind together rice, grated coconut and cooked rice in a mixer/blender in multiple batches. Use the water used for soaking rice and use extra water as needed to grind.

Add yeast to the batter and mix well. I used Rapid Rise/Instant yeast. Refer Notes for more details.

Cover the batter bowl with a lid and let it rest in a warm area overnight to ferment/to rise. The batter would have doubled and foamy after fermentation. In California weather, I keep the batter bowl inside the oven with lights on. Believe me, it helps to ferment.

Add sugar and salt. Adjust the quantity as per your taste. Mix well. You can store in the refrigerator for up to 2-3 days and use when required.
Heat the appam pan/appam chatti. Pour a ladleful of batter and swirl the pan. It should be slightly thick in the centre, thin and lacy over the sides. Cover and cook. It will take around 3 minutes. Centre should be cooked and the sides should be slightly brown. Remove it with the help of a spatula.

Serve it hot with vegetable/chicken/mutton stew or fish molly. Enjoy 🙂
Notes
Pachari is the rice most commonly used to make the Appam batter. If you cannot find it, you can use idly/sonamasoori/any other long grain rice.
I have found Rapid Rise yeast very useful. I use the brand fleischmann's. It's an instant yeast and no need to hydrate in water.
If you are using an Active Dry yeast, dissolve yeast in lukewarm water and then add to the batter.
Traditional Appam is made in Appam pan/Appam chatti. If you don't have one, use a flat non-stick pan.