Creamy, tangy and delicious soup with mushrooms and ground beef. It has got right flavors on one plate. This mushroom soup is filling and easy to make. The best Hungarian mushroom and ground beef soup ever!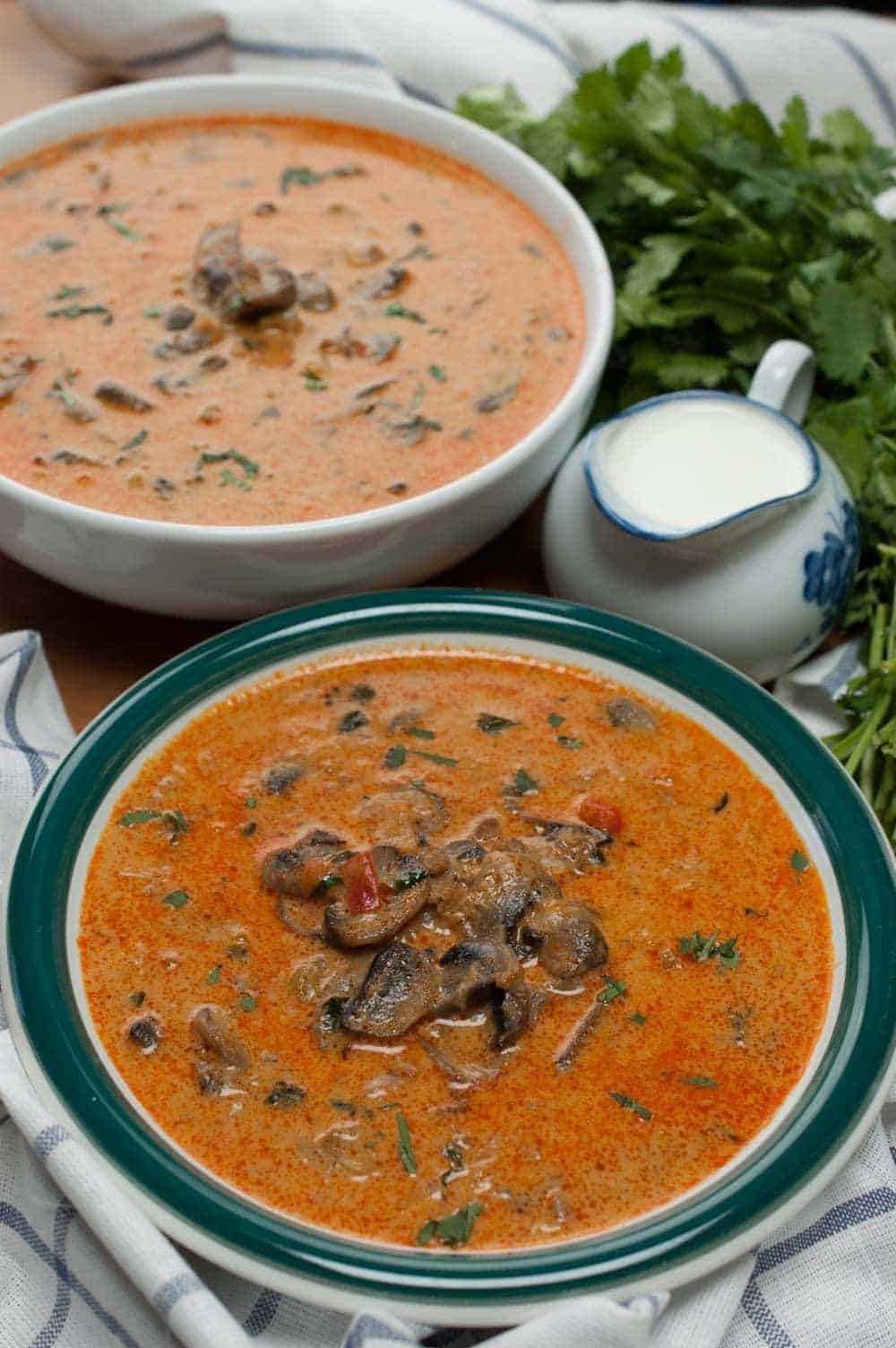 Among the soup recipes I've cooked so far, this one is my most favorite! We make it regularly at home these days. I like to add up meat in the soup and make it more filling. Ground beef was an excellent addition to the traditional recipe. The actual Hungarian version uses dill; I replaced it with cilantro. Adapted the recipe from https://www.platingsandpairings.com
Ingredients
4

tablespoon

butter

1

number

onion

(large size)

½

number

bell pepper

(large size)

680

gram

mushroom

(24 oz)

350

gram

Ground beef

4

tablespoon

all purpose flour

1 ½

tablespoon

paprika

2

cup

chicken broth

2

cup

water

2

tablespoon

soy sauce

1

cup

whole milk

¾

cup

sour cream

1

tablespoon

lemon juice

1

tablespoon

cilantro leaves

salt
Instructions
Prepare ingredients - Dice onion and bell pepper into small pieces. Clean the mushrooms by rubbing the dirt off with a brush or rinsing them quickly under running water. Do not soak them in water for long as they tend to become soggy. Slice it into uniform ½ inch thick slices. Clean and drain the ground beef.

Melt the butter in a large stockpot or Dutch oven over medium-high heat. I used Instant Pot to make this soup. If you are using Instant Pot, cook it in SAUTE mode MORE setting. Add the onions, bell peppers, mushrooms, and salt. Give a stir and cook it for 2 minutes.

Add ground beef and mix well. Mushrooms have a ton of water in them, which seeps out while cooking. Cook until the mushrooms and ground beef have released their liquids and has evaporated. It would take about 10-15 minutes. When it starts sticking to the bottom of the Instant Pot, change the Instant Pot setting to SAUTE mode NORMAL setting.

Mix in the all-purpose flour and paprika and let it cook for around 3 minutes.



Add the chicken/beef stock, water, soy sauce, and milk. Bring to a gentle boil. Then, reduce the heat and simmer for around 10 minutes. To simmer in Instant Pot, change the Instant Pot setting to SAUTE mode LOW setting.

Remove from heat and mix in the sour cream, lemon juice, and chopped cilantro leaves. Adjust salt. Enjoy 🙂
Notes
Instant Pot SAUTE mode setting: You can vary the temperature of the SAUTE mode by using the ADJUST button to cycle through the modes of LESS, NORMAL, and MORE. This is equivalent to low, medium and high heat. Note that the temperature mode must be adjusted within 10 seconds of pressing the SAUTE button. If you want to change the heat setting of SAUTE mode from HIGH temperature to LOW temperature, CANCEL the current SAUTE function. Then program again on SAUTE mode LOW setting. In SAUTE mode, you are not supposed to use Instant Pot lid.
Never miss out any ingredient, especially sour cream. It makes it creamy and thick and brings in the tanginess to the soup.