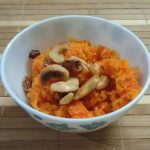 Traditional Punjabi dessert made with carrots and milk. It goes well with Vanilla ice cream.
Ingredients
Carrot (grated)
2 Cups
Ghee
1 1/2 Tablespoons
Cashew Nuts
1 Tablespoon
Raisins
1/2 Tablespoon
Steps
Heat ghee in a pan. Add cashew nuts & fry it for a minute, remove from the pan & keep it aside.
Add Raisins and fry it for a minute. Keep it aside.
Add grated carrots, warm milk, sugar and slightly crushed cardamoms.
Cook till the sugar has dissolved and all the milk has been absorbed. Don't cover it while cooking.
Add 1 tbsp ghee and simmer for 5 minutes.
Remove the gajjar halwa from heat and garnish it with fried cashews and raisins.
** Instead of fried cashews and raisins, you can garnish with almonds and pistachios as well.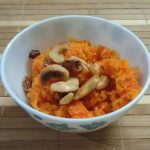 Similar Recipes