Cauliflower rice cooked with onion, bell peppers, and eggs. Crumbled cauliflower is an excellent alternative to rice and suitable for a low carb diet. This cauliflower rice stir fry with eggs is an easy and healthy recipe without compromising the taste. One of the best ways to make cauliflower rice. This works out well for Paleo/Gluten-free/Keto lifestyle.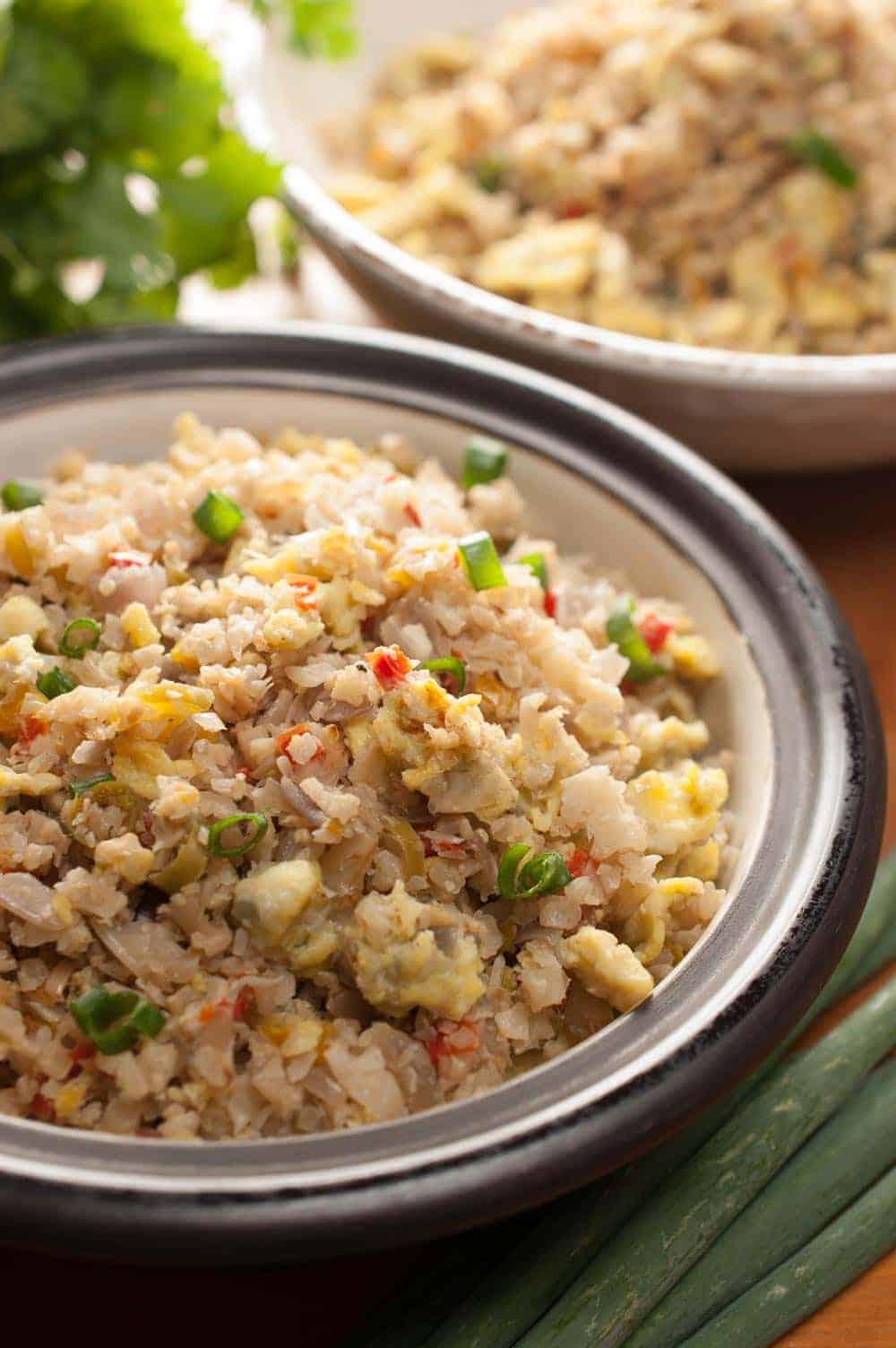 Cauliflower is low in carb and has high content of vitamins. I made cauliflower rice at home. Otherwise, you can use the store bought one.
Cauliflower Rice Stir Fry with Eggs (Paleo, Keto, Gluten Free)
Ingredients
4

cups

cauliflower rice

or grated cauliflower(from 1 big cauliflower)

1

number

onion

(medium size)

½

cup

green bell pepper

½

cup

red bell pepper

½

cup

yellow bell pepper

1

tablespoon

garlic

(crushed)

3

number

green chilli

3

number

egg

1

tablespoon

Olive Oil / Coconut Oil

salt

(to taste)

pepper powder
Garnish
spring onion

cilantro leaves
Instructions
Clean cauliflower - Cut the cauliflower into uniform medium size florets. Add them to the salted lukewarm water for around 10 minutes. It will help to kill the worms inside cauliflower. Clean it well and drain the florets.

Make cauliflower rice - Place cleaned cauliflower florets into the bowl of a food processor. Process into small crumbles of the size of rice, then set aside. Crumble it in batches as needed. I got 7 cups cauliflower rice from a big cauliflower.

Prepare the ingredients - Finely chop the onion. Crush the garlic into a paste. Finely chop all the three peppers, red, green and yellow bell peppers.

In a large skillet over medium heat, heat 1.5 tablespoon oil. Add onions, bell peppers, garlic and green chillies. Cook, 5 - 7 minutes, often stirring, until onions and bell peppers are soft. Stir it in between.

Add crumbled cauliflower or cauliflower rice and salt. Cook for around 5 minutes or until cauliflower is done. Stir it often.

Move cauliflower rice mixture to one side of the pan. Crack eggs into the other area of the skillet and scramble. Once cooked through, mix eggs into rice mixture.

Cook for another 2 minutes. Season with pepper powder if needed. Sprinkle with chopped spring onion greens and cilantro. Serve it hot.
Video
Cauliflower Rice Stir Fry with Eggs (Paleo, Keto, Gluten Free)