Jump to Recipe Print Recipe Jump to Video
Beef marinated in spice mix, pressure cooked in an Instant Pot and then stir-fried with coconut slices and curry leaves. Authentic Kerala style beef fry / Beef Ularthiyathu is an easy and delicious appetizer or a great side-dish with rice. Beef Varattiyathu is one of the favorite dishes of Malayalees. An excellent touching for alcohol too ?
Check out other beef dishes:
Instant Pot Beef Curry
Beef curry with potato and coconut milk
Beef Biriyani
Beef and Tapioca Biriyani
Beef Fry using non-electric cooker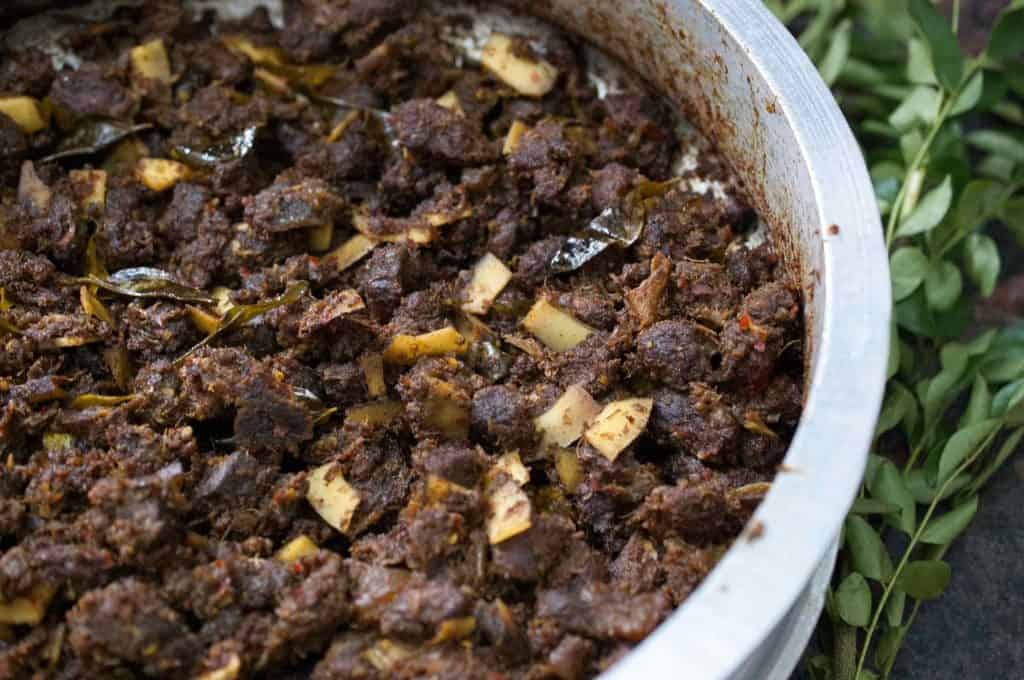 If you are new to Instant Pot, it's a multi-purpose cooker. It can operate as a pressure cooker, slow cooker, rice cooker, yogurt maker, saute pan, steamer, and food warmer. In this recipe, I used it as a Saute Pan and a pressure cooker. I don't use a non-electric pressure cooker anymore. Like in a regular cooker, you don't have to count the whistles. In an Instant Pot, once it finishes the programmed time, it goes to the Keep Warm mode. In short, your presence is not needed, once you have scheduled the time. Cleaning is much easier. Cooking time is slightly less than the regular pressure cooker. Instant Pot is incredible and makes your life easy. I use Instant Pot DUO80.
Ingredients
Marination
2

cups

shallot / small onion

1 ½

tablespoon

ginger (crushed)

1

tablespoon

garlic (crushed)

14

number

dried red chilli

1

teaspoon

turmeric powder

4

teaspoon

coriander powder

2

teaspoon

pepper powder

2

teaspoon

fennel powder

2 ½

teaspoon

garam masala

4

teaspoon

vinegar

1

teaspoon

salt
Fry
1 ½

cup

Thengakothu (Small square size coconut pieces)

4

tablespoon

coconut oil

4

sprig

curry leaves
Instructions
Crush dried red chilli. Cut beef into 1.5" cube pieces. Marinate cleaned beef pieces with ingredients listed under marination. Keep it aside for 30 minutes.

Add 3 tablespoon of water to this and add it into the Instant Pot. Close the Instant Pot lid, move the valve to SEAL and cook on MANUAL HIGH-PRESSURE setting for 2 minutes. Refer the notes on time setting. Make sure that beef is not overcooked.

Once the timer goes off, either do a NATURAL PRESSURE RELEASE or a QUICK PRESSURE RELEASE after 10 minutes. Refer notes for instructions on natural and quick release.

To dry up the water, switch on SAUTE mode MORE setting. Before it starts sticking to the base, change the Instant Pot setting to SAUTE mode NORMAL setting. Refer notes on how to change the SAUTE setting. Once, water kinda dried up, switch it off.

Heat oil in a thick bottomed pan (preferably non stick pan or cast iron pan) and fry coconut pieces until it becomes golden brown color. Keep it aside.

Add more oil into the pan, add lots of curry leaves and fry it. Add cooked beef and fried coconut pieces to it. Stir it well. Cook on low flame for around 15 - 20 minutes. If required, add oil in between. Stir it until it becomes black in color.
Video
Notes
Instant Pot Pressure Cook Time Setting -  I used 1.5 " beef pieces. 2 minutes of pressure cooking time was more than enough for me. If you are using beef with bigger pieces, you should increase the pressure cooking time to 3  or 4 minutes.
Instant Pot Natural & Quick Pressure Release - For natural pressure release, allow the float valve to drop off without doing anything. It would take some time, around 30 minutes or so. For quick pressure release, once the timer goes off, leave it as it is for 10 minutes. Then turn the valve from sealing to venting and allow the steam to release the pressure until the float valve drops off.
Instant Pot SAUTE mode setting: You can vary the temperature of the SAUTE mode by using the ADJUST button to cycle through the modes of LESS, NORMAL, and MORE. This is equivalent to low, medium and high heat. Note that the temperature mode must be adjusted within 10 seconds of pressing the SAUTE button. If you want to change the heat setting of SAUTE mode from HIGH temperature to LOW temperature, CANCEL the current SAUTE function. Then program again on SAUTE mode LOW setting. Be cautious, in SAUTE mode, you are not supposed to use Instant Pot lid.