Fresh corns pressure cooked, simmered along with chicken and then drizzled with beaten egg. This classic Instant Pot Indian Sweet Corn Chicken Soup recipe is quick and easy to make, full of delicious flavor. A very popular soup in an Indo Chinese restaurant.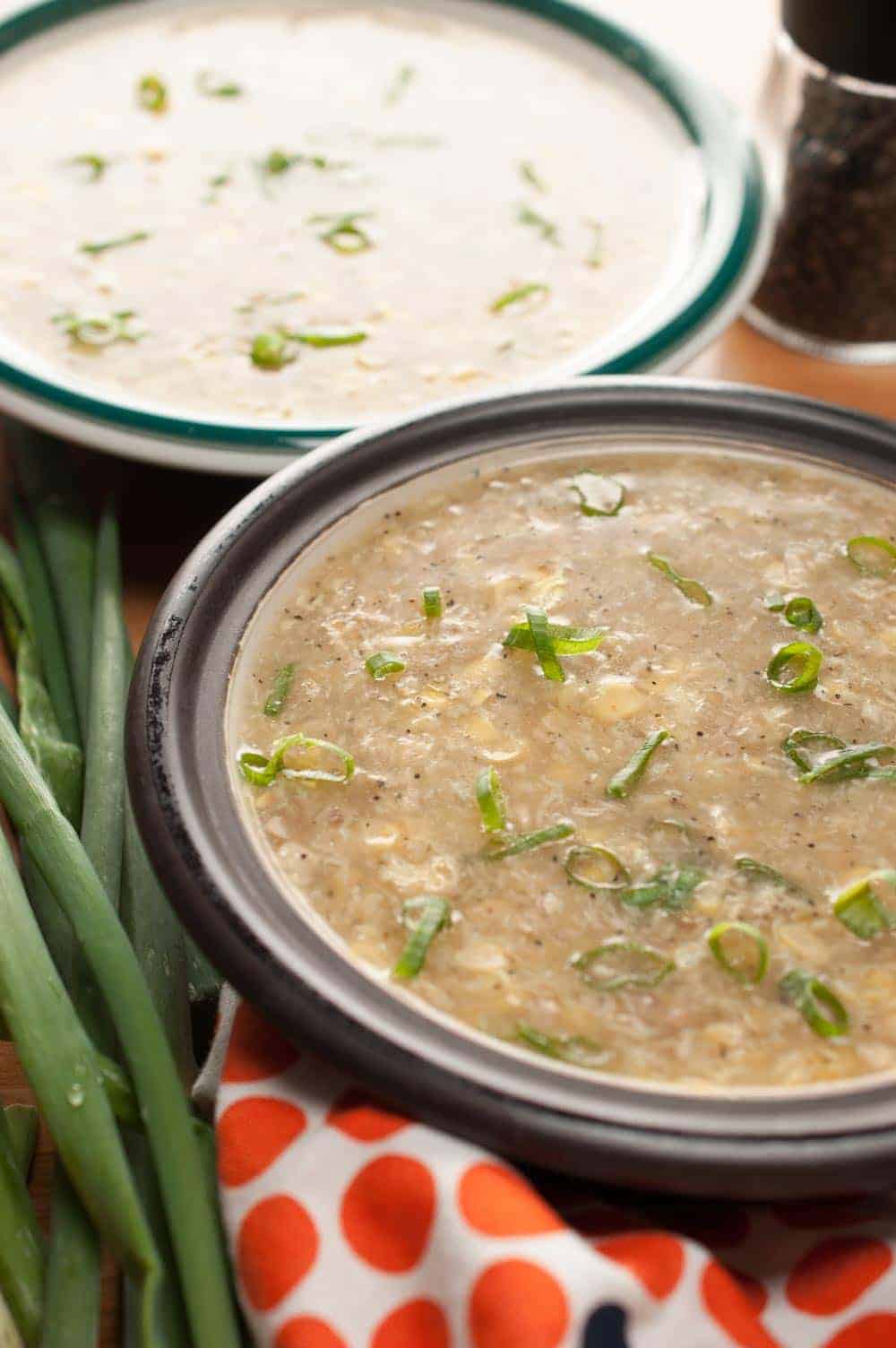 If you are new to Instant Pot, it's a multi-purpose cooker. It can operate as a pressure cooker, slow cooker, rice cooker, yogurt maker, saute pan, steamer, and food warmer. In this recipe, I used it as an electric pressure cooker and a saute pan. I don't use a regular pressure cooker anymore. Instant Pot is incredible and makes your life easy.
I used fresh corns in this recipe. It's quite easy. You can otherwise use a canned one.
Ingredients
3

number

sweet corn

(or 1 cream style corn can)
For the Chicken
350

gram

boneless chicken

1

teaspoon

white/black pepper powder

1

teaspoon

sesame oil

salt
For the Soup
¼

cup

spring onion white

1

teaspoon

ginger

(crushed/minced)

3

cup

chicken stock/broth

2

cup

water

3

tablespoon

corn flour

2

teaspoon

soy sauce

1

number

egg

1

tablespoon

sugar

(optional)

salt

sesame oil

white pepper powder
Garnish
5

tablespoon

spring onion green
Instructions
Cut corn off the cob - Avoid canned corns and go for the fresh ones. I found this way much easier to cut down corn off the cob. Have a large bowl and a small bowl. Place the small bowl upside-down in a large bowl. Then stand the corn — allow one edge of the corn to rest on top of the small bowl, and use a sharp knife to slice down on the cob. This way, the kernels will collect in the bottom of the large bowl.

Prepare other ingredients - Clean and cut chicken into small 1 inch bite-size pieces. Dice spring onion white into small pieces. Crush/mince ginger. Slice spring onion greens into thin slices.

Cook chicken - Heat 1 teaspoon oil in the Instant Pot on SAUTE mode NORMAL setting. When the oil is hot, add the chicken. Add salt and pepper powder. I used black pepper powder. But white pepper powder is ideal for this soup. Saute the chicken until it's cooked. Stir it occasionally so that it doesn't get burnt. Keep it aside. Once it's cooled down, shred the chicken in a blender.

Heat 2 teaspoon oil in the Instant Pot on SAUTE mode NORMAL setting. When the oil is hot, add the diced spring onions whites and ginger. Saute for a minute.

Add corn. Saute for 2-3 minutes. Add chicken stock and water. Add extra salt if needed. Mix it well. Close the Instant Pot lid, move the valve to SEAL and cook on MANUAL HIGH-PRESSURE setting for 6 minutes.

Once the timer goes off, either do a NATURAL PRESSURE RELEASE or a QUICK PRESSURE RELEASE after 10 minutes. Refer notes for instructions on natural and quick release.

Switch the Instant Pot to SAUTE mode LOW setting and simmer the soup. Add the shredded chicken, sugar and soya sauce. Mix it well and simmer for another 2 minutes.

Corn starch helps to thicken your soup. Mix the cornflour with 4 tablespoon of water. Add the cornflour mixture and continue stirring until the soup thickens on SAUTE mode LOW setting. Adjust salt. Add pepper if needed. In case if you want more thickness to your soup, simmer it for another 5 minutes. If you still need extra thickness, you need to add more cornflour water mix.

Beat the egg. Slowly add the beaten egg, and continuously stir in one direction. Continue in SAUTE mode LOW setting. You can see pretty egg ribbons in the soup at this moment. Add half of the spring onion greens and mix it in the soup. Stir for another minute and switch it off. Garnish with rest of the spring onion greens. Enjoy 🙂
Notes
Chicken Stock- You can make chicken stock at home and use in this recipe. Another option is to get tetra pack of chicken broth from any store. The third option is to make stock from the chicken base. I have tried all the three. But mostly, to save time I use Organic Chicken base from Costco. You can store this organic chicken base in the refrigerator. It comes out really well.
If you are using sweet corn can instead of fresh corn, you don't need to pressure cook. Add the ingredients in the same order. Bring corn to boil after adding the stock. Then continue the rest of the steps.
I used Instant Pot DUO80. You can also make the same recipe in a regular pressure cooker. Pressure cook corn for 2 whistles, that case. Instant Pot just makes your life easier.
Natural & Quick Pressure Release - For natural pressure release, allow the float valve to drop off without doing anything. It would take some time, around 30 minutes or so. For quick pressure release, once the timer goes off, leave it as it is for 10 minutes. Then turn the valve from sealing to venting and allow the steam to release the pressure until the float valve drops off.