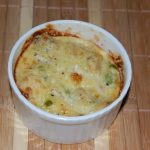 This recipe is adapted from foodnetwork.com. Chicken and veggies are combined in a simple white sauce thickened with egg yolks and a flavorful cheese. Stiffly beaten egg whites bring in fluffy texture.
Ingredients
Chicken and Veggies
Chicken Boneless
350 Grams
Green Peas Frozen
1/2 Cup
Garlic Minced
1 Teaspoon
White Pepper
1 1/2 Teaspoons
Cayenne Pepper
1/2 Teaspoon
White Sauce
Butter
4 Tablespoons
All Purpose Flour
1/4 Cup
Milk Whole
1 1/2 Cups
Nutmeg Ground
1/2 Teaspoon
White Pepper
1 Teaspoon
Cheddar Cheese Grated
1 1/2 Cups
Steps
Cut chicken and veggies (carrot,green peas, broccoli) into 1/2 inch pieces and cook it with garlic, white pepper, oregano, cayenne pepper and salt. Cook it until chicken and vegetables are done.
Preheat the oven to 350 degrees F. Butter the bottom and sides of a souffle dish. Set aside.
In a medium saucepan, heat butter over medium-low heat. Add the flour and cook, stirring constantly, for 2 minutes. Slowly whisk in the milk until the mixture is smooth and creamy.
Bring the mixture to a simmer and cook, stirring constantly, until the mixture coats the back of a spoon, about 8 to 10 minutes. Stir in the nutmeg and season with salt and pepper, to taste.
Remove the pan from the heat. Lightly beat the egg yolks. Slice bread slices into 1/2 inch cubes.
Add the cheese, chicken, veggies, egg yolks, and bread cubes. Stir until combined (mixture will be thick).
In a large bowl, using an electric mixer, beat the egg whites at high speed until they hold stiff peaks, about 2 minutes. Stir 1/4 of the egg whites into the chicken mixture. Using a spatula, fold in the remaining egg whites.
Spoon the batter into the prepared dish and bake until the souffle is puffed and the top is firm and golden, about 35 to 40 minutes. With smaller ramekin it took around 25 minutes for me. Remove from the oven and serve immediately.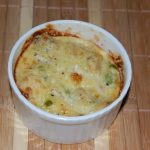 Similar Recipes