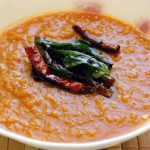 Quite simple recipe and a yummy side dish with rice!! It is the best if mango is ripe and bit sour. Recipe adapted from my friend Ammu.
Ingredients
chilli powder
1 tbsp
turmeric powder
1/2 tsp
Garnish
mustard seeds
1/4 tsp
red chilli dried
2 numbers
Steps
Wash, clean and roughly cut all the flesh from the mango, scraping as much as you can. Chop it into small pieces.
Mix it with chilly powder, turmeric powder and enough salt. Cook it until mango is done. It usually take upto 2-3 whistles.
Mash the cooked mango pieces.
Heat oil in a pan. Add mustard seeds. When they crackle, add curry leaves and dried red chilly.
Add it to the curry and mix well.
Notes
Ripe and bit sour mango gives best results.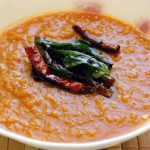 Similar Recipes