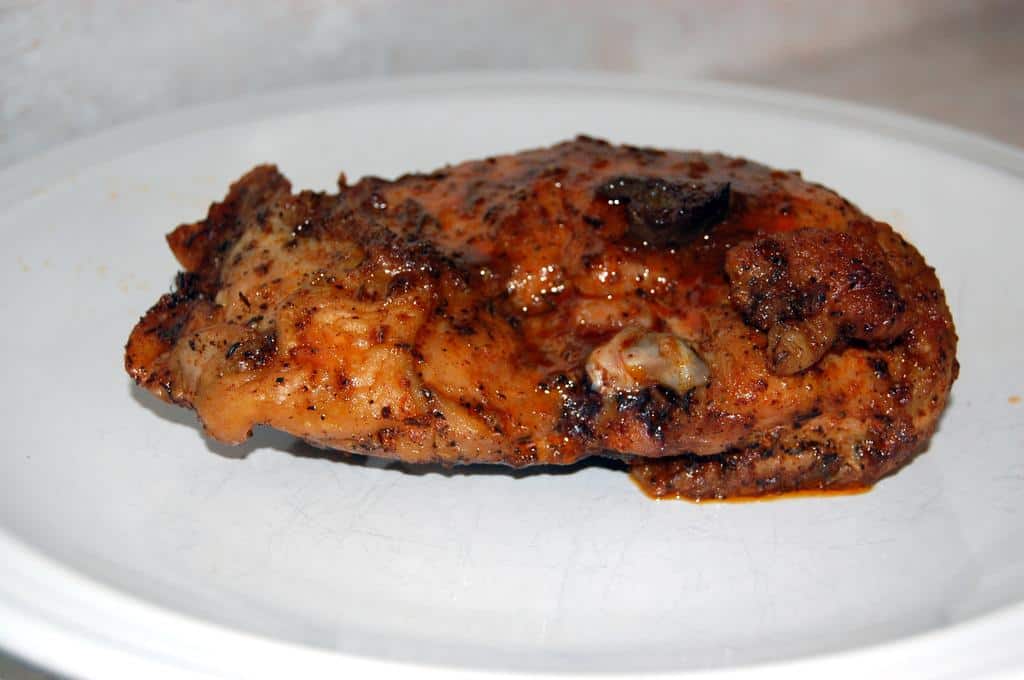 Delicious roasted chicken with thyme, garlic, paprika and pepper. It is quite simple to cook and juicy and tender!! I tried this recipe with chicken breast pieces, and I had to bake it for 1 hr.
Ingredients
Marination
2 Pounds

chicken

olive oil

2

Teaspoons

paprika

1

Teaspoon

cayenne pepper

1 ½

Teaspoons

black pepper

1

Teaspoon

thyme

Dried

1 ½

Teaspoons

garlic

Powder

3

Teaspoons

salt
Stuffing (optional)
1

Sprigs

rosemary

1

onion

Small

1

lemon
Instructions
Wash and pat dry the chicken with a paper towel.

In a small mixing bowl, combine paprika, cayenne, thyme, garlic powder, salt, and pepper. (Adjust seasoning according to taste)

Place chicken on a platter and drizzle olive oil on the surface well. Sprinkle with the rub mixture and massage until chicken is fully coated on all the sides. Refrigerate the marinated chicken for 2 -3 hrs.

If you have a whole chicken to bake, then stuff the chicken with sliced lemon, rosemary sprigs, and sliced onions. Tuck the wings back and tie up both legs with cooking string.

Slice the potatoes in your preferred baking dish or pan. You can also add other vegetables of your choice. Season it with salt and pepper, and drizzle with olive oil. Stir until well combined.

Move the potatoes to the side of the baking dish and place the chicken into the center breast side up.

Preheat oven to 190 degrees C.

Bake the chicken for at least 1 hour and 30 minutes (basting the chicken with the drifting sauces after an hour). Adjust the time, if you are baking breast pieces instead of whole chicken. I tried this recipe with chicken breast pieces, and I had to bake it for 1 hr.

When chicken is cooked, remove it from oven and allow to sit for at least 15-20 minutes. Carve, serve and enjoy!