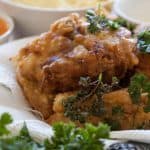 I saw this recipe on Reddit and it struck a note. The end result came out expected but is certainly was a lot different from our experience of fried chicken. Tasted a bit sour with the vinegar and white wine but over all a good change.
All credits to this wonderful youtube video by Jas. Townsend. I followed the recipe changing verjus to distilled vinegar
Ingredients
Marinade
vinegar
2 - 3 tablespoons
spring onions stems chopped
2 - 3
chicken boneless
1 kilogram
Batter
For Frying
vegetable oil
2 - 3 cups
Garnish
Steps
Prep the ingredients

Chop the spring onions and shallots, extract the lemon juice, grind the cloves, pepper and bring them all together in a large bowl for marination. Add vinegar too.

Add the boneless chicken to the marinade mix for three hours. I used a mallet to soften and even out the chicken. Also kept the skin.

Bring together salt, egg yolks, flour and wine little by little till you achieve a fairly good batter consistency.

In a large enough pan bring the oil to boiling temperature.
Pat dry the chicken from the marinade and then add it to the batter ensuring it's thoroughly mixed.

Add to the boiling oil and take them out once its golden brown.

Finally garnish with fried parsley
Notes
Somehow I found it difficult to keep the batter and chicken together during frying. It was kind of peeling of.
Some chicken pieces were thicker and it didn't cook all the way through. I think its important you mallet the pieces or cut them very thin. This is where the pressure frying technique is important.
Similar Recipes