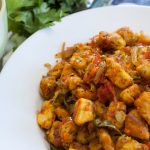 Bread cubes stir fried with vegetables and spices. An easy, healthy and tasty breakfast option using leftover bread.
Ingredients
bread slice
9 numbers
mustard seeds
1/4 teaspoon
onion (medium)
2 numbers
bell pepper
1/2 number
green chilli
3 numbers
ginger garlic
1 teaspoon
turmeric powder
1/4 teaspoon
kashmiri chili powder
1/2 teaspoon
garam masala
1 teaspoon
carrot (grated/chopped)
1/2 cup
broccoli (grated/chopped)
1/2 cup
tomato (small)
1 number
curry leaves
1 sprig
coriander leaves
3 tablespoons
Coconut oil / vegetable oil / sunflower oil / /
Steps
Prepare veggies - Slice onion. Slit green chilies lengthwise. Thinly slice the bell pepper. Chop carrots and broccoli into small tiny pieces. Use a chopper or you can also grate the carrot.

Heat a pan and add oil. Splutter the mustard seeds. Add the chopped onions, green chilies and curry leaves. Saute it for a couple of minutes and then add bell pepper. Saute it for another 3 - 4 minutes until onion and bell peppers are soft.

Add crushed ginger and garlic. Once sauteed, add turmeric powder, chili powder, garam masala. Add oil and fry the masalas.

Add carrot and saute for 2 minutes. Then add broccoli and saute for another 3 minutes. Carrots and broccoli are chopped so small so that it gets cooked fast.

Chop tomatoes. Once veggies are sauteed, add tomato. Saute it until it's cooked. Tomato gives a nice tangy feeling to the dish.

Remove the sides of the bread and slice them into uniform cube pieces. Add bread slices to the pan. Drizzle two tablespoons of oil. Add chopped coriander leaves. Saute it well so that veggies and masalas coat the bread cubes well. Stir it for another 3-4 minute or until bread cubes are slightly crisp.

Garnish using coriander leaves. Serve with tomato ketchup and a cup of tea 🙂
Notes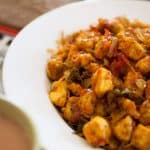 You can add other veggies of your choice too. I usually prefer the above vegetables which get cooked quickly. Never miss tomato.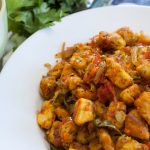 Similar Recipes