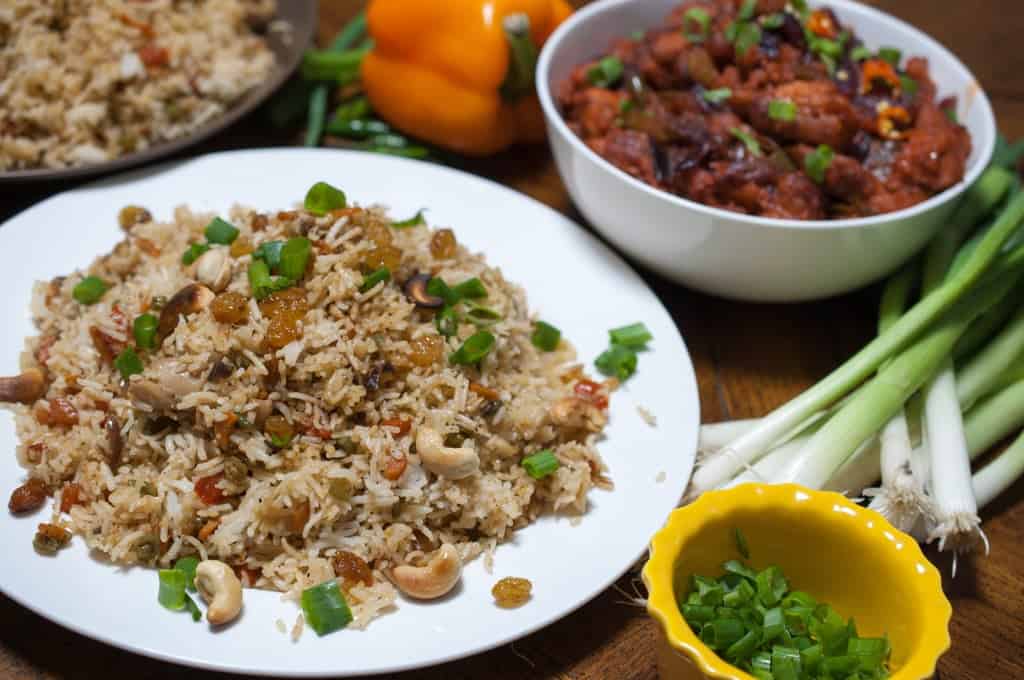 Chicken and vegetables cooked in a sauce combo and then mixed with rice. One another easy and most popular Indo Chinese style fried rice recipe to make at home. It's loaded with plenty of chicken and veggies and an easy one to prepare even on a hectic day. It goes well with chilli chicken.
Ingredients
Chicken
500

g

chicken

boneless

salt

1

teaspoon

pepper

powder

2

tablespoons

ghee

1

number

onion

(medium)

1

number

bell pepper

½

cup

carrot

(chopped)

½

cup

beans

(chopped)

½

tablespoon

garlic

(crushed)

½

tablespoon

ginger

(crushed)

½

tablespoon

soy sauce

1

tablespoon

chilli tomato sauce

1

number

tastemaker

cubes (optional)
Rice
2

cups

basmati rice

2

tablespoons

ghee

3 ¾

cups

water

1

tablespoons

lemon juice

salt

2

Teaspoons

pepper
Garnish
½

Green onion spring onion

/ stalk

1

tablespoon

cashew nut

1

tablespoon

Raisins
Instructions
Cut chicken into small cubes. Cook it in a pan along with salt and pepper. Once chicken is done, switch it off.

Dice onion and capsicum into small pieces. Slice carrot and beans into thin and small pieces. Grind ginger and garlic into a fine paste.

Heat 2 tablespoon of ghee. Saute ginger-garlic for a minute. Add onion, bell pepper and salt. Saute it until the mixture becomes soft.

Add carrot and beans into the pan. Add powdered tastemaker cubes and saute well.         ** Tastemaker cubes are optional.

Shred the cooked chicken. Once veggies are cooked, add chicken along with the stock and mix well.

Add soy sauce and chilli tomato sauce. Add salt if needed. Saute it well for around 5 minutes.

Prepare rice - Wash and drain the rice. Heat 2 tablespoon ghee in a pan/cooker. Add rice. Saute it till rice is crispy. Add ghee if needed. Add 3 ¾ cup water, lemon juice, salt and pepper. Cook until rice is done. It might take around 15 - 20 minutes.

Mix rice with the above chicken gravy. Cover and cook it for 5 minutes for the flavors to get blended.

Garnish rice with fried cashew, raisins and chopped green onions. Chilli chicken is a great side dish to go with it.
Notes
1) Instead of onion, you can also use the white part of spring onions. And use green part of spring onion for garnishing.
2) Instead of chilli tomato sauce, you can also use a mix of tomato ketchup and a chilli sauce.
3) You can use chicken with bones. Once the chicken is cooked, mince the chicken, separate from the bones and use it for sauteeing with the veggies.