Chicken cubes marinated, fried and sauteed in a spicy and tangy sauce. This is one of the most popular Indian Chinese style preparation. Best served with Vegetable Fried Rice or Chicken Fried Rice or Singaporean Chicken Rice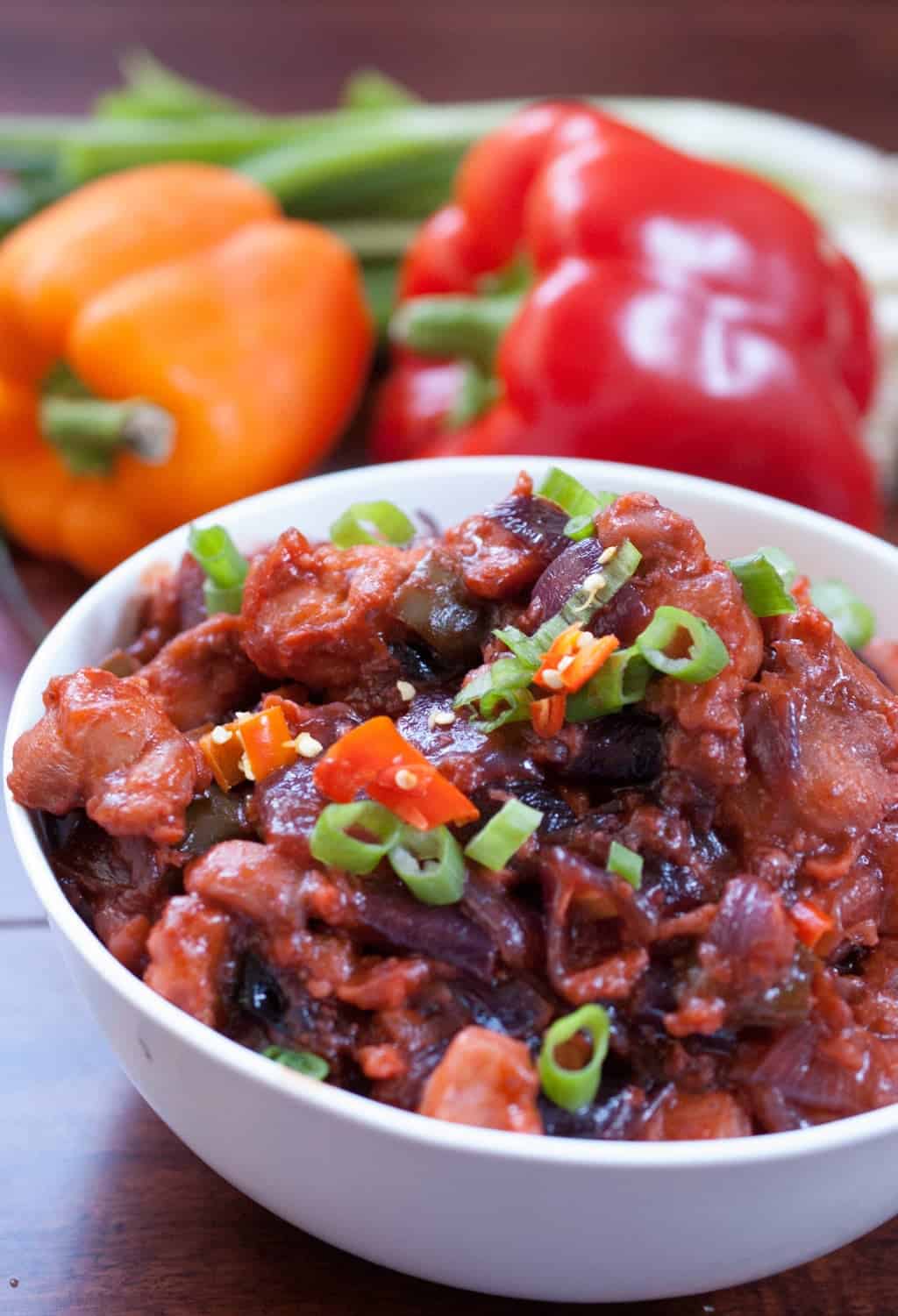 Ingredients
1

kg

chicken

Boneless

Vegetable oil Sunflower oil

/
Marination
2

numbers

egg

1

tablespoon

corn flour

3

tablespoons

all purpose flour

1

Teaspoon

ginger

paste

1

Teaspoon

garlic

paste

½

tablespoon

chilli

powder

salt
Gravy
5

numbers

onion

(medium)

2

numbers

capsicum

7

numbers

green chilli

1

teaspoon

garlic

paste

6

tablespoons

chilli sauce

½

cup

tomato ketchup

3

tablespoons

soy sauce

2

tablespoons

corn flour

½

cup

water

salt

1

teaspoon

red food colouring

(optional)
Garnish
½

Green onion spring onion

/ stalk

1

tablespoon

cashew nut
Instructions
Clean and cut chicken into 1 ½ inch cube size pieces. Dice onion and capsicum into square pieces. Slit green chilli lengthwise. Grind ginger and garlic into fine paste.

Prepare marinade - Beat the eggs. Add cornflour, all purpose flour, ginger and garlic paste, chilli powder, salt and mix well. Marinate chicken pieces and keep it aside for 30 minutes. Chilli powder helps to get good colour.

Heat oil in a kadai. Deep Fry the marinated chicken pieces until golden brown. Fry it in small batches.

Drain it in kitchen tissues.

In the same Kadai, remove excess oil. Keep 3 tablespoon oil in the pan. Saute garlic for a minute. Then add onion, capsicum, green chilli and saute it over a high flame until onion is soft, translucent and raw smell is gone.

Mix all the three sauces in a cup with water. These are the brands I used. You can adjust sauce quantity as per your taste. I used regular Soy sauce. If you are using Dark Soy sauce, reduce the soy sauce amount from the measurement.

Add it to the gravy and mix well over medium flame.

Mix corn flour with some water and add it to the gravy. ** Adjust corn flour based on the thickness that you desire. Add salt, if needed.

Add chicken pieces and mix it well. Let the chicken get coated well with the sauces. Add red food color. It's optional. Cook for another 5 minutes and switch it off.

Garnish with chopped green onions and fried cashew nuts.
Notes
- I used Maggie tomato ketchup, Chings Green Chilli sauce and regular soy sauce. If you are using Dark Soy sauce, reduce the measurement. Adjust the sauce quantity as per your taste. With different brands, taste can differ a bit.
Questions & Answers
What happens if I marinate the chicken more than 30 minutes?
Marinating the chicken for 30 minutes allows the chicken to be soaked up well enough with the prepared marinating sauce. However, the 30-minute marinating time isn't actually a strict rule. If you prefer to have marinated overnight and it can make the chicken extra tender.
When marinating the chicken, should I simply put it aside? Or should I put inside the fridge?
Marinate aside if it's for only an hour or so. More than that, keep it refrigerated.
Can I marinate the chicken overnight?
Yes, you may marinate it overnight and it will surely be marinated enough with the chicken well-soaked for an extra tender and tastier chicken dish!
Is it ok if I use turkey instead of chicken? My family loves turkey so I am wondering if it's alright for this recipe.
Have never tried it out with turkey. But it should work.
Other than cashew, what other recommendations can you give for garnish?
You can garnish it with sesame seeds, green onions stalk and perhaps try adding some chopped cilantro.
Is it alright if I use powdered garlic instead?
I recommend you use fresh garlic. Powder, desiccated garlic does not have that punch.
Other than corn flour, any flour would be alright as alternative?
I recommend you use only cornflour. In the marination, you can replace it with All Purpose flour. But in the gravy, stick with corn flour.
I was wondering if it's alright to add some mushrooms to this recipe?
I won't prefer adding mushrooms in this recipe. You can replace chicken with mushroom. Actually, vegetarian alternatives for this dish are made up with mushroom, paneer, potato and tofu.
I want to make the chicken crispy. How can I make sure that I fried them correctly?
Make sure that the oil is hot enough and you don't crowd the pan to ensure that they won't get clump together.
I am excited to try this recipe! But my husband love chicken thighs or chicken drumsticks so is it ok if I don't use boneless chicken?
Though boneless chicken is the preferred choice due to tenderness aspect but there is nothing wrong of using particular parts of the chicken. You can actually use the thighs or drumsticks or even the chicken breast part.
What if I don't have kadai? Any pan would do?
In case you don't have kadai, you can actually use a normal wok or skillet.
I am very much tempted to try this recipe! Though, how much calories does a serving potentially have?
If you'll be cooking 400 grams of chicken for this recipe, the potential calories will be around 941.9 Kcal but at the same time you can get protein (123.1 gm) and Zinc (1.6mg).
How many servings does this recipe can potentially make? Can you please advise the corresponding servings per grams of boneless chicken? Thanks!
If you have 400 grams of boneless chicken, you can potentially make 4 servings.
We have a vegetarian in our family and I am thinking if it's alright to perhaps add some veggies to this recipe? If yes, what could be the vegetables I can add?
For vegetarians, you can replace chicken with mushroom, paneer, potato or tofu.
Should the chicken be cut as cubes? Can I also make it in fillet cuts?
Yes, you can prepare them into fillet cuts or small bite cuts.
The chicken should always be deep fried? Is there any healthier recommendations you can give for this recipe?
In this recipe, I would recommend deep fry.
Can this be served as appetizer?
Yes definitely! It is actually a popular chicken starter or appetizer among the loved Asian dishes; specifically the Indo-Chinese cuisine.
I am planning to serve this for the upcoming get-together with my friends but I am worried that the flavors of other dishes might clash so if I were to pair this with other dishes, what could be your recommendations? Thank you!
You can pair it with hot stir fried noodles, Schezwan noodles, Hakka noodles and rice varieties like fried rice.
For the chili powder, paprika would be the best choice? Or do you have other recommendations?
For chili powder, you can try using Kashmiri chili powder or Paprika.
For how long should I marinate the chicken?
You should marinate the chicken for at least 30 minutes but 45 minutes or 2 hours is best.
Is this recipe quite the same with Andhra chili chicken?
The Andhra Chili Chicken is actually more of a "Green Chili" dish while this recipe is chili chicken dish with reddish color.
One of my friends suggested Gongura or Sorrel leaves to be a good option for authentic tangy taste for the chicken, but is that really applicable for this recipe? Wouldn't it clash with the spicy flavor?
I love this recipe! But I'm a bit curious if this is a counterpart of the Andhra Chilli Chicken. Since this one is more on the spicy red taste compared to the green chilli chicken of the andhra recipe, am I correct?
Due to the chili powder, this recipe is with reddish color. Meanwhile, Andhra is more of a green chili chicken dish which is tempered with green chilies and curry leaves instead of sauces like the first one.
Can I grind some coriander leaves and add it to this recipe?
No.The coriander is more often use for Andhra Green Chili Chicken; but you can also try it according to your preference.
Is it possible to not use oil or perhaps use as much as little of it? I am planning to use ghee instead, would that be alright for this recipe?
I would not recommend ghee. You can choose either of deep frying the chicken or shallow fry it. If you'll be choosing the latter, than of course, you'll be using just a little amount of oil depending on your preference.
When frying, what would you suggest to be the best way in regards to the level of heat? Should I lower the flame or had it in consistent medium fire? Please advise. Thank you so much!
When frying, the #1 rule is to set the oil in medium high heat and ensure that it is hot enough before putting in the chicken. It's a good idea to try with 1 piece of chicken first and then add the rest. If you fry in low heat, coating won't stick to the chicken piece. You will get perfect deep fry only if you fry at the right temperature.
What would be the best accompaniment for this dish? The first thing that comes to mind is fried rice, but what other dish or meals can you suggest? Thanks!
If there a particular chili powder you can recommend other than paprika?
Any chili powder will do but personally we love Kashmiri red chili powder.
Is it alright to have this as for late night snack?
Other than being an appetizer, it is somewhat served as a late snack.
Is it ok to use garlic cloves instead of garlic paste? If yes, how many should I use?
Yes, definitely! Though it garlic paste makes the dish better, you can use garlic cloves as well. If you have a 300 grams of boneless chicken, please prepare 8 to 10 pcs of garlic, finely chopped.
For how long should I saute the onions, green chilies the other ingredients?
You have to sauté for 4-5 minutes until they begin to soften and nicely enough over a medium heat but not starting to caramelize.
When making the sauce, for how long should I let the sauce simmer?
For about 1 minute to 2 minutes on a low heat.
Before serving the dish, what are important reminders can you share?
It is best to add the chicken into the gravy or sauce when you are about to serve. Otherwise, chicken can become soggy. Make sure that you stir well enough for all of the chicken to be coated nicely and evenly.
I tried making it yesterday but the chicken wasn't crispy. Why did it turn out like that? I did my best in following the instructions but the batter didn't stick so well with the chicken.
If you really want to have more coating for the chicken, you can do it twice. Also the temperature of the oil is also considered as a key when it comes to frying. So make sure that it heated well enough before putting in the chicken because you would like to have the crisp rather than stewing the chicken in oil.
Can I also use chicken breast? Or would chicken thighs be the best choice?
You can use chicken breast but chicken thighs are better because they have enough fat that makes it more tasty;
Is it alright to use wheat flour instead of corn flour?
Not something I would recommend.
Would it be ok for me to use breadcrumbs to make the chicken extra crispy?
Yes but you start moving after the indo-chinese flavor part of it.
I am very much in love with this recipe! I tried it yesterday and my family loves it as much as I do! Though I found out that adding the white of the egg to the batter seems to stick better for the chicken.
Yes that could be another way for coating the chicken well. The batter should be quite dry and with the use of corn flour it will stick to the chicken well. Glad you loved the recipe!
Should the coating of the chicken should be thick and stodgy?
Actually no. The coating doesn't need to be thick and stodgy so a light batter is great. Besides the sauce is already quite thick and the sauce will cling nicely to the chicken.
I tried cooking this recipe but I've unfortunately overcooked the chicken. Can you please advise how I can avoid it?
Since the chicken are already cut in small bite sizes, you only need to fry them for a short time in hot oil, not more than two minutes or they'll be overcooked. Being careful with frying will ensure that the chicken are still succulent and moist.
What would be your recommendations for the black pepper ingredient?
Try black peppercorns like Kali Mirch.
What kind of chili powder do you often use?
Generally you can try any chili powder but we would like to recommend Kashimiri red chili powder.
If I'll be having a 200 grams boneless chicken, how many servings can I possible make out for this dish?
You can have 2 servings out of 200 grams of boneless chicken.
How many calories does this recipe have?
If we are to use 200 grams of boneless chicken, then you'll have at least 420 kcal.
When preparing the green chilies, what is your suggested way of cutting it?
Any cut will do but personally we would like to recommend preparing vertically slit like a thicker julienned version.
If I'll be adding water to the sauce, what is the exact measurement I have to follow to ensure that the I get the right taste for the sauce?
For preparing the sauce and sauteing the chicken, add ¼ cup of water which matches well with 200 grams of boneless chicken. Raise heat and evaporate quickly if you added more than necessary. In case you have more than the mentioned grams, then you can adjust accordingly.
Is it ok if I pair this dish with Roomali roti?
Is corn flour really necessary for this recipe?
Corn flour is actually one of the key ingredients because you'll need it for marinating the chicken and also used for preparing the sauce.
While binding the batter, can I use water as alternative to the egg?
Yeah, That's fine if you wanna avoid egg. Otherwise, I strongly recommend to use eggs.
Can I use Sriracha as an alternative for the chili sauce?
I won't recommend using Sriracha since it doesn't give Indo Chinese flavor.
For the capsicum, should it be green only? Or is it alright for me to use some red as well?
It depends to your preferences. You can use red capsicum but you can also use the green ones.