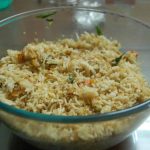 Quick, easy and delicious!! It is an Indo Chinese rice based dish with good flavor of veggies and sauces. I usually serve it with any indo chinese gravies like gobi / chicken / mushroom manchurian.
Ingredients
lemon juice
1 Tablespoon
beans Chopped
1/2 Cups
garlic
1/2 Tablespoons
ginger
1/2 Tablespoons
soya sauce
1/2 Tablespoons
Chilli tomato ketchup
1 Tablespoon
spring onion
1/4 cup
cashew
2 Tablespoons
Raisins
1 Tablespoon
Steps
Wash rice and soak it in water for 30 minutes. Drain the water completely after that.
Heat 2 tbsp of ghee. Add rice to it and fry until rice starts cracking.
Add water with proper salt and 1 tsp pepper. Add lime juice.
Cover and cook till the rice is done.
Heat 2 tbsp of ghee. Add onion, capsicum and salt. Saute it until the mixture becomes soft.
Add ginger, garlic and 1tsp pepper. Saute it for 2 minutes.
Add carrot, beans and green peas. Cover and cook until it is done.
Add tastemaker cubes and saute well. This is optional.
Add soya sauce and chilli tomato sauce. Saute it well for around 5 minutes.
Mix rice and above veg mixture. Cover and cook it for 5 minutes.
Garnish rice with fried cashew, raisins and shallots.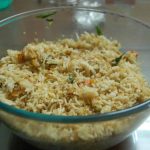 Similar Recipes