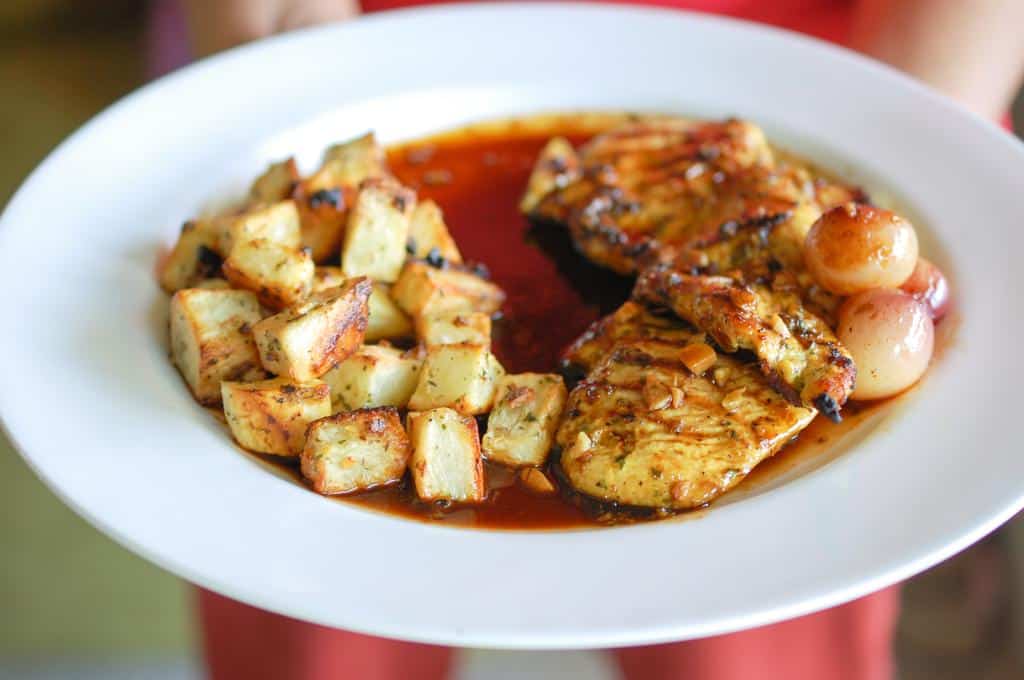 Valentine's Day is always a fine dining restaurant for us. There's a certain appeal about restaurant food that you can't argue. The plating, the ambience, the cut of meat, the rich sauces; it's the whole package.
Replicating this restaurant quality food at home is something I obsess. I go great lengths to learn about the differences. The problem is, no matter how much I try, it never matches up. It's a different science altogether. For e.g. Kenji Lopez talks a great deal about how restaurant pan sauces are much more richer than the one you make at home.
So, after a decade of Valentines Day dinners at $$$ restaurants I interned with the Chef at Phileas Hogg, Bangalore to learn how to do a proper chicken steak with the right sauce. All for love, as they say.
The chef opened up his heart and taught me a lot of tricks.
This is one of those recipes that looks complex but is actually pretty simple. The key to it is a little known French sauce called demi glace. Well, its not the "little known sauce", its one of the THE basic French sauces. The reduced concentrate or powder is available on Amazon or in Whole Foods
In the end Jane loved it. So I think I got some things right.
It's your turn now. Go impress!
Get two chicken breasts and ask the butcher to slice through the middle so that you end up with two sheets of half thickness. Marinate these chicken breasts overnight (it goes a long way) for best results.
Ingredients
Chicken Marinade
½

tablespoon

black pepper

1

tablespoon

white pepper

1

teaspoon

salt

2 - 3

tablespoons

parsley

2

tablespoons

garlic

, crushed

3

tablespoons

dijon mustard

as required

olive oil
For the Sauce
1

teaspoon

garlic

4 - 5

mushrooms

Sliced (optional)

as required

butter

4 - 5

Shallots

Peeled

pinch

oregano

a

½

cup

demi glace

as required

salt

.
Instructions
Slice chicken breast through the middle so that you end up with two sheets of half thickness. Mix all the ingredients for chicken marinade, make it a paste and then coat the chicken. Marinate these chicken breasts for minimum 2 hrs. (overnight for best results)

Grill the chicken right the next day for the lunch or dinner. I used a pan grill but a proper barbequed grill is the best. Use low heat and longer duration keeping in mind that you should flip the meat only once or twice.

While that's in the grill, let's get the sauce ready

Boil demi glace in water as per the packet instructions. The concentrate levels may vary. So be careful.

After the sauce boils, keep it in simmer to thicken.

Now in a cast iron or steel pan, add butter or oil and heat it up.

Slice mushrooms. Add shallots, garlic and mushrooms. No need to slice shallots and garlic.

Sautee and when its starts to brown, add oregano and salt

Now add the sauce to the pan and mix them up really well. Allow it simmer at very low heat. The warmth of the sauce is very much needed.

Plate up by taking the chicken from the grill and pour the sauce over the meat.

Serve with side of veggies or roasted potatoes.

There you go.
Notes
Chefs make demi-glace from scratch. It's a lot of work. Here's a video.
I've put in an approximate time. It all depends on how long you grill. But it shouldn't take more than an hour.