Linguine pasta loaded with creamy and spicy homemade butter chicken. This Indian style pasta recipe is quick and easy to make and delicious!! It was a purely experimental and turned out to be one of the best pasta dishes I ever had.
If you are looking for cajun spiced chicken and shrimp pasta recipe, check Cajun chicken and shrimp pasta.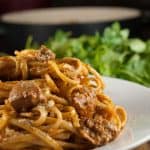 Pasta tossed in creamy butter chicken sauce or Makhani sauce along with shallow fried chicken. An easy pasta dish to cook from scratch. This Butter chicken pasta recipe is a yummy Italian Indian combo that you should try out. Hope you will enjoy 🙂
Ingredients
linguine pasta (284 grams)
10 ounce
Marination
boneless chicken breast
1 pound
lemon juice
1 1/2 teaspoon
full fat yogurt
100 ml
ginger paste
2 teaspoon
garlic paste
2 teaspoon
chilli powder
1 teaspoon
cumin powder
1/2 teaspoon
garam masala
1/2 teaspoon
fenugreek leaves / methi leaves
3 teaspoons
Butter Chicken Sauce / Makhani sauce
butter (56 grams)
4 tablespoon
garlic paste
1 teaspoon
ginger paste
1/2 teaspoon
chilli powder
1 teaspoon
garam masala
1/2 teaspoon
tomato (medium size)
2 number
heavy whipping cream (fresh cream)
1 1/4 cup
cilantro leaves (coriander leaves)
Steps
Clean and cut chicken into 2-inch size pieces. Crush or grind ginger and garlic into fine paste. Chop fenugreek leaves into small pieces. You can cut it using scissors.

Prepare Butter chicken marinade - Mix ingredients listed under marination - lemon juice, yogurt, ginger paste, garlic paste, chilli powder, cumin powder, garam masala and fenugreek leaves. Marinate the chicken well. Keep it for 2 - 3 hours minimum or overnight for best results.

Shallow fry the chicken - Heat 2 tbsp butter in a large, thick-bottomed skillet and put in the chicken with the marinade. Cook on medium high heat. The marinade is liquidy. Let the water evaporate and then brown the chicken. Turn the chicken over during cooking. Keep the cooked chicken aside.

Prepare butter chicken sauce / Makhani sauce - Grind the tomatoes. Heat 2 tbsp butter in a pan. Melt the butter. Add ginger and garlic paste. Saute it until light brown. Once it's done, add chilli powder and garam masala. Fry it well.

Then add grinded tomato. Cover and cook the tomatoes. Let the water evaporate and let it turn thick. You can also use 1/2 cup packed tomato puree instead of using fresh tomatoes. I used fresh ones.

Add 1 cup water, adjust salt. Let it boil. Add cooked chicken and coriander leaves. Simmer for a couple of minutes until the chicken gets blended well.

Add cream and mix well. Simmer for another 5 minutes.

Meanwhile cook pasta in another pot. Pick a large pot that gives the pasta plenty of space to move. Bring a large pot of lightly salted water to a boil. Add pasta and cook for 8 to 10 minutes or until done. Keep stirring.

Place a colander in the kitchen sink and drain your pasta. Run it in cold water. I used linguine pasta. You can use other ones too.

Add the cooked pasta into the sauce. Mix everything well and heat through. Sprinkle with the grated Parmesan cheese, cilantro leaves and serve.
Notes
You can use fresh tomatoes or tomato puree package. If you are gonna use tomato puree, use 1/2 cup in this recipe.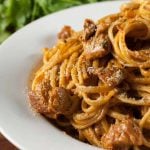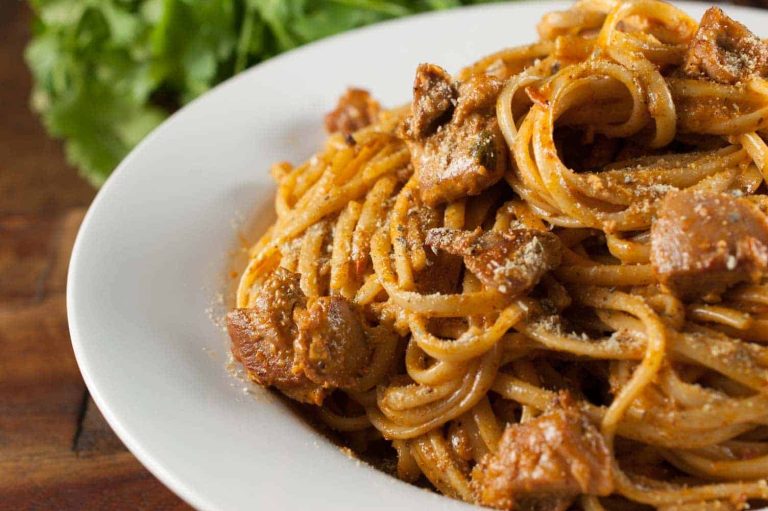 Similar Recipes