Pasta loaded with Cajun spiced chicken, shrimp, veggies, cream, and parmesan. Cajun spice along with cheese and cream make the most delicious combo that's to die for. This Creamy Cajun Chicken and Shrimp pasta recipe uses all the fresh ingredients. It's an easy pasta dish to cook from scratch.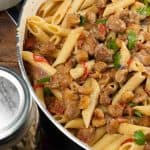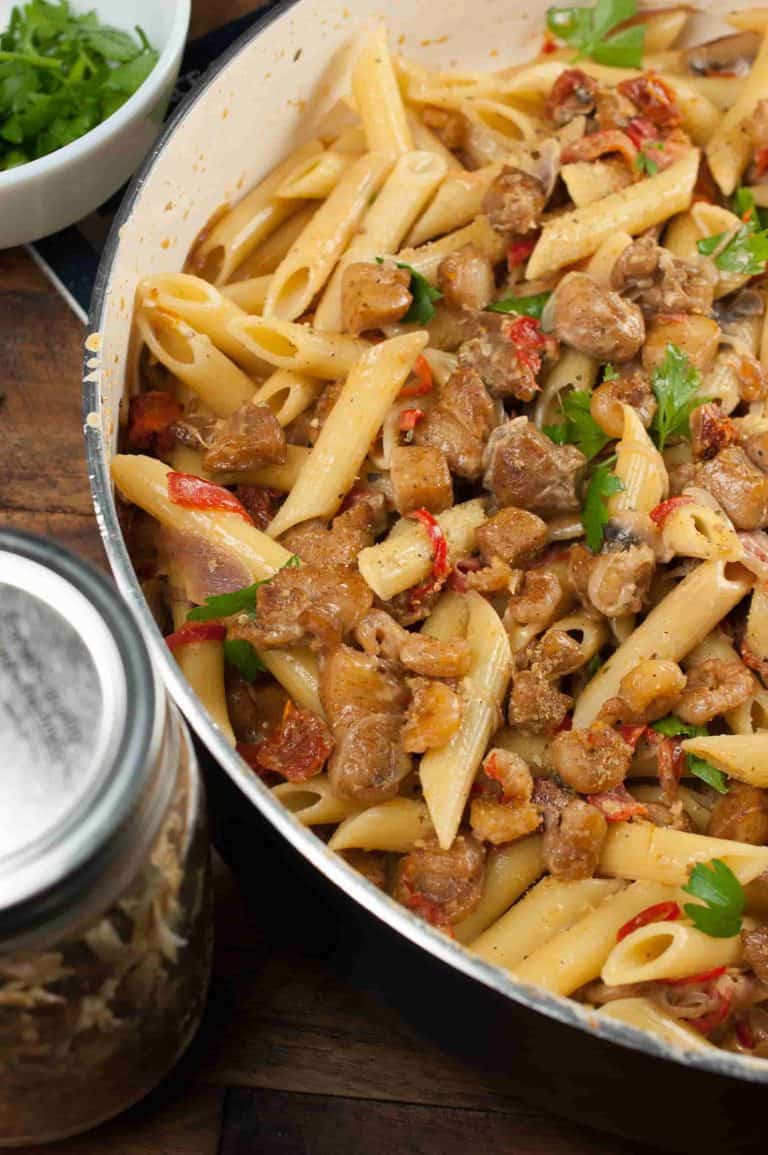 We love Cajun spiced food and thought of trying out this combination of cajun spice in the creamy sauce. And it came out really well.I'm sure, you will enjoy!
Ingredients
penne pasta
10 ounce
boneless chicken breast
1/2 pound
cajun seasoning
4 teaspoon
Veggies
bell pepper
1 number
crushed garlic
2 teaspoon
sun-dried tomato
4 tablespoon
cajun seasoning
1 tsp
Sauce
heavy whipping cream
1 cup
black pepper powder
1/4 teaspoon
grated parmesan cheese
1/4 cup
Garnish
grated parmesan cheese
1/4 cup
Steps
Clean and cut chicken into small 1 inch bite-size pieces or thin strips. Place chicken and 2 tsp Cajun seasoning in a bowl and toss to coat. Sometimes Cajun seasoning has salt in it. If not, add salt along with Cajun seasoning.

Heat 1 tablespoon butter in a heavy skillet over medium heat. Saute chicken until it's lightly brown and tender, about 5 minutes. Once done, keep it aside.

Meanwhile, Clean shrimp and marinate it with 2 tsp cajun seasoning in a bowl. If Cajun seasoning doesn't have salt in it, add salt.

Heat 1 tbsp butter in the same pan. Add shrimp and saute it until done. Keep it aside.

Thinly slice the onion, bell pepper, and mushrooms. Finely chop the garlic. Cut sun-dried tomatoes into bite sized pieces.
Add remaining butter to the pan. Once it's heated, Add the onion, bell pepper, mushroom, sun-dried tomato and minced garlic. Make sure that pan is not overcrowded. Sprinkle Cajun seasoning and salt. Add extra butter if needed. Saute and stir for 4 to 5 minutes until lightly brown, over high heat.

Reduce heat to low. Add back cooked chicken and shrimp. Add the cream, milk, salt, black pepper powder and sprinkle cajun seasoning. Mix everything well. Heat through. Add 1/4 cup parmesan cheese. Let it get melted. Stir until the sauce has the desired consistency.

Meanwhile cook pasta in another pan - Bring a large pot of lightly salted water to a boil. Add pasta and cook for 8 to 10 minutes or until done. Drain pasta. I used penne pasta. You can use other ones too.

Add the cooked pasta into the sauce. Mix everything well and heat through. Sprinkle with the rest of grated Parmesan cheese, parsley and serve.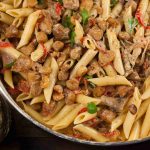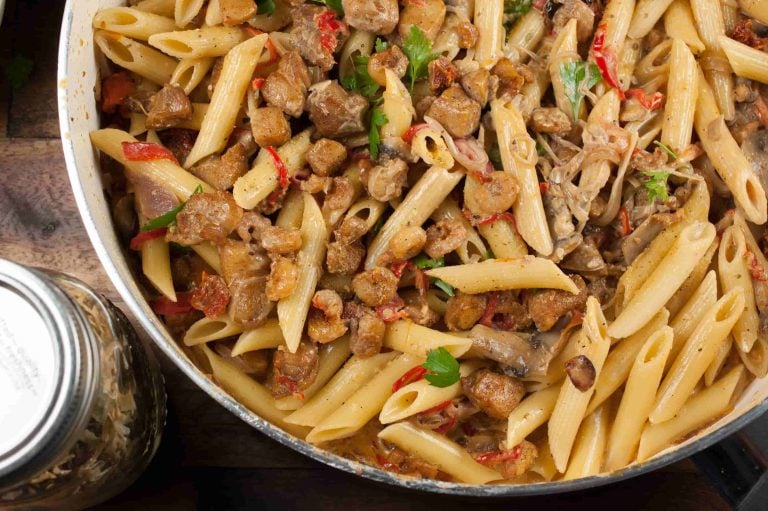 Similar Recipes