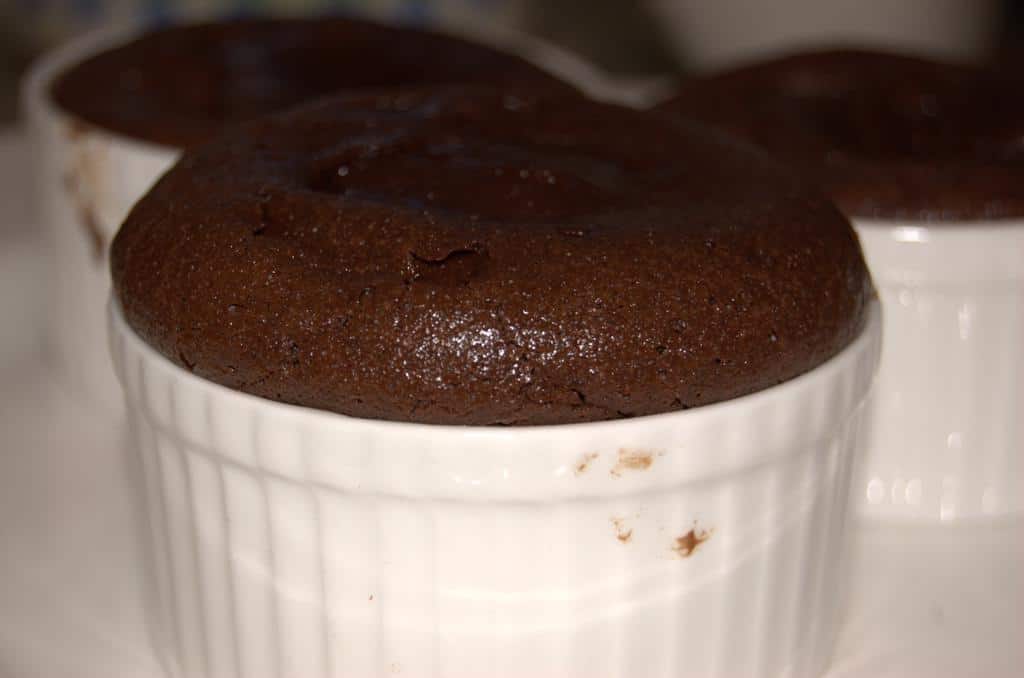 Must try for chocolate lovers 🙂 Serve it with a scoop of vanilla ice cream or cold cream.
Ingredients
4

ounces

unsalted butter

6

ounces

chocolate

bittersweet chips

3

numbers

egg

⅔

cup

sugar

1

pinch

salt
Instructions
Preheat the oven to 375ºF (190ºC).  Grease ramekins with butter and add flour to cover the butter, tapping the ramekins to get rid of excess.

It is better to have butter at room temperature. Cut it into square pieces, so that it get mixed soon. Put the butter and chocolate in a medium-sized bowl. Use a double boiler. Mix it well and stir over low heat , without boiling, until smooth. Remove the bowl from the heat. Let it cool down for around 15 minutes.

Using an electric mixer, or by hand with a whisk, whip the eggs, sugar, and salt until the mixture is light and foamy, and just holding its shape – about 5 minutes with a machine, or longer by hand. 

Fold one-third of the beaten eggs into the chocolate to lighten it, then scrape the lightened chocolate mixture over the beaten eggs, and fold it in just until there are no streaks of eggs visible.

Divide the batter into the baking dishes or ramekins, filling them no more then ¾rds full.

Put them on a baking tray in the oven. Bake the puddings on the lower rack of the oven for about 15 to 20 minutes until the puddings are puffed up, but a toothpick inserted into the center comes out with some soft, "gooey" chocolate attached.

Serve immediately with ice cream or pitcher of cold cream.